Twenty years in the market and up to five hundred projects implemented across Georgia – chief among them the construction of the Chiatura ropeway, the Vani Museum of Archeology, Ambrolauri Airport, rehabilitating the Sataplia Managed Reserve, the town of Tskaltubo and Aghmashenebeli Avenue in Tbilisi. The company has around forty ongoing projects, including the 'Renewed Regions' programme implemented in sixteen locations.
"There are no small and large projects, only interesting and less interesting ones," says the founder of Dagi Construction, Gogi Gulordava. According to him, the projects implemented by his company are the country's calling cards. We spoke to Mr Gulordava about Dagi's twenty-year history in the construction industry.
Thanks to the trust and all the experience that you have accumulated, the construction business must be much easier for you today than it was when you first started. Describe Dagi Construction's development path for us.
The construction business is still quite tricky today. Despite technological improvements, we must constantly be at the center of innovation. With advanced equipment, high-quality work requires attracting or training competent personnel, accepting and implementing innovations, hard work and striving for challenges. These factors have defined the development and growth of Dagi Construction over the last twenty years. We are proud of every unique project that has allowed us to achieve impressive results. Naturally, we intend to continue our growth and development. In addition, we are actively trying to expand internationally.
How do you decide which projects to get involved in?
There are no small and large projects for us, only interesting and less interesting ones. Luckily, we can afford to choose where to lay our bricks. Therefore, we only bid for financially attractive projects with exciting features and, if successful, implement them with enthusiasm. As for the geographic distribution of our projects, we do not limit ourselves to Tbilisi. We have several ongoing construction and rehabilitation projects in almost every region of Georgia.
Which projects have you implemented in the private sector?
We have implemented several. For example, we renovated the Tbilisi Sheraton Hotel. We also built the Dinamo Tbilisi training center, a hotel in Sololaki, a winery in Martvili, the Museum Hotel in Tbilisi, and more. Which project was the most vital for the company's development? All projects have been unique and essential for our growth and have helped us accumulate experience. Technologically, the glass bridge in Sataplia was remarkably interesting for us. The Chiatura ropeway rehabilitation project, for which we consulted with international partners, was crucial in gaining experience. Regarding implementing a high volume of work to a tight deadline, I would also highlight the Public School No.186 ("Mega School") and Ambrolauri Airport projects, which we completed in a few months.
In 2008, we built a school in Martvili during the war with Russia. Even in this challenging period, we never stopped working. We transported the building materials to Martvili via alternative routes to ensure that the school opened in September as planned. This was an emotionally difficult project, but we did not want to stop building in our country.
We are proud to implement projects that are Georgia's calling cards – places that are immensely popular with locals and tourists alike. These include the Sataplia Managed Reserve, the Vani Museum of Archeology, Ambrolauri Airport, the House of Kvevri workshop in Ikalto, the rehabilitated Aghmashenebeli Avenue in Tbilisi, as well as renovated central squares in every regional administrative center.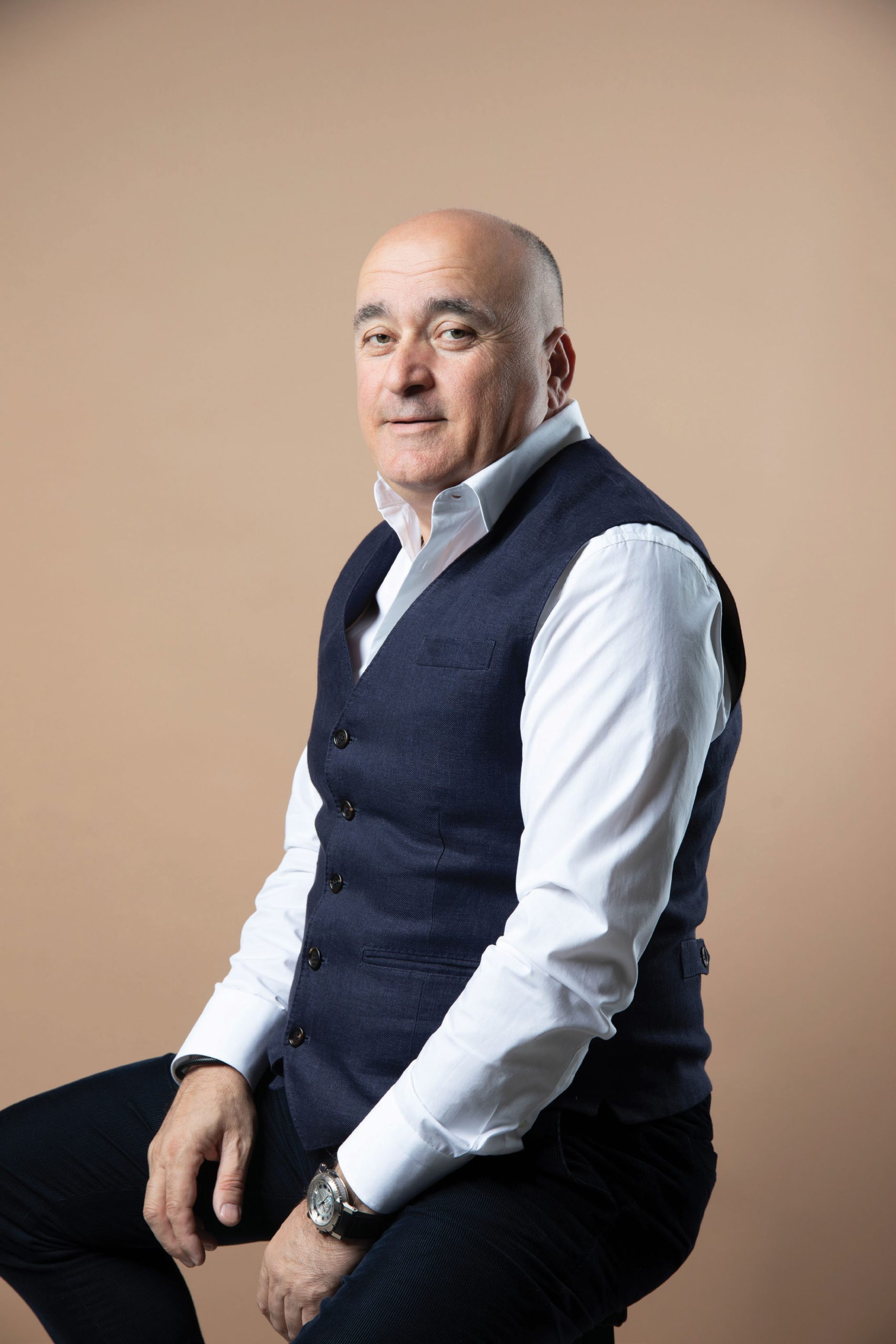 As part of the 'Renewed Regions' programme, you are simultaneously carrying out construction and rehabilitation works in sixteen locations. What kind of facilities are you working on, and when do you plan to complete the project?
We have forty ongoing projects across Georgia, including the 'Renewed Regions' programme. We have virtually completed the first phase of work – rehabilitating central squares, residential and administrative buildings. We will be able to show off the renovated town centers by the end of the year. We used modern heat-efficient materials of high quality for the rehabilitation works. We illuminated the squares and added a green cover and various amenities, including children's attractions. Fountains were installed at some locations. We also rehabilitated cultural monuments in Kutaisi and Poti. In this case, we researched the history of the structures and studied their colors. We treated the surfaces, cleaned the architectural details and restored the landmarks to their original appearances and conditions. We also built the appropriate road infrastructure for this project. The second phase of the 'Renewed Regions' programme has already started and will be completed next year.
Another ongoing project is the Georgian Public Broadcaster's office building, for which you won the tender in 2020. At what stage are the works?
This is the first project where the design was chosen in an open and transparent public contest, meaning there was a high level of public interest. As you know, we have several clients requiring infrastructure projects. Most of these facilities are for public and governmental use; some will become part of history. In the case of the Georgian Public Broadcaster's office building, public anticipation is exceptionally high, and so is our responsibility. Nevertheless, the project is proceeding according to schedule, and we have already started the exterior works.
The country is full of excitement about the 2023 UEFA European Under-21 Championship. What is your company's involvement in this event?
Dagi Construction is actively involved in the preparations for this tournament. We are carrying out a full rehabilitation of Mikheil Meskhi Stadium, which consists of the reconstruction of the stands, installation of a new playing surface and complete replacement of the engineering systems.
The project also includes the rehabilitation of Ramaz Shengelia Stadium in Kutaisi. We are replacing the old administration building with a new one. In addition, the engineering systems and stands are also being replaced. Works are proceeding according to schedule at both locations. Once completed, Georgia will have two stadiums that meet UEFA standards.
You oversee the construction and rehabilitation of many important facilities in the country. What are the construction techniques, approaches and standards employed by your company?
Since the company's inception, we have witnessed tremendous advancements in technology and standards. When we founded the company, the choice of construction materials was minimal. We bought most of them at Eliava market. We now live in an age of technology, and the construction sector is no exception. Most of the materials are now produced in Georgia but importing them is also relatively easy. Competition has improved the techniques, approaches and standards. We try to be at the center of innovation constantly. We often attend exhibitions and conferences to implement knowledge from other countries in Georgia.
When we talk about high quality in construction, we are immediately reminded of the lack of general personnel, particularly qualified personnel, in the market. Who is responsible for employee development at Dagi Construction, and how do you source qualified staff?
Our formula for success revolves around our unified and qualified team. Some of our employees have been with us since the company was founded. Furthermore, we always look for qualified new employees to hire or train to improve their qualifications. For example, this year, we invited a professor from the University of Salford to share his experience with our technical staff. As part of our cooperation, we plan to send several of our successful engineers to Salford for further training. We are also in talks with a leading American construction firm whose engineers will share their experience with us through online platforms.
I would like you to summarize 2022. What projects have you started or completed this year, and what are your plans for 2023?
By the end of the year, we will have completed the first phase of the 'Renewed Regions' project and rehabilitated the Tbilisi State Medical University and Tbilisi State University buildings. In addition, the construction of the vocational colleges in Khashuri and Tskaltubo has already been completed. We have started planning and constructing the Gurjaani Culinary College building, campus, and the Black Sea College in Batumi. The construction of the vocational college in Borjomi is proceeding as planned. Design works have been completed in Tskhvarichamia, Tezami and Kevliani, where construction will start next year. The construction of the Mtatsminda ropeway is actively ongoing. In March of next year, we will be joined by specialists from the Doppelmeyer Group, who will install a technical line. 2023 will be full of challenges and exciting projects.
Photo Credits to Leli Blagonravova / Forbes Georgia
Leave a comment