Georgia's 100 Most Profitable Companies
The following rankings were compiled by Forbes Georgia in partnership with the international auditing firm Grant Thornton.

The Georgian private sector recorded a combined net profit of 3.1 billion GEL from the activities of the country's largest companies in 2017. The rankings include all firms, including those representing the financial sector, which have published their financial accounts and have made the top 100 based on their net profit figures. Unlike the index of the largest companies, which ranks the firms based on the value of their assets, their revenues and net profits; the index of most profitable companies only takes the latter component into account.
TOP 10 OF MOST PROFITABLE GEORGIAN COMPANIES:
GEORGIA'S 100 MOST PROFITABLE COMPANIES: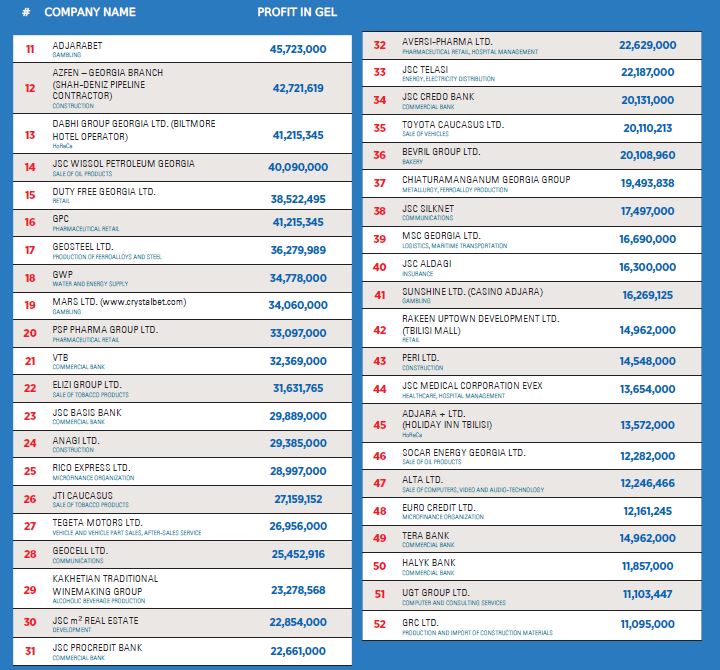 METHODOLOGY
The rankings were compiled using the companies' published audited accounts for 2017. Any companies where the Georgian government is the majority shareholder were excluded from the list. Published audited accounts formed the basis for compiling an extended list of around 200 companies, which was then shortened to include only the 100 largest. Certain large companies that would normally be among the highest grossing in the country have not published their audited accounts for 2017 and could, therefore, not be included on the list. These include companies from the mining, chemical manufacturing, construction and retail sectors. Numerous members of the list operate subsidiary organizations. In each case, the evaluation is based on the group's consolidated accounts that reflect the finances of all subsidiary firms. For example, Socar Energy Georgia unites Socar Petroleum, Socar Georgia Gas and other subsidiaries under its umbrella. Here, as in all other cases involving groups, the consolidated accounts of the parent company have been used for evaluation purposes. The ranking is compiled based on the companies' 2017 profits, as reflected in their published audited accounts.
TERMS OF USE
The rankings are based purely on expert and journalistic evaluation meaning it cannot be used as an official piece of information. The use of the rankings by other media sources is permitted under 'rewrite' terms and by linking to Forbes.ge and to the rankings themselves. Copying and pasting without indicating the source is prohibited. The index of most profitable private Georgian companies will be published annually. We are open to cooperation with any party willing to supply us with the relevant information.