Ambassador of Glamour
The Lamborghini name has global acclaim, but it's not only the sports cars that captivate people. A distinctive Italian lifestyle has led Tonino Lamborghini, heir of the Lamborghini family, to establish his own company and produce everything from coffee, eyewear, and watches to clothes; even 5-star hotels. The iconic Italian brand entered the Georgian market in the summer of 2019. High demand for premium coffee and hot chocolate among Georgians was a catalyst for the company's management to expand its business and open coffee shops and a brand restaurant in the central part of Tbilisi.
Forbes Georgia interviewed Zviad Skhvitaridze, General Manager at Tonino Lamborghini Georgia, who discussed the company's strategy, competitive advantages, and what is next for the company in Georgia.
"Representing Tonino Lamborghini means to be an ambassador of glamour, luxury, quality, and taste," said Skhvitaridze.
According to him, "the Tonino Lamborghini brand is not oriented on quantity but quality. Our products are expensive. We started with coffee, but an energy drink and a premium vodka will be coming soon, as well as coffee shops and a restaurant and a concept store for watches, clothes, and accessories."
The Birth of the Tonino Lamborghini Project in Georgia
The idea of bringing Tonino Lamborghini to Georgia was motivated by several reasons. The first was the solid stakeholder engagement, strong connections in the region, and worldwide. The stakeholders personally know the family of Lamborghini and Tonino Lamborghini himself. The second factor was the desire to bring a distinctive Italian style to Georgia. Many would agree that Italian style, architecture, and culture in general are incredibly unique and full of beauty. Lifestyle, clothes, accessories, HoReCa (Hotels, Restaurants & Catering), and products of this country are of high quality. Last but not least was Georgians' love of coffee, clothes, and a glamorous lifestyle, which served as one of the key points for bringing Tonino Lamborghini to Georgia.
Tonino's Own Entrepreneurial World
The Tonino Lamborghini company was founded in Italy in 1981 by Mr. Tonino Lamborghini, heir of the Lamborghini family. Today the company's headquarters are in the magnificent Palazzo del Vignola, a Renaissance villa just outside Bologna's city walls. Mr. Lamborghini took inspiration from his family heritage and his vast experience in mechanical and automotive engineering to develop a lifestyle experience brand with a range of luxury products, including watches, eyewear, smartphones, perfume, furniture, clothing, sports accessories, signature beverages, 5-star boutique hotels, lounges, and restaurants. By staying true to the tradition and heritage of the Lamborghini family, Tonino Lamborghini's company seeks to promote distinctive Italian style and taste.
Coffee First!
Tonino Lamborghini Georgia started by importing coffee only to test the market. It proved to be successful; since the high quality and amazing aroma made this coffee extraordinarily successful in Georgia. So far, the company has managed to enter fifty different premium class companies and outlets in the country.
Tonino Lamborghini Georgia already has a wide variety of coffee and hot chocolate. The company provides red and black blends in 1kg premium packages: Red Blend – a blend of Arabica from Central America and Brazil with a touch of Robusta. Gently balanced, it combines an intense body with an elegant hint of cocoa, clearly recognizable also in its persistent aftertaste. Black blend is also available – Alta Mogiana Arabica and high-quality Robusta come together to create an amazingly easy to work with espresso and an extremely consistent cup result. A full-bodied blend, the taste hints of toasted bread, while in the aftertaste there are hints of bitter cocoa and spices.
Cans of 250grams are also available in both bean and ground options – a superb blend of Arabica's from Brazil, Colombia, Costa Rica, and Robusta from Indonesia and Brazil; with a full-body, great aroma, and a velvety cream to prepare an excellent Espresso coffee at home.
Nespresso compatible capsules and coffee pods, classic, and Amareto blended hot chocolate are all available as well. An energy drink and premium vodka is on its way.
The Tonino Lamborghini brand oozes luxury and high-class. Consequently, the company does not sell just a product, they sell a lifestyle. The retail price of readymade coffee at Tonino Lamborghini Georgia Coffee Shops will be extremely competitive, but coffee beans and ground coffee will be at a premium. "You pay for what you get."
A year from now, the management of the company is convinced that all the products of the brand that will be offered to Georgians will fly off the shelves, as they are based on high quality and glamour.
What makes Tonino Lamborghini Coffee Special
Life is better with Coffee but much better with high-quality premium coffee. Tonino Lamborghini coffee is not just a coffee, it is a lifestyle. "It is especially important how well you start your day," says Skhvitaridze, adding that "a boost of great-tasting coffee is essential". Like most Georgians, Skhvitaridze himself drinks coffee several times a day. "Having a coffee before starting a meal is a unique cultural habit in Georgia, which makes coffee even more attractive and in demand."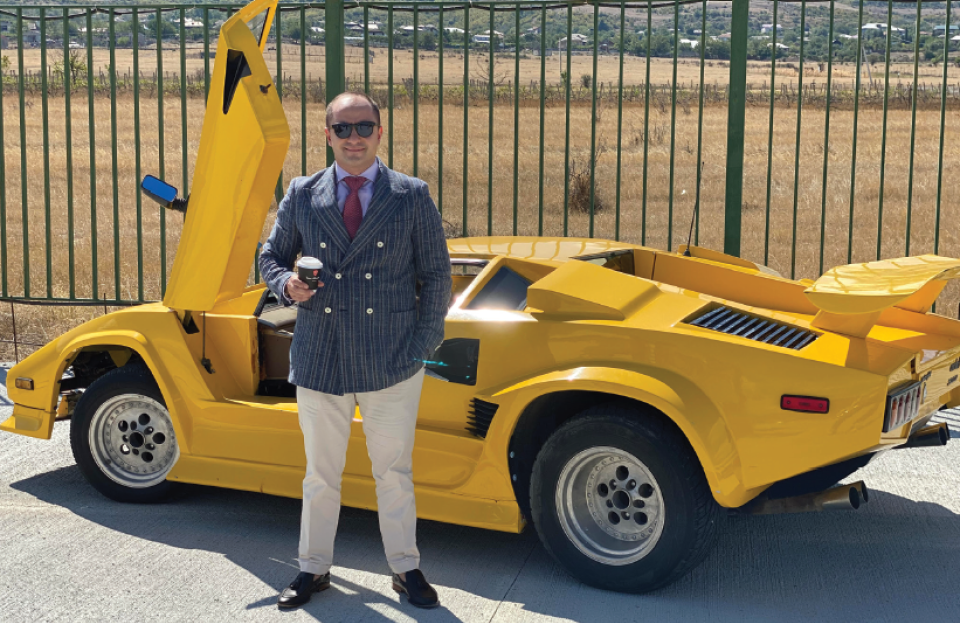 Tonino Lamborghini pours all his history into a cup of excellent Espresso. The Italian high-quality style embraces the natural tendency for the perfection of the brand. The meticulous selection of green coffee beans, the sophisticated phases of production, roasting, the warehouse, and the strict manufacturing inspections create very high-quality blends, which can satisfy the most expert and demanding palates.
The Unique Leitmotif behind the Products of Tonino Lamborghini
For around forty years, Tonino Lamborghini has been interpreting Italian style while still remaining loyal to the culture and insatiable sense of the challenge of the Lamborghini family. Almost all products are inspired by the luxury sports cars' designs, from the unique shape to the specific choice of colors and materials.
The history and cultural heritage of Tonino Lamborghini's family merge with its passion for contemporary art, antiques, and industrial design to give life to the brand's unique and original style that reflects its strong sense of aesthetics. Tonino Lamborghini ideates its products through a perfect synergy between the family's passion for mechanics and art from which the brand inherits its unmistakable Italian design deeply inspired by Lamborghini's DNA.
By staying true to the tradition and heritage of the Lamborghini family, Tonino Lamborghini seeks to promote distinctive Italian style and taste. Uncompromising spirit, Italian ingenuity, and design – together with the talent of a brand recognized throughout the globe as a beacon of luxury, exclusivity, and Italian flair – are the values of the Tonino Lamborghini brand. The company's vision is to bring the passion and spirit of Italy to the global market with unique and distinctive products, inspired by Italian industrial design and the Lamborghini family mechanical heritage.
Finding the Right Partners
Tonino Lamborghini Georgia already has strong partners; such as the Sheraton Grand Tbilisi Metechi Palace, which is an iconic hotel not only for Georgia but also for the whole region as it was the first five-star hotel in the Caucasus. The Company is represented in more than fifty outlets, including the Hotel Ambassadori chain, the restaurant chain Chveni, Coca-Cola, and Terminal office space. Premium and high-quality service is the main criteria for Tonino Lamborghini Georgia when selecting a partner.
Covid-19 Impact
Luxury brands are about lifestyle, elegance, vitality, creativity, and beauty – all of which is exceedingly rare, therefore, it is always in high demand. Meanwhile, the global pandemic has had a serious impact on the sales of Tonino Lamborghini Georgia, which dropped over 65-70%, since the company is mostly present in the HoReCa sector and this was the industry that suffered most during the pandemic. This downturn lasted around three months when all hotels, restaurants, and cafes were forced to close. However, sales were restored as soon as the restrictions over HoReCa were lifted. Of course, the company did not return to pre-pandemic volumes, but Tonino Lamborghini Georgia is still observing a positive trend in terms of sales; everything seems quite promising for the management. Skhvitaridze expects that it will take a year to return to the sales volumes they had before the Coronavirus crisis. For now, the company will be more focused on the corporate segment, large Georgian, and foreign companies that also consume large amounts of high-quality coffee.
Tonino Lamborghini has a history and experience of more than one hundred years, consequently, it has extraordinarily strong brand equity and this stimulates the team in the Georgian office to expand further.
Skhvitaridze believes that the products offered by Tonino Lamborghini have always been and will remain in high demand. Since the company is not mass-produced and is focused on a particular segment that chooses a luxury lifestyle, its team remains optimistic about the future of their business.
Similarities and Differences between the Covid-19crisis and the GFC
From Skhvitaridze's standpoint, the main difference between Covid-19 and the global financial crisis (GFC) is that it paused the activities of the whole global economy. "SMEs are the first that suffered the most during the pandemic. An advantage of a large business is that they have an opportunity to diversify their operations and carry less impact. Unfortunately, SMEs do not have the same prospect."While recalling the GFC of 2008, which was also added to
by the intervention of Russian forces in Georgia, Skhvitaridze points that Georgia managed to receive a huge amount of international financial assistance at that time. So, the current situation is radically different today. He thinks that the existing crisis will not be overcome so simply. It requires additional government action and the proper policy. "We have not faced the present fluctuation of Georgian Lari for the last twenty years. The situation is made worse by inflation, which directly impacts the prices and the volume of sales. So far, we are having a plethora of challenges."
Skhvitaridze frequently makes site visits, so as to observe the economic conditions for himself. The most alarming thing for him is seeing places for rent or sale. He concludes that it is an obvious sign that small and medium businesses are closing, and unfortunately, this trend will continue. He thinks that the Georgian economy will not survive with closed borders.
Skhvitaridze, who was involved in various businesses in Georgia for more than twenty years, thinks that the crisis management that businesses used during the 2008 crisis is not suitable today, as we never faced a total lockdown. He labels the current operation of businesses as fire fighting. All the business plans that used to be scheduled for a year are now only valid for one week. A long-term crisis mitigation plan does not exist. So, for him, this chaotic condition is the exact radical difference between the pandemic and the GFC.
Future Plans
Tonino Lamborghini Georgia has long-standing plans to expand its business and build five coffee shops in central parts of the city, as well as to launch an operation of fully-fledged premium-class restaurants under the Tonino Lamborghini brand. The company also plans to open a concept store for clothes, watches, and accessories in Tbilisi. All of this will enable the company to employ more people.
Market Expansion
Skhvitaridze describes Georgian consumers as very demanding and lovers of glamour, with good taste, and a sense of style. Therefore, he thinks that if you manage to be successful in the Georgian market, then you can easily open doors in other countries in the region. "We have the ambition to be successful and we will be," he said.
Digital Platform
Tonino Lamborghini Georgia will use the digital platform www.beverage.ge. But in general, as the company's products are premium and high quality, they will not be massively available. B2B sales will remain key.