In 2021, Georgian companies earned $400 million in total revenue from wine and brandy exports, a record figure in the history of independent Georgia. Wine exports alone increased by 18% year-on-year to $250 million. In total, Georgia exported 107 million bottles of wine to sixty-two countries, which is also a record high for the country. The $400 million revenue was distributed among dozens of companies and thousands of winegrowers.
There was also a sharp increase in brandy exports: 42.2 million 0.5 liter bottles were exported in 2021, representing a 30% increase year-on-year.
With an export turnover of $400 million, the alcoholic beverage sector has become one of the fastest-growing industries in Georgia. The Russian market played a key role in this growth – Georgian exports to the country resumed in 2013 – and revenue from Russia totaled $172 million.
From 2022, the alcoholic beverage sector will face a new reality in the wake of the Russian invasion of Ukraine. The Russian economy is expected to decline by 8% this year, while its Ukrainian counterpart could shrink by 35%, according to IMF forecasts. Under these circumstances, the export of goods worth millions of dollars to Russia has become morally problematic, leading to one of the largest players – Tbilvino – leaving the Russian market.
Georgian alcoholic beverage companies are becoming increasingly transparent in publishing their financial results. According to these figures, the Bolero & Company group is the market leader and largest exporter of both wine and brandy. The company states that it processes more than half of the grapes harvested in Georgia. In 2020, the total revenue of the member firms of Bolero & Company exceeded ₾186 million.
Second place in the ranking is held by Kakhetian Traditional Winemaking, with revenue of ₾108 million. The revenues of the twenty-five largest producers of alcoholic beverages exceeded ₾900 million.
Ranking of the Largest Wine and Brandy Producers in Georgia by 2020 Revenue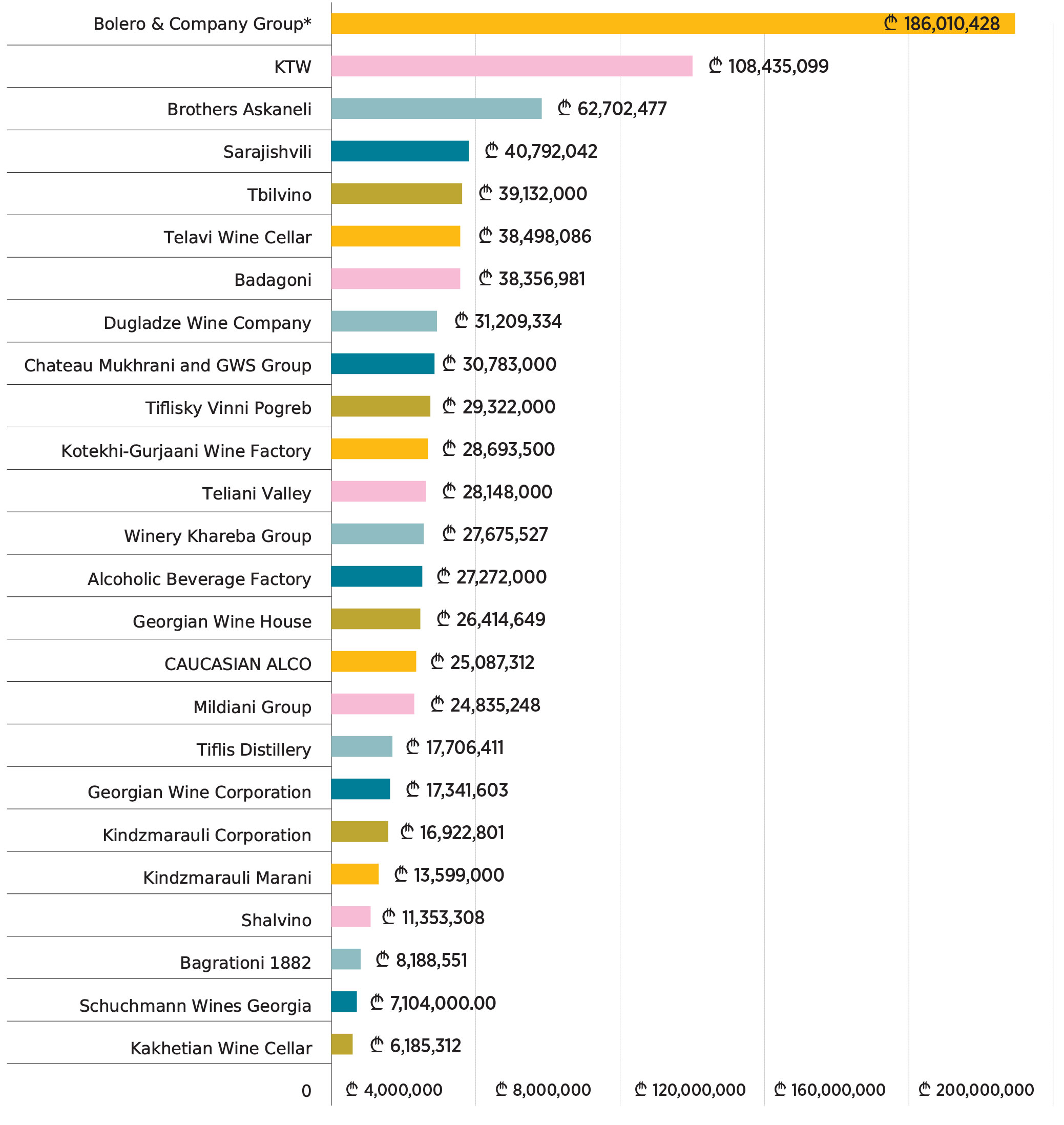 Leave a comment