Ekaterine Maisuradze has been involved in the business sector for many years. A doctor by profession, she has nevertheless been successful in various fields of business.

Maisuradze is the founder of the International Relations Center, as well as the head of the Union of Business Ladies and the BPW International Club Tbilisi. She is also chairs the Georgia and Asia-Africa Chamber of Commerce (GAACC), which aims to support Georgian businesses and establish commercial relations on various continents. Due to her wealth of experience, she has headed numerous large-scale projects. That is how Maisuradze came to be a woman who connects continents by promoting Georgia and other countries in Asia and Africa.
What were your first steps in business?
Because of my profession, the medical field plays an important role in my life. In 2006, I was placed at the head of an international nursing college for Georgian and foreign students. Nursing is one of the most important and in-demand professions throughout the world. By assisting students in their nursing education, I had the opportunity to contribute to the development of the professional personnel in this field.
The popularity of the Asian market in Georgia has created demand for the learning of languages like Japanese and Chinese. So, I established a language center where people can learn these languages for both personal and business-related reasons. With regard to supporting business development, we use GAACC's commercial ties to help Georgian businesses establish themselves on one of the world's fastest-growing markets with a high purchasing power.
Your professional biography and your current activities suggest that your interests and goals are diverse. How did these interests come about, and how do you use them for achieving success?
I have accumulated quite a lot of experience over the years. I consider it an achievement that I have managed to turn all my areas of interest into areas of professional and business activity, founding and laying the foundation for numerous organizations in these fields.
I am always oriented towards self-development and growth. I participate in various forums, seminars and conferences. All of this helps me become more successful in what I do. I am still learning and I am doing a PhD degree in business administration.
To this day, my international experience helps me successfully manage business relations. I deal with people of different nationalities, cultures and positions, and I am delighted that I have their trust.
The GAACC provides me the opportunity to use my business relationships to help Georgian businesses and promote my country.
What road did you take in order to get to where you are today, commanding trust and respect in various local and international business circles?
My career path was never easy. All my activities and career steps have been based on the concept of responsibility. This can always be felt in private relationships. I think that my reputation, as well as that of my companies' reputations, are based precisely on this sense of trust.
To be honest, I always thought of myself as a good leader who could ensure quality, effectively manage an organization, and represent my country in the best possible manner. I believe that in order to achieve success in a career, it is most important to properly perceive the full picture and to formulate a clear goal. I was lucky to have set a goal for myself that motivated me and encouraged the growth of my career.
As a woman, did you find it difficult to achieve success in your life?
Achieving success as a woman is quite difficult, not only in Georgia, but throughout the world. I have grown professionally thanks to these difficulties and challenges, and never lost hope during difficult moments. At a time when I lost nearly everything, I found out once again that every defeat is a precondition for success through boldness and hard work. Every descent is followed by an ascent. The main thing is to harness your inner strength from within and to embrace the idea that nothing is impossible. I am delighted to see so many successful women around the world. Fortunately, the circumstances have changed, and coming across women entrepreneurs, business leaders or politicians is now the norm. We now stand together at the crossroads of old shattered stereotypes and an expansion in women's roles.
What was the reason for establishing the Georgia and Asia-Africa Chamber of Commerce? What prompted you to create an organization that unites businesspeople of various nationalities?
The idea of establishing the Georgia and Asia-Africa Chamber of Commerce was born after the successful 2017 Global Business Forum, which was attended by more than 200 delegates from 17 countries, and received wide praise. We therefore decided to create an organization that would gather all our contacts under one roof and unite all the interested business operators around a common goal, which is to conduct business on a global level. Nowadays, everybody needs to source, establish and maintain business ties. Our chamber is open to representatives from all types of businesses. Apart from the standard services of a chamber, we offer our members and partners flexible terms, and most importantly, we help them source beneficial contacts in the Asia-Africa region.
The Asia-Africa region represents quite a large market with interesting potential. This market has not been taken advantage of by our country so far. That is what I saw as a challenge. Furthermore, I personally conduct frequent business trips abroad. As a result, I have accumulated the kind of relationships and contacts that can be used effectively to benefit of GAACC members.
How successful is this organization today?
Although our chamber was founded in late 2017, it has already attracted a lot of interest both in Georgia and abroad. I am sure that our chosen course of action will be successful. Our chamber has established a representation in Nigeria. We also have partners in various other countries, including China, India and Kazakhstan. Samples of our partner companies' wine have already been sent to Nigeria, which is a populous market and an ideal platform for starting a business in Africa. We plan to export wine and other products from Georgia in the future. We are also ready to help businesses that are interested in establishing themselves on this market.
I must also point out that we are not limited to the Asia-Africa region. We wish to establish business relationships in other countries around the world, and our existing business contacts give us that opportunity. I often attend various forums, and I have noticed that Georgia, its potential and its achievements are still unknown in many countries. I want as many people as possible to visit Georgia and find out about its potential.
On October 5-6, you are hosting the Global Business and Investment Forum for the second time this year. Who will be the most distinguished guests at this year's event?
I am delighted that the Global Business and Investment Forum has become an annual event. This year's forum will be much more productive and successful. We will welcome speakers from more than 10 countries, as well as special guests, namely, members of Asian and African royal families who are actively involved in business and wish to explore our country's potential. Most importantly, I personally know all our distinguished guests. We often share our experiences with each other and discuss our future business plans together. Among the attendees, I would highlight in particular Sheikha Hessa Saad al-Abdullah Al-Sabah, the Princess of Kuwait and chairwoman of the Council of Arab Businesswomen, and Her Highness, Queen Zaynab Otiti-Obanor, member of the Nigerian royal family and founder of the Arab African Economic Development Initiative.
We are also expecting a delegation of honorable guests from the United Arab Emirates headed byFarida Abdullah Kambar Al-Alwadhi, as well as president of the Kazakh-Slovenian Business Club Dejan Stancer. Several memorandums are to be signed at the forum.
The forum's main goal is to present our country in the most effective manner. I believe that the Global Business and Investment Forum will enable the implementation of numerous successful projects and the establishment of interesting contacts.
Do you believe that you have fulfilled you plans and achieved the desired success as a businesswoman?
Objectively speaking, as a businesswoman who began her career during that last century, at a time when the economy was weak and there was no support from the state, I have indeed been successful. Subjectively speaking, I believe that my potential and my capabilities have certainly not been exhausted.
I respect and value people who are not content with what they have achieved, and those who constantly try to achieve development and are not scared of challenges and difficulties. I see myself as one of these people. I am always ready for new challenges.
What are your main career and business goals, and what are your aims with regard to the Georgia and Asia-Africa Chamber of Commerce?
My main goal is the development and expansion of the Georgia and Asia-Africa Chamber of Commerce. This includes the establishment of further representations in various countries, which will ensure the development of our member companies.
The fact that our chamber is represented in Nigeria, a country where Georgia is not represented diplomatically, is remarkable. It opens the door to a huge market for Georgian exporters and enables them to expand the scope of their business activities.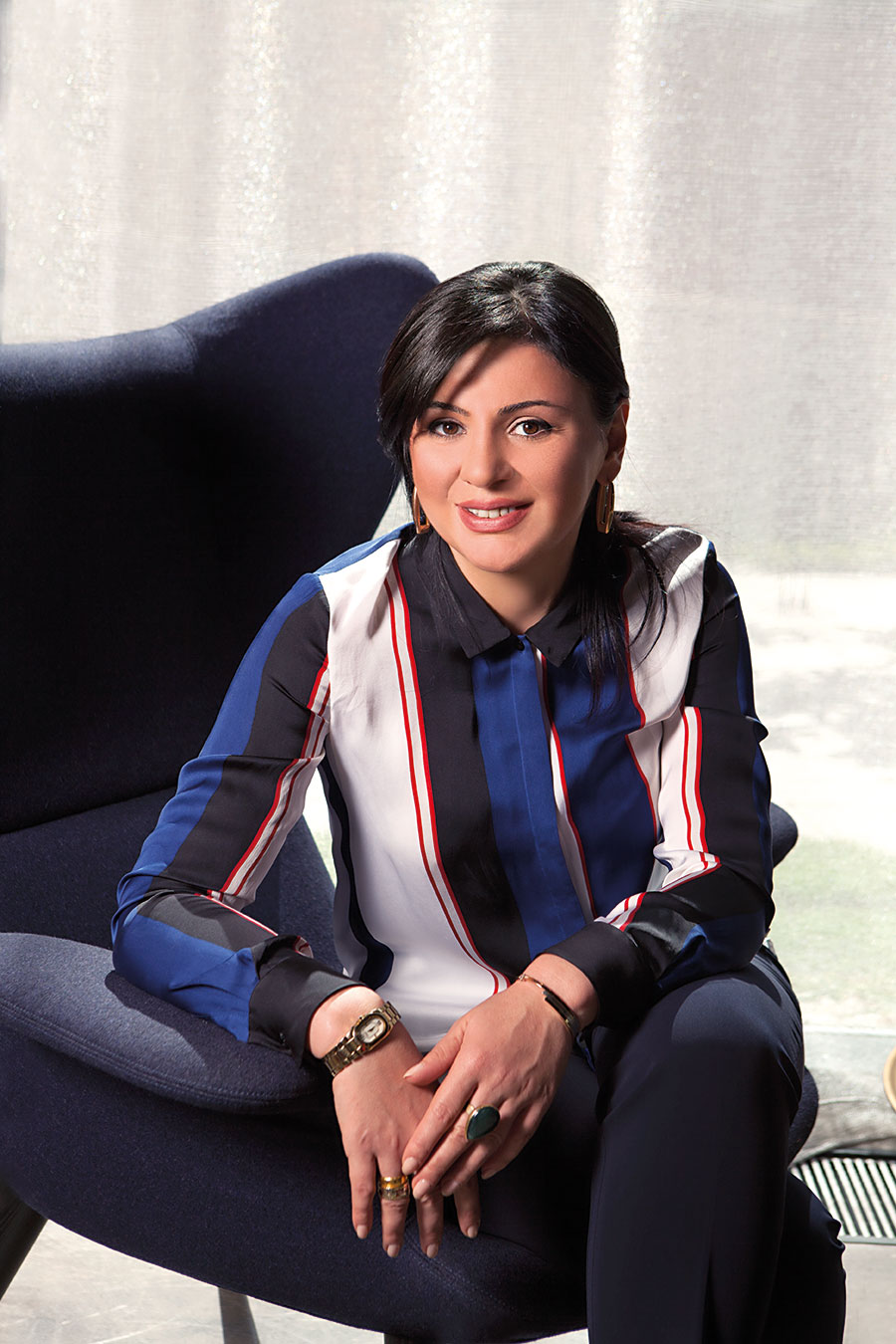 Interview was conducted before the forum.
დატოვე კომენტარი