The technological advances that have been undertaken in the world dictate new lifestyle standards. And you don't need to watch a Luc Besson mega sci-fi blockbuster to get a taste of what these standards might look like. With three new innovative development projects in the works, Georgia's Alliance Group will soon introduce what could easily be referred to as the "Fifth Elements" of modern architecture. Located in three distinct parts of the country, these new projects are exclusively designed, stylish, and embody a healthy lifestyle. Alliance Group uses only high-end, ecologically safe materials in its energy-efficient constructions. In total, $130 million will be invested in all three future-trend projects – Alliance Tbilisi, located in the heart of the capital; Alliance Palace, situated in the sunny seaside town of Batumi, and Alliance Resort, located in Goderdzi pass, in the Adjara highland region. These cutting-edge projects all have one thing in common: all of them have integrated renowned international hotel brands into their multifunctional concept. The management of Courtyard by Marriott, Wyndham Garden and Ramada Hotels, three of the most visible names in the global hospitality industry, will be operated by the Swiss-based international management company Sophos Hotels S.A.
Alliance Group, which was founded in 2005, has carried out more than 20 large-scale projects in Georgia. The company was the first to build a modern residential complex in the Adjara region in the early 2000s, and was the pioneer of the 'Aparthotel' business model in Georgia, officially adopting the concept in 2008. In 2015, the developer was first to come up with the idea to build a multifunctional complex combining apartments and a hotel in partnership with the internationally-acclaimed Courtyard by Marriott at the Alliance Palace. Later, Alliance Group incorporated Ramada – another international hospitality giant –into its Alliance Resort project. In 2017, the developer took it to the next level by adding a residential aspect to the sophisticated business concept of the aparthotel and a global hotel brand at its Alliance Tbilisi project featuring Wyndham Garden. Over the past 11 years, the company has invested more than $200 million in completed projects.
ALLIANCE TBILISI: A NEW LANDMARK IN THE CAPITAL CITY
The future is all about innovation, and innovation is literally what Alliance Group offers to residents of Alliance Tbilisi located at 49, Chavchavadze Avenue in the Vake district. This premium-class complex catches the eye with its sheer scale and exclusive architecture. The 3-tower landmark consists of a 40-story residential building and two smaller mixed-type towers where Wyndham Garden Hotel and apartments will be situated. The appearance of the Wyndam Hotel brand, the world's largest chain of hotels and resorts which operates 7,200 hotels in 67 countries, will turn the district of Vake into the capital's newest tourist center. This kind of luxury development in the hospitality sector is of great value to a city that TripAdvisor, the world's largest travel website, included on its list of 'Destinations on the Rise'.
Another reason Alliance Tbilisi is such an attractive project is because of its ecologically healthy location. Residents of Alliance Tbilisi will be able to breathe clean air blown-in from the forests of Tskneti, and enjoy the privileges of living in an area referred to as the 'Lungs of Tbilisi' by spending time relaxing on their terraced balconies. Alliance Tbilisi is being built using only high-end, environmentally-friendly materials, making it luxurious and energy-efficient all at once. Within the scope of this future-trend project, which will feature penthouses on the top two floors, and residential apartments on the lower floors, Alliance Group has combined all the amenities necessary for quality living: a three- story underground car park, swimming pool, fitness and spa center, as well as concierge service. Both the infrastructural and the inner functional parts of the project include modern facilities, such as alternative energy sources, a technical room on each floor, cards instead of keys to access rooms, privilege cards that will enable residents to access exclusive benefits. Dwellers of Alliance Tbilisi are also free to use of
the lobby, shared spaces and elevator services. Innovative and customized products and services lie at the heart of the project's business model. The developer spared no costs on providing comfort to its residents, apartment owners and hotel guests. Air conditioning and central heating and cooling systems are included in all three towers.
Affordable prices and flexible purchasing conditions make the complex even more attractive for both local and international buyers. Acquiring residential property at Alliance Tbilisi starts at $1,300 per square meter, while Wyndham apartments start at $1,100 per square meter. In both cases, making a 30% down payment is the first step one must take before becoming a property owner. The remaining costs can be covered gradually using the company's interest-free loan. Prospective residents can also use the services of Alliance Group's partner banks, and receive mortgage loans in one day, without income verification. Alternatively, you can purchase an apartment by providing a lump sum payment and receive a discount in the process. In total, Alliance Group will invest more than $75 million in the Alliance Tbilisi project, which will be completed in 2019.
ALLIANCE PALACE: INVEST AND RECEIVE PROFIT AT A FABULOUS BATUMI RESORT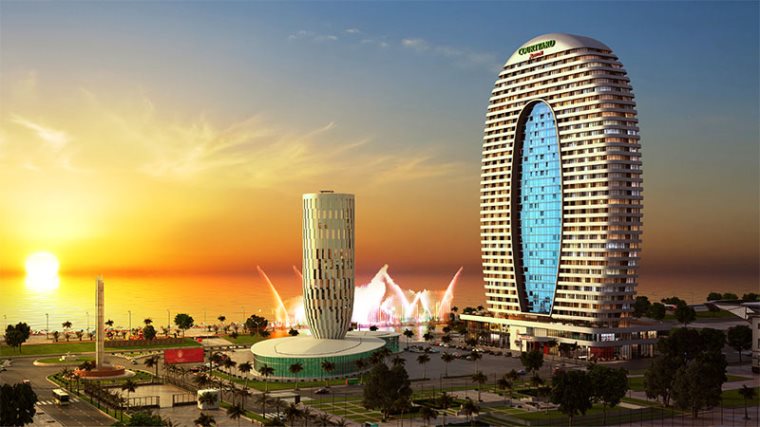 With over 6 million international visitors, Georgia is becoming a must-visit destination for people all around the world. For those who enjoy the sunny Black Sea region, Alliance Group is building a world- class skyscraper in Batumi that will feature a Courtyard by Marriott Hotel on the first six floors. The appearance of this classic Marriott International brand, a leading multinational hospitality company that operates 6,000 hotels in 120 countries, will further strengthen the city's international image as a luxury travel destination. The upper floors of the Alliance Palace – a 41-story multifunctional complex – will house premium-class apartments. This future-trend complex is being built just across the seashore on the city's famous boulevard, which is the longest in Europe. All apartments at Alliance Palace – one-room (30.65 m2), two-room (53.30 m2), and three-room properties (77.65 m2) come with sea-views and balconies. This top-notch multifunctional complex is being built with high-end, ecologically safe, energy-efficient materials. Sophisticated services at Alliance Palace include reception, concierge, security, technical services, and house-keeping. Another value of Alliance Complex is its well-developed infrastructure: underground parking, indoor and outdoor pool, spa, fitness, a casino and restaurants.
Apartments at Alliance Palace start as low as $1,200 per square meter, which is a fair price considering the luxury benefits this complex provides. The Alliance Palace is based on a three- part business model. First, Courtyard by Marriott is integrated into the concept and development. Second, an investment in high-class properties in this region has seen values increase year on year by 15%. Third, the investment and gain profits associated with the aparthotel concept are hard to ignore. When purchasing an apartment at Alliance Palace you can gain additional profit from your investment. You can rent out the apartment independently, or you can let an international apartment management company handle it. They will manage, maintain and rent out your apartment for you, bringing you additional profit, allowing you to recoup the costs of your apartment within five years. You can purchase an apartment by depositing a lump sum payment and receive a discount. Alternatively, you can cover the cost of the apartment gradually by paying a 30% initial down payment (15%-special offer) and by using the company's internal interest-free loan until the project is completed. You can also use the services of the company's partner banks and receive mortgage loans in one day, without income verification.
Alliance Group will invest $45 million in the Alliance Palace project. The apartments will be completed by June of 2018, and the Courtyard by Marriott hotel will officially be opened in April of 2019.
ALLIANCE RESORT: INTACT BEAUTY THAT WILL AMAZE THE WORLD
2,000 meters above sea level, and only 100 kilometers from the Black Sea coast, a new year-round resort is being developed by the Georgian government at Goderdzi pass. The first construction developer to step was the Alliance Group. Located in Georgia's 'Winter Wonderland', the developer is building a 100-room Alliance Resort featuring the world-renowned Ramada Hotel brand, which is part of Ramada Worldwide, a global hotel chain operating 850 hotels in 67 countries. The Alliance Resort, also known as Ramada Ski Resort Goderdzi, is being built with high-end, ecologically safe materials, which makes it a luxury, energy-efficient project. As for the healthy environment and the breathtaking nature, the year-round resort has much to be proud of. The mountains in Goderdzi are snow-covered from November to April, creating a fantastic setting throughout all four seasons. Goderdzi ski resort, also known as the snowiest resort in Georgia (three times more snow depth then the Bakuriani and Gudauri ski resorts), is located in a unique climate zone within Adjara's highlands. This is one of the places that Georgia's fabled six millionth international visitor was taken to within the framework of the surprise welcome-tour hosted by Georgia's Prime Minister.
When it opens in 2018, the 6-story future-trend Alliance Resort will have the capacity to host 250 visitors at any one time. The Alliance Group will invest $10 million in the Alliance Resort project. Meanwhile, to make the mountain resort more easily accessible, both the Georgian and Adjarian governments are implementing a major highway improvement program, according to the Goderdzi Masterplan.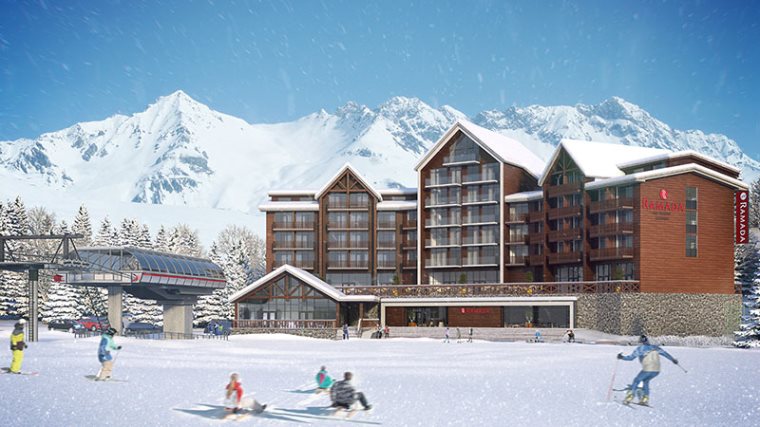 დატოვე კომენტარი