"საქართველოში ბაკალავრიატის დასრულებისა და საერთაშორისი კომპანიაში ორწლიანი გამოცდილების შემდეგ, სწავლა სან-ფრანცისკოში გავაგრძელე. ამჟამად ფინანსური მენეჯერის პოზიციაზე მზის ენერგიის ინდუსტრიაში ვმუშაობ წამყვან ამერიკულ კომპანიაში".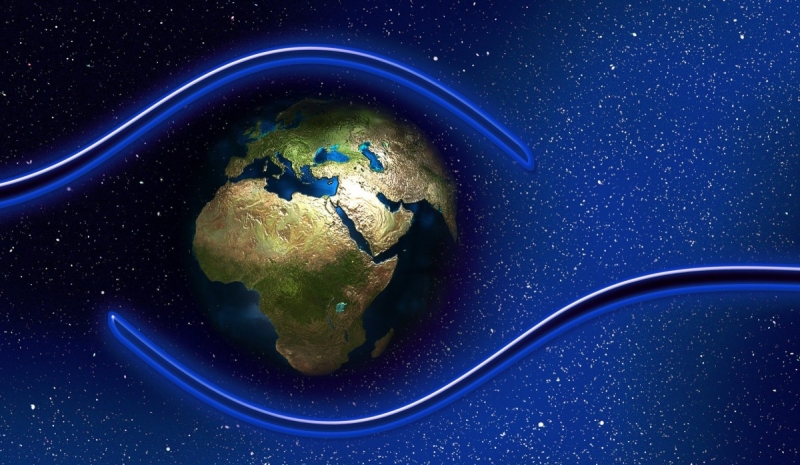 Climate risks have significant impact on financial markets. According to the Intergovernmental Panel on Climate Change (IPCC), the planet got 1-degree Celsius warmer above preindustrial levels. This was caused by flooding, fires storms that are all becoming very regular occurrences in today's world. This leads us to believe that there are a lot of clear evidences that exhibits devastating picture of today's climate change. Under current projections, researches argue that if the temperature will rise 4-degree Celsius above the preindustrial levels the economic losses caused by climate changes would cost us around 23$ trillion per year. This being said, how is financial stability connected to climate crisis?
According to the chief of the world's largest money manager, CEO of Blackrock, Larry Fink, climate crisis will bring a significant reshaping of finance, in addition to reallocation of capital. With rising concern, investors from all around the world, from Europe to Australia, South America to China, Florida to Oregon, ask questions to how they should modify their portfolios.
But, before discussing future affects, let us step back and talk about the relationship between climate risks and financial stability.
There are two types of risks, physical and transition risks, that impact financial market.
Physical Risks
Physical risks are human-driven climate changes like heatwave and droughts in China back in Summer 2013, or extreme rainfalls and flooding, Wildfires in California or in Australia. These bring direct physical impacts on the society and have direct affect on the economy. If the physical risks increase, people will be more dependent on the insurances to cover the costs of their houses or assets. With this in mind, insurance companies start to pay out and to increase clients' premiums. In addition to this, as an indirect risk to the market, unexpected weather events could affect the financial market through unexpected depreciation, higher default rates on loans, downgrade in creditworthiness of companies.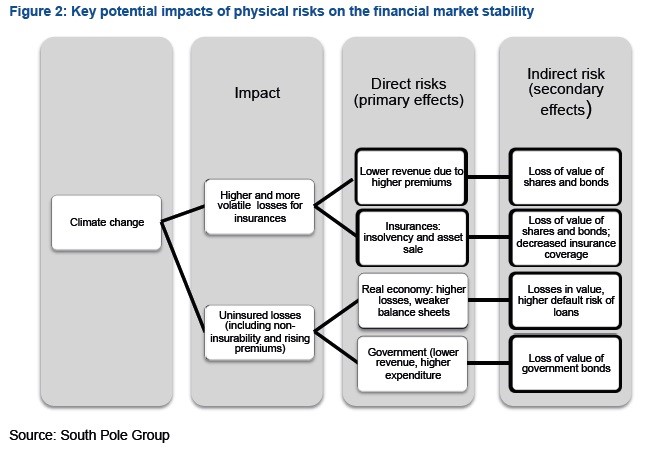 In the short term, it is very unlikely that these physical factors could affect financial stability significantly. Insurance companies are able to adjust to current situations very fast as increasing and decreasing on premiums could be updates on an annual basis. Therefore, the risk capital can be adapted continuously. The bigger problem that the insurance companies face is the increased number of unexpected weather events that is almost impossible to predict based on the statistical events.
Transition Risks
Transition risks occur when the economy is moving towards a less polluted, greener economy, meaning that a lot of companies should spend more money to adjust to such changes. For instance, increased prices of CO2, increased restrictions on energy efficiency, decreased demand on cars with conventional engines increase the costs for existing businesses. The companies that produce cars, ships or planes or the companies that use energy to make raw materials like steel are facing increasing costs due to newly adjusted restriction on the use of energy.
It is getting clearer to everyone now that physical changes that we may see with climate change are more permanent. There is no Federal Reserve that will allow us to stabilize the world. Financial risks of climate change are bigger than any other crisis that we have seen so far. This is bigger and requires more planning by all the parties around the world. The question is when will the firms start making changes in their businesses? There have been a lot of big companies and big investment firms that talked about sustainability, but almost none of them have made any significant changes to make sustainability and environmental changes their core investment decision. There are a lot of debates that some firms believe that they should see more evidences around the climate changes, evidences that science is accurate. Some believe that this is the right time to act on and start contributing to sustainability.
One of the positive events that took place in 2016 was signing the Paris agreement, with the aim to decrease global warming with the help from firms to implement the ways to invest in low greenhouse gas emissions and to recognize the significance of climate change if the temperature goes above 2-degree Celsius. This will give firms a push to make sustainability integral to their portfolio construction and risk management.
In addition, the CEO of Blackrock announced that the firm will put climate change at center of investment strategy. The world's largest asset management firm is announcing that it will make investment decisions with environmental sustainability as its core throughout the firm. He also mentioned that everyone in the firm will go against the board and management who do not disclose goals about the sustainability.
The annual meeting of business and political leaders at the World Economic Forum that was held in Davos in 2020 ended up with people disagreeing over how to address the climate change. However, the main topic and idea of every discussion was that the companies should not wait for others and that the key is to make changes now. More and more clients worldwide are seeking for advices where to invest, how to be more prepared in their investment criteria and how to create a more sustainable portfolio and thus, this should be a good sign for the firms to start making changes related to climate changes.