Food Myths and that Dreaded Soviet Salad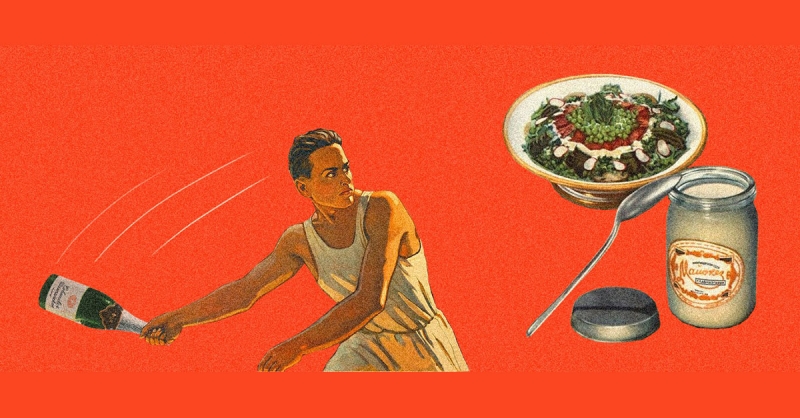 By Levan Qoqiashvili, Founder and co-owner at Gastronaut.
The past decade have been crucial for Georgia. One by one, the myths created around us and what we lived with for years have started to crumble. Large majority of Georgians do have an ambition to be big food experts and connoisseurs and when you ask them why? They would then revert to their family tastes and how amazing their mother/grandmother used to cook, this is something a typical Italian would answer also, the food which reminds them of home.
Yes, it's true your home flavours are important for us ordinary people, but a restaurateur would see beyond the sentimental feelings.
I have been asking my family for years how on earth the Russian salad, so called Vinnagrate ended up on our Georgian tables, especially for New Year's Eve; Not only does it dominate the whole table, but is an 'occupant'' kind of a dish. Yes, I am protesting about it, but I am eating it nevertheless and I enjoy it.
Changes in culinary tastes require more information, experiences. Travel has allowed us to compare one thing to another freely and accept the unknown, the world is much smaller today, that's why it makes me smile when I recall how McDonalds and Coca-Cola entering our Georgian markets brought so much euphoria, now we are much more acceptable to new tastes.
In Georgia, food is a combination of taste and passion at the same time. Georgia, being so versatile and colourful with its geography has been seriously damaged by the period of Communism, without even noticing, especially when it comes to gastronomy.
There are as many as 18 regional gastronomical areas of Georgia which is a true goldmine, but do we acknowledge that, or even explore it any further? Each and every region has its own characteristics from one dinner table to another, proving that cooking skills and traits were passed on throughout the years and from family to another family, thus improving and perfecting on the way. It's clear our ancestors were not afraid to experiment.
What happens next? While we have one of the richest gastronomical cultures, we have started admiring the brands which are popular but not known for quality foods, such as fast food outlets and coffee shops. What is happening to us, are we seeking something new maybe?
It's all about familiarity, that's why we religiously keep buying the same cake from the baker for at least 10 years or so, while Paris has 2000 bakeries all operating equally busy. How can we consume something from the same maker and not get fed up with it? Our familiarities are stalling our developments and wanting to learn something new!
That's is the exactly what the Soviet Union has left us, to be afraid of something new and unknown. I personally had to overcome many stereotypes and break traditions kept for generations, this is what being in a confined environment during many decades has done to us.
I am pleased to say that Georgia is now ready for culinary and gastronomical challenges. I foresee the future years to achieve and recreate the success of those countries who managed to stand strong, although occupied by a foreign power for generations who had brought their style of cuisine.
I do believe we will come to our aim soon, when Georgia proudly will knock on the global culinary doors and will say, Here I am!