Georgia's Gastronomy Can Boost Country's Tourism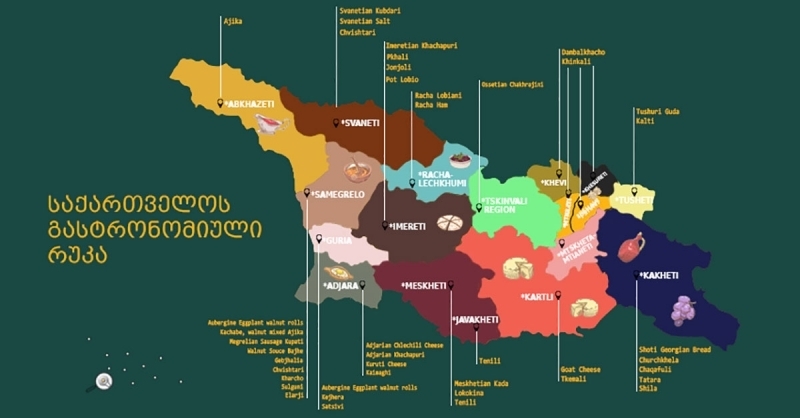 By Levan Qoqiashvili, Founder and co-owner at Gastronaut.


I have just returned from Singapore's 'The World's 50 Best Restaurant' award ceremony, this was attended by an array of the best bloggers and gastronomy knowledgeable, non-biased and respected journalists who write for popular publications.
Here you will also meet the most famous chefs and restaurateurs, so needless to say I took my opportunity to present my country by speaking to them about Georgia, and I was quite equipped with some video and photographic materials. I aimed to see just how many people know about us as a country, and I must admit that their knowledge of Georgia was practically none. That's is why our first and utmost agenda must be to spread the knowledge about Georgia's gastronomic wonders.
And there was the World Forum on Gastronomy Tourism, organized by the UNWTO, the Basque Culinary Centre and Promperú… The Forum allows developed countries to share their own success stories. Yes, the gastronomic tourism has never been so popular in the world like today and now when the modern technologies simplify our lives in every aspect, such as virtual reality, for example now you can visit Italy at the comfort of your own sofa by putting on special glasses complete with realistic experiences of the country!
However! Gastronomy is another matter completely. Visiting a country through a virtual reality glass won't do. No technological achievement can replace the taste of real Neapolitan pizza, it can only happen in Naples. The local pizzeria needs to cut that slice for you before you eat it. This is the only way.
Taste buds won't be replaced with modern technologies, therefore followers of new flavours will remain and our adventures in tourism will continue.
We must not look at tourism in a narrow local context. While the world is forming in that way so should we. We still fight to establish ourselves on the global gastronomic map, which is right now expressed with the seven leading countries, such as Mexico, Singapore, Australia, Japan, Spain, Thailand and Peru.
The forum I mentioned above was contained in the Basque Country, known as the best school of cookery and gastronomic science. I am not even talking about its powerful touristic centre attraction.
The forum, first of all, gave me the chance to see what is exactly needed to speed up our gastronomic tourism future. We must, first of all, understand that such tourism is not just food or cooking. It's the unity of four main components: culture, heritage, local and society, local farmers are working tirelessly developing the concept for successful growth and development much improved than we have it now!
None of the above is possible without a new vision. It is hard to imagine that in a country like Indonesia, wine production would have been unimaginable, but it happened. Wine is simply an essential component for the gastronomic world.
Japan's capital, known as the paradise of gastronomy, now the country is more concentrated on its regional development.
The secret is the right strategy, many leading countries have conducted gastronomic study, and this is a much-needed process here in our country. Priorities and must-do list must be compiled at first in a bid to form the correct strategy.
There are many areas of tourism and Georgia is no exception. We also have tremendous opportunities and potential in many areas, but in my opinion, gastronomy (culinary) tourism is what Georgia should aspire to. Our cuisine is very rich, I would say that not many countries can beat us in culinary varieties our nature provides, and we must use it effectively. This is paramount!
Just to talk about Khinkali and Khachapuri wonders are not enough to describe what Georgia has to offer to say the least. Studies are important, this can easily be observed if we read all foreign publications about Georgian food. At the moment It's all about wine and certain pastries, Khinkali and similar and that's just about it. Georgian society never had a reason or time to do the research, but now it is time to explore all the regional recipes which are still in existence.
I strongly believe that such work would not only make our gastronomic country popular but also it would recreate the success of the Georgian Wine, which has been acknowledged by UNESCO as a national heritage.
While I am discussing Georgian wine, sadly on the same 2017 UNWITO Forum research, it's the Kakheti wine that is the sole representation of Georgia, however, there is no mention of our food. It's shameful I would say, as well as unfortunate.
To be mentioned in such research (or studies) is exactly the source of the gastronomic bloggers and writers, this is how they show the country of their interest.
Let's be honest, we are in a chaotic development regarding our gastronomical areas, the same dishes always appear to make the headlines, while some of the opportunist countries, including Russia, claim that famous sauces, walnut dishes and delicacies are their own and sell as their own!
And if this is not the wake-up call needed, I don't know what is! Considering also the latest political skirmishes between Russia and Georgia, which affected firstly on our regional tourism, we have overcome previously and we will again. So we must not despair, because we have been through the same experiences with our wine, the crisis and hardship only improved our wine and its story worldwide. The Georgian food, agricultural success and service improvement must follow suit.
Therefore, I believe, that the private sector and the government must unite in this decision, face the challenge and make it happen.
Once again we must leave our comfort zone, yes it will be hard and painful but progress is never without.