2015 was full of major innovations and achievements for Elit Electronics. Signing a contract with world tech giant Samsung, and becoming an exclusive representative of the Japanese tech brand Hitachi was one of the company's highlights last year. The company has also made some major changes in its service sector, and expanded its chain by opening new stores around Georgia. Forbes Georgia spoke to CEO of Elite Electronics Lado Jobava to find out more about the company's success on the Georgia market and its plans going forward.
Despite the many challenges, Elit Electronics has remained a leader in the tech market for quite some time now. That said, 2015 has been a year of major economic challenges for the country, as well as the business sector. How did Elit Electronics manage to overcome this crisis?
Despite these challenges, we worked very hard with our partners and suppliers in order to mitigate the currency fluctuations, and maintain affordable prices for our products. This was vital for both our customer base, and the company itself. Since our company relies entirely on imports, we must attend to our financial commitments in foreign currency. So, we faced some major risks given the unstable currency environment in our country. However, we managed to negotiate with our partners, and that's why our customers did not have to experience the negative effects of the unstable economic environment. Needless to say, our suppliers were more than willing to work with us on this challenge since they did not want to lose their market share in Georgia. None of this would have been possible without our company's impeccable reputation, and our strong and longtime partnership with our suppliers. So despite all these challenges, 2015 was a successful year for Elit Electronics. Moreover, our company signed some major contracts in 2015. Elit Electronics is now Samsung's official distributor on the Georgian market. This contract was signed in September 2015, and I can say that this has been an outstanding achievement for us, since Samsung is known as one of the largest players in the global household tech market. Therefore, cooperation between Elit Electronics and Samsung on the local tech market is both a prerequisite and a guarantee for our company's success. With regard to the contract, it encompasses a whole range of household gadgets. In addition, Elit Electronics signed an exclusive contract with the Japanese Hitachi company as well. We are now an exclusive distributor of the Hitachi products in Georgia.
What other developments has the company seen in 2015?
In May 2015 we opened our biggest store in Transcaucasia. The store is located in Tbilisi at Kavtaradze St. 1, and its total area spans approximately 3,500 square meters. The store offers customers a wide range of household tech products. Our company's primary advantage is that we represent a multi-brand chain store, which means that our customers have the opportunity to choose from a wide variety of brands in Georgia, and this gives us a competitive advantage with respect to our competitors. Moreover, Elit Electronics is an exclusive representative of several other major tech brands in Georgia, including Siemens, Bosch and Gorenje.
At the moment Elit Electronics is a retailer, as well as a company that distributes various brands in Georgia. If we take the example of most foreign companies, we will see that the majority of them operate either as retailers or as distributors. The same applies to the tech market in Israel. However, this does not apply to Georgia, since in most cases, a single company performs as a retailer and a distributor at the same time.
How does Elit Electronics manage to maintain its successful position on the market taking into consideration the growing competitive environment in the country?
I completely agree with you on that. The tech market in Georgia is one of the most competitive markets in the country. And that is a very good thing, since the growing competition forces us to stay in 'good shape' and remain focused. In the given circumstances, the market itself controls us, and poses some very tough challenges. In our business, the retail market share is over 85%, which forces us to remain vigilant, and stay focused on the market. Even a minor oversight could have disastrous effects on the company. Frankly speaking, our company's success is primarily due to good management. It is my golden rule to treat my employees with the utmost fairness, since this team of people represents our company – the success of the company depends on them. Certainly, our suppliers and partners also play a decisive role in our company's success, since the company depends on this partnership. Our team, along with our suppliers and partners, create the comfort that we offer to our customers. We offer our clients an elegant interior, highly- qualified personnel, and most importantly, a wide range of products by world-class brands. We constantly work on improving the quality of service – both in the consulting and sales areas. In 2013, the company's service personnel earned a score of 78 for the quality of customer service. In consecutive years, this figure rose up to 85, and in 2015, the quality of customer service has already scored as high as 91 points.
The after-sales service at Elit Electronics combines several elements: delivery/installation, replacement of defective products, and one added innovation – we have established what we call 'Elit Service', which provides our customers with technical assistance. Currently, we only have 7 technical assistance centers at our stores, but we plan to increase their number up to 10 in 20172018. It is very important that we offer this type of technical assistance to our customers throughout Georgia. We already have one service center in Zugdidi, and another is planned to open in Batumi. Elit Electronics has been granted authorization from Bosch, Siemens and other high profile brands. Our advantage is that we offer our customers not just quality products, but also further technical assistance. Elit Electronics is comprised of a team of outstanding professionals that specialize not only in the sales of our products, but also in sharing our long-time business experience with our loyal customers and partners.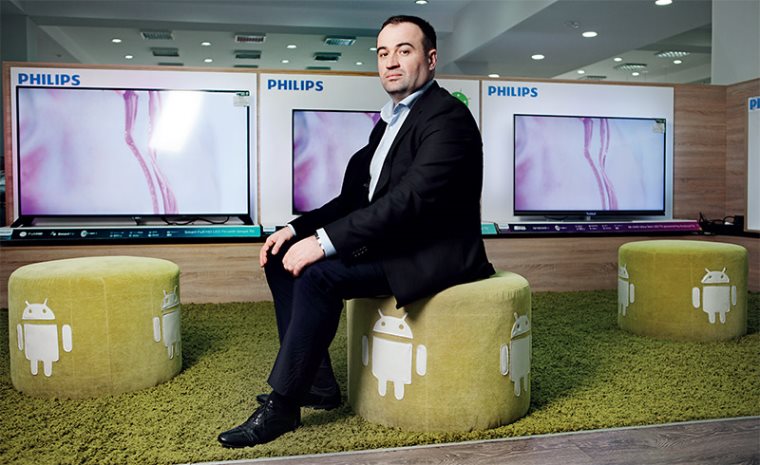 What are the short-term goals of Elit Electron­ics and your goals as manager of the company?
Our goal is to maintain and reinforce our high position on the market. At the moment, Elit Electronics represents the largest chain of household tech stores on the Georgian market. Our company is an absolute leader – both in terms of our sales, and the wide assortment of products we offer. We do our best to uphold this leading position. Needless to say, our main goal is to ensure customer satisfaction, along with the satisfaction of our employees, partners and society in general.
Is Elite Electronics planning to expand its chain of stores, or would you rather focus on widen­ing the assortment of products?
As I have already mentioned, all the brands that are available on the Georgian technical market are also available at our stores. However, I do not exclude the possibility that we might expand our partnership with some other high profile brands. We constantly work on the further development of our company. We had a precise plan regarding the expansion of our chain, and pursuant to that, we opened the biggest store in Transcaucasia. This store is unique not only due to its sheer size, but also the uniqueness of its concept. We have created the most comfortable environment for our customers. The store has a space for children, where customers can safely leave their children with supervisors while they shop. The store also has the Elit Café, where you can enjoy tasty cup of coffee, relax and think over your purchase. We were also able to successfully implement another large-scale project this year by opening a new store in the East Point Mall. We invested $2 million in this project. The opening ceremony was attended by the presidents of Bosch and Siemens. We were extremely flattered to hear that such an exquisite store cannot be found even in Berlin. In addition to the projects that we have already implemented, Elit Electronics is working to open one of its largest stores in Batumi. The total space of the store will exceed 3,000 square meters. We are also planning to open new stores in Ozurgeti and in Gldani, a suburb of Tbilisi. These are the projects that we are planning to implement this year. In fact, I also can't exclude the possibility that our company may go beyond retail, and also expand our chain throughout Transcaucasia. These projects are not included into this year's strategy, but they represent a significant element of our three-year strategy.
Does Elit Electronics plan to expand into seg­ments outside the tech market?
The main goal of any business is to turn a profit and we are no exception. However, our extensive experience operating in the Georgian market has shown us the utmost importance of growing one's market share on a continuous basis. Our market share increased by 8% last year, and the fact that this increase happened due to the rise in the sales of notebooks and cell phones is a major achievement for our company. Our position in the sale of notebooks and cell phones was rather weak in the past. However, our efforts, hard work, and proper positioning on the market yielded good results. I believe that we have a very good potential to go beyond these figures. When it comes to IT business, Elit Electronics is certainly not a leader in this market. However, the figures of 2015 proved otherwise, and we are extremely proud of our achievements. So, our main goal is the strategic development of our company and maintaining a strong position on the market.
What are your company's plans for the future?
I believe that if introducing a new brand on the Georgian market will be in the interest of our company, we will certainly do so. I must say however, that Elit Electronics is already offering its customers basically all the international brands. We do not want to lose focus on our existing priorities. Managing too many tasks at the same time makes things much more difficult –it just makes our job that much harder. At the end of the day, we are extremely proud of the fact that our company is an exclusive distributor of such well-known brands like Bosch, Siemens, Gorenje, Samsung, and Hitachi. And these top-end brands can be found at most of store locations.
დატოვე კომენტარი