Last May, the USAID Economic Security Program signed a memorandum of understanding with Mastercard to accelerate digital transformation processes in the country by launching a digital partnership aimed at strengthening digitalization and e-commerce capacities of Georgia's small and medium sized enterprises, data analytics for tourism promotion, and the ecosystem for fintech solutions.
I sat down to talk with Mastercard's Divisional President for Eastern Europe, Yasemin Bedir about Mastercard's Georgian operations, its branding strategy before and after pandemic, and most importantly, the partnership reached by Mastercard, USAID, and the Ministry of Economy and Sustainable Development of Georgia. What follows is the transcript of our conversation.
Ms. Bedir, what is Mastercard's role in the Georgian financial industry? Was this role amplified or changed in any way by the pandemic?
Technologies and business models are developing at lightning speeds to open up more opportunities and connections to people around the world. Payments can be authenticated using our unique biological metrics, linked to our protected digital identities, and work intuitively in the background of our everyday lives.
These incredible advances offer a glimpse into what doing business, trading, or living internationally, and making everyday spending decisions will look like 10 years from now: simple, seamless, and secure; for everyone, everywhere; with any device or no device.  At Mastercard, we are proud to be driving change and innovation, not simply reacting to it. We've made these predictions knowing we've already embarked on the journey today.
That being said our goal in Georgia is the same as the rest of the world. We are proud to be driving change and innovation, not simply reacting to it. We share our insights and foresight on the future of payments; they examine the critical driving forces and current initiatives that are already beginning to transform our communities and businesses for the better.
As for the pandemic, Mastercard's role as an enabler has intensified during this period. Digital Services proved their indispensability in all layers of the community.
In the Georgian financial industry, Mastercard is the brand that consumers trust the most. According to the National Bank of Georgia, there are 6.3 million debit and 821 thousand credit cards in the country. This means that on average, there are 1.7 debit and 0.2 credit cards per capita, ie, every resident of the country has more than one debit card, and every fifth citizen has a credit card.
These cards carry out more than 1.5 million transactions daily, with a total volume of more than GEL 125 million per day on average. For comparison, 5 years ago, less than 450 thousand card payments were made per day, and the volume of these payments was 45 million GEL per day. Consequently, the number of bank card transactions has increased several times in the last 5 years.
Did Mastercard's branding change during the pandemic?
To be honest, during the pandemic, the Mastercard brand has not changed radically. The values and directions that have become the signature of the company have become very relevant during the pandemic.
At the mention of Mastercard, perhaps the only thing you remember is a technology company working in the global payment industry. But in addition to that, as we expand our global network to bring about positive change around the world, we promise to ensure equal access to the digital economy, stand up against discrimination, and protect our precious planet.
We promise beyond emotion – trust. Trust the technology infrastructure, trust the data usage and protection, and trust that everything will be fine.
Companies like us have a big responsibility. We need to make sustainability practices commercially viable and make them a natural part of our daily trade and economy.
We believe in the power of innovation, inclusiveness, trust, and collaborative ecosystems.
What trends have emerged in digital payments during the pandemic?
The advent of Covid has forced people to change their lifestyles and habits, so brands need to make sure they adapt to "new ways of life" and connect with consumers on a more personal level.
About 20-30% of Covid-related digital transitions globally are expected to be permanent. Consumers have increased their e-commerce footprint by buying up to 30% more from online retailers. Reflecting on expanded consumer choice, our analysis shows that consumers around the world are buying more websites and more online markets than ever before.
E-commerce is growing rapidly because people who have never used e-commerce are using it for the first time.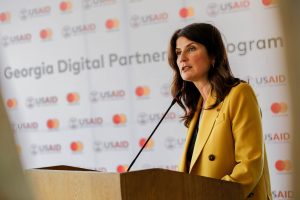 What ongoing projects does Mastercard have in Georgia and the Caucasus region? Could you summarize last year's results and achievements?                                       
No one disputes that the last two years have been full of challenges. However, new knowledge came with it. The knowledge that together we can do everything. Despite the changing social and economic realities, companies have decided that a pandemic is not the end. Moreover – so much more we can do.
Mastercard is one of those companies that is constantly on the customer side, regardless of reality.
Last year, we supported the education sector. In terms of online learning, in Georgia, not all students still have the opportunity to pursue distance learning. In partnership with Carrefour, we funded tablets for 109 vulnerable students.
We want to mention our contribution to the project "Charte". Today, 78,000 socially vulnerable students in Georgia do not have internet. In our view, access to the Internet is a fundamental human right. The "Charte" project allows everyone to fund a monthly internet fee or a computer for vulnerable families in mountainous and borderline villages of Georgia.
Also, the field of tourism is noteworthy. In Georgia, tourism was one of the fastest-growing industries, although, in the first year of the pandemic, the number of visitors fell by a third. This figure was particularly negatively reflected in the situation of small and medium-sized businesses.
To minimize the damage caused by the pandemic, Mastercard and the Georgian National Tourism Administration launched a partnership and introduced a new initiative to the public in September last year: within the framework of the collaboration, they signed a memorandum of understanding.
Mastercard and Georgian National Tourism Association offer customers the platform of Mastercard Tourism Insight. It offers travelers an innovative, 360-degree view of modern travel, both before and after its completion. Mastercard Tourism Insight combines publicly available search engines and aggregates shopping trends in one technology.
Users usually start using a lot of travel websites a few weeks before the trip, use social media, post vacation photos, review locations, and generally travel in digital format. This creates a massive database, the use of which helps strengthen the industry. But to gather relevant information, it is necessary to involve not only travelers but also tourism investors and businesses. And then, strong data analytics.
Through the Mastercard Tourism Insight platform, government agencies such as the Georgian National Tourism Administration use anonymous and aggregated payment data to track consumer behavior, sentiment, or spending habits, providing better solutions and planning. This data, from search engines: Mastercard transactions, social media, and booking information, measures the overall satisfaction of the visitor. This unit of measurement even covers such a wide range as weather, food and entertainment spots, sights, accommodation, and much more.
The purpose of the agreement is to facilitate the travel of tourists in the country, increase their number, create additional jobs, grow the economy and establish it as one of the main tourist destinations in Georgia.
Within the framework of this cooperation, 2022 will also be busy in the country.
In 2021, we played with the most in-demand and successful brands in the country. We are proud that our partners are the leading companies in the country, from almost every field of business.
Along with them, we offered customers a variety of promotions, campaigns, discounts, and cashbacks, covered almost all areas of the economy, and created a priceless experience for them.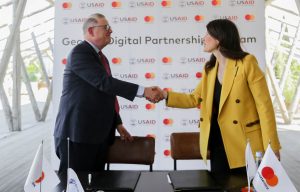 What are the reasons behind the partnership reached by Mastercard, USAID, and the Ministry of Economy and Sustainable Development?
The partnership aims to accelerate the process of digital transformation in the country, the development of small and medium enterprises (SMEs) in Georgia; The growth of the digital economy, and financial inclusion – using technology, digital assets, and services. The main areas of cooperation are Tourism, E-Commerce, and Fintech Ecosystem.
As part of this partnership, we will help small and medium-sized businesses design and develop better, more efficient business operations; strengthen market connections and earn extra income. The Mastercard and USAID Economic Security Program will work with all stakeholders to facilitate the development of the Fintech ecosystem and enable start-up, prospective companies to expand internationally.
What are the purpose and scope of cooperation?  What projects and/or initiatives does the partnership entail? What is the time horizon for these to be carried out? 
Mastercard, in partnership with the USAID Economic Security Program and with the support of the Ministry of Economy and Sustainable Development of Georgia, plans to develop and implement a three-year Georgia Digital Partnership Program, which includes many initiatives and activities involving both the private and public sectors.
Tourism
By developing a "digital payment experience", Mastercard will facilitate cashless transactions across the country. The company intends to continue investing in Georgia to develop a card acceptor network. Among them is the Tap on Phone system, which allows small and medium-sized businesses to turn it into a mobile phone receiving device.
E-Commerce Academy
In support of the e-Commerce Academy, Mastercard and USAID are participating in the Curriculum Development Committee. The goal of the academy is to develop and strengthen the knowledge and skills of small and medium-sized businesses and interested young people so that they can effectively use e-commerce opportunities to build their businesses as well as to plan and manage existing businesses.
Fintech Ecosystem
As part of the partnership, the parties will support start-up, promising Fintech companies to enable them to grow and expand internationally. They will offer them financial technologies as well as training and other opportunities to gain theoretical knowledge. Applying the knowledge and experience of Mastercard and USAID will help Georgian Fintech companies succeed.
Why is such cooperation needed in Georgia? 
As already mentioned, we believe in the power of innovation, inclusiveness, trust, and collaborative ecosystems.
Georgia is a developing country that follows the global trend of digitalization. However, unfortunately, it has insufficient resources for this transformation.
Therefore, it is necessary to launch projects or initiatives that will improve the existing infrastructure and develop digital ecosystems.
The partnership covers key areas whose digitization will help Georgia transition to a knowledge-based and innovation-based economy. As a result, jobs will increase, the number of investments will increase, and eventually, Georgia will become a stronger, richer, more innovative country.
Ms. Bedir, several months have passed since your promotion to Divisional President. Looking back, how did you adapt to the role? What were the challenges you faced, and how did you overcome them?
Considering the fact that my ancestors are from Georgia and my hometown is our divisional base Istanbul, I should confess I always felt close to the geography. These dynamic and innovative lands bring us many opportunities as well as challenges. Our role is to work with our partners to address these opportunities and eliminate obstacles. We are providing more resources/support to the country from our divisional and regional teams. Our expert team in the division and the relationship they have built with their stakeholders is one of a kind. I'm glad to be back in this part of the globe.
Leave a comment