It's a shame that we need to meet in such a conventional setting: in the Vera district of Tbilisi, in the evening, and around a table. I think my article will not turn out the way I intend it to, and I'm nervous about that. I don't know about others, but when I write a story about a person, I desperately feel that I need to look through or, more precisely, investigate the environment in which that person operates and spends most of their time. An office is an office after all. Computers, printers, notepads, pencil holders, telephones… it's boring no matter how fancy it is.
We walk up along wooden staircase to an office in the attic. She's wearing a black coat and a red dress. She places her laptop on the table. We sit down and prepare for the long interview. She offers me some coffee, but for some reason I decline. "Maybe you have already had a few cups today, but I'm sure it wasn't anything quite as delicious as this coffee," she told me. That phrase was enough for me to agree to one more cup of coffee that evening. I had to agree, it was a fine coffee. There's a wood and a glass cupboard in the room, it's miniature and contains what looks like colorful small statues of cows made of china. Nino Zambakhidze is 37 and she's a farmer. With sincere enthusiasm she tells me she's both glad and surprised to be featured on the cover of Forbes Woman. But it's really not surprising at all. There are not many farmers as successful as Nino.
What I mean is that back in 2008, Nino and her business partner built a cheese factory. In 2009, she built a factory that produced mixed fodder for cows; in 2012 she built an apple orchard; in 2013 she built an artificial lake for fish farming; in 2014 she built a cow farm; and this year, she's built a fruit and vegetable refrigeration unit.
Actually, I'm telling her story backwards, but that's because Nino had to travel a long, and I'd say, extremely difficult road before she became a farmer. Nino, who has received many awards as a farmer, didn't have a penny at the end of the 1990s.
AMERICAN JEANS FAILURE
Nino tells me the story of how her parents saved up money for her to study in America, and what a failure her first business venture was.
She graduated from the Humanitarian-Technical Faculty at Tbilisi Technical University. Her father, who was the Dean of the Mechanics- Mathematics Faculty at Tbilisi Ivane Javakhishvili State University, and her mother, an English language specialist, had to make do on their meager monthly salaries. Nonetheless, her parents decided to save some money, and send Nino to New York to study back in 1995. Because studying at an American university was insanely expensive for her, she decided to take up a course in marketing. Nino still remembers her professor's words as he briefly explained the essence of marketing to her. At that time, marketing was still a very new concept in Georgia.
"He told me something like this –that marketing is something that you sell, and you're selling yourself too when you come to me and tell me about yourself and your country," she recants.
Nino spent more than a year in the United States. She decided to launch her first business there. The family she was living with helped her in this endeavor. She took out a bank loan (the family provided the collateral) and started to buy-up GAP jeans and send them to Georgia where her father's friend was selling them in his shop. At first, the business seemed successful, but when Nino got back to Georgia, her father's friend vanished.
"We had a small shop in the Vera district in front of the Tea House. I thought I had a very successful business going. My parents were facing significant financial problems at the time, and I thought my business would be a good way to help us get by. But it all ended very badly. When I got back from the US, there was neither the shop nor my father's friend. I still don't know where he is. He must have been in dire straits and decided to flee. I'm still trying to find an explanation for his actions. This was my first failure, and I decided then, that I'd never launch my own business again," she recounts.
That's how Nino recalls one of the most difficult periods of her life. She also recalls another emotion.
"When I returned to Tbilisi, I became angry with my country. Day and night, everything had the same color. But I knew that if you jumped on a plane and flew just few hours, an absolutely different life and different opportunities awaited. This must have been the biggest motivating factor for me to become an entrepreneur," Nino tells me.
But let's follow the events in chronological order. After returning to Georgia, Nino still had to pay back the $20,000 loan she had in the United States. It was a huge amount of money back then, the kind of money her family couldn't even dream about. Nino is still grateful to the host family she was staying with while she lived in the US. That family was her first business partner. "We split the loan in half. My family had to sell everything in order to pay the money, and I mean everything that we owned. My mother's jewelry, car – anything of value. As a result, we found ourselves in a financial predicament. Some days we didn't even have food in our house. That's how hard it was. My dad's friends would help us out from time-to-time. They'd come with food or with a little money," she says.
A SECOND CHANCE – TAKE AWAY
These hard times lasted for almost a year. But in 1998, Nino started working as an interpreter for a Greek businessman operating in Georgia. Her monthly salary was $300, and her family breathed a sigh of relief. Nino says she learned a lot from her employer – how to interact with people, willpower and so on. However, problems quickly arose, as the businessman was forced to leave Georgia and Nino had to start over from scratch.
This time she started to work in one of the audit companies in Tbilisi, where she met Beso Babunashvili her eventual business partner.
"I was the head of the Marketing Department in that company. But I wasn't 100% happy. I'm not the type of person who likes to sit at a desk working in an office all day. So, I gradually began to think about starting my own business again. After giving it a lot of thought, I finally told Beso that I wanted to do something different. Something new, something that was mine… That's how we started to export non-ferrous metals from Georgia in cooperation with our Dutch partners back in 2003. Later, we opened a Coffee House too," Nino tells me. She says she was impressed with the take-away concept back when she lived in the United States. According to her, when she first asked people in America why they were running and sipping their coffees at the same time, their answer was that they wanted to save time. For a person from Georgia, this answer seemed a bit odd. But years later, Nino opened the first three take-away coffee booths in Tbilisi. They were called 'New Color of Coffee'.
"We managed to launch a take-away business in 2005. It was difficult, but we still did it," she recalls. That's when she started to import Italian coffee and Vergnano tea from Italy. Their sales are still quite high in Georgia.
TWO COWS
Along came 2007. One day, Nino's business partner Beso Babunashvili, went to Akhaltsikhe and on a whim, he bought two cows. He phoned Nino to tell her about it afterwards.
"People often ask me what I thought when he told me about it. Now that I think about it, I supported Beso's decision quite consciously. I'm saying consciously, because I remember the time when my family didn't have money, even for food. I think it was something you fear subconsciously, when you don't know what to expect next. Those cows were like a guarantee that when you're down and out, you can at least still provide food to your children. I'm probably going to be telling you this exclusively, because I've never thought about it before, but I just realized all of a sudden that I followed Beso's lead quite consciously. I often recall that my grandma never threw away bread; she'd always toast the remaining bread. When I'd ask her why she needed so much toasted bread, she answered that she had gone through the war. I think I had a similar experience. I also remember the time when we lived on only bread and tomatoes. We'd gather some tomatoes in Okrokana and eat them."
In short, Beso bought two cows and left them in the village of Tsnisi, in the Akhaltsikhe municipality. And what did Nino have in common with Tsnisi up until 2007? Nothing. She had never gone to village even on a summer holiday. But the cows needed someone to take care of them. So Nino put on her boots, and together with Beso, drove to the village. On their way back from the village, she decided that with the help of the two cows, they would launch a cheese production business.
She realized that it wouldn't be easy to start the business, but the decision had already been made. She began to implement her plan. First she met with Petre Tsiskarishvili, the Minister of Agriculture at that time.
"I can still remember his surprised face when I told him I wanted to buy highly-productive cows and start producing cheese. We had known each other for quite some time, but he never imagined I'd move to the village to become a farmer," she told me.
Nino was unfazed by the possibility of having to move out of the city. She submitted a grant proposal at the Millennium Challenge Corporation, and soon after, she and her business partner received $125,000. With these start-up funds, Nino and Beso built a milk processing plant.
"People often say that if not for my powerful friends, I would not have achieved anything. But I'm always hurt by these words. I can freely say that I've never had powerful friends. I created a project and drafted a proposal. We won the grant. We got lucky. That's all. When you really want something and you follow it through, believe me, it's possible to get a grant without someone's help. I've conducted various projects with all the donor organizations that have ever operated in this region. We built an enterprise that meets international standards with this money, and we began purchasing milk from 350 local residents," she explains.
However, Nino faced a problem while building the plant. She couldn't find a technologist with modern knowledge in milk processing and cheese production. So instead, Nino traveled to Turkey to study the profession. She also became a food safety manager.
That's how she wound-up moving from Tbilisi to Akhaltsikhe. She left her two kids with her mother and a nanny. But her husband decided to divorce her.
"My husband was not interested in the business I was pursuing. At the same time, I saw various problems in the Akhaltsikhe municipality, which made me forget about my everyday struggles. I didn't even realize how I got drawn into the lives of the local residents. I directed all my attention to them, and reevaluated many things. On the one hand, this was probably not very good for my private life, but on the other, it was probably for the best. It's good when you have both family and business matters in harmony, but in my case, it didn't work out that way. However, I don't regret it now, and if I could go back, I'd still choose this path," Nino says.
I don't doubt her sincerity, as she continues to talk about her businesses and cows with great enthusiasm. Being a farmer requires a great deal of mental and physical labor. Not to mention, the job forces her to spend extensive time away from her children. If she didn't really love this business, then she'd have abandoned it long ago.
So Nino began living in the village and producing cheese. But when September came, the cows stopped producing milk. The cattle needed fodder, so Nino and Beso took out another loan. This time the loan was for building a fodder-producing plant so that the local population could supply them with feed for the cows. Eventually, it turned out that the problem was not only the feed, but also the genetics of the cows.
"How can you run a business so blindly? It's inexcusable. You have to research it all beforehand. You have to study the market. That's why my ignorance cost me so dearly. Eventually, in 2014, we built our farm with the help of the Cheap Credit Program, and we now have 100 cows that we bought in Armenia," she noted.
Currently, Nino and her business partner own 70 hectares of agricultural land, and 300 hectares of pasture fields in the Akhaltsikhe municipality. They also run a 5 hectare apple orchard, and built an artificial lake and a fish farm too.
They produce 400 kilograms of cheese per day. They mostly make Imeretian cheese, but they also plan to start producing smoked Sulguniin the near future. Their cheese, which is called Akhaltsikhuri, is sold in various supermarkets. Nino says that they have no problem selling their produce.
All of Nino's new business endeavors are taken on with her business partner Beso Babunashvili. According to her, all her success as a farmer can be attributed to Beso. "He's my biggest motivator," she says. "As soon as I say I want to do this or that, he supports me right away."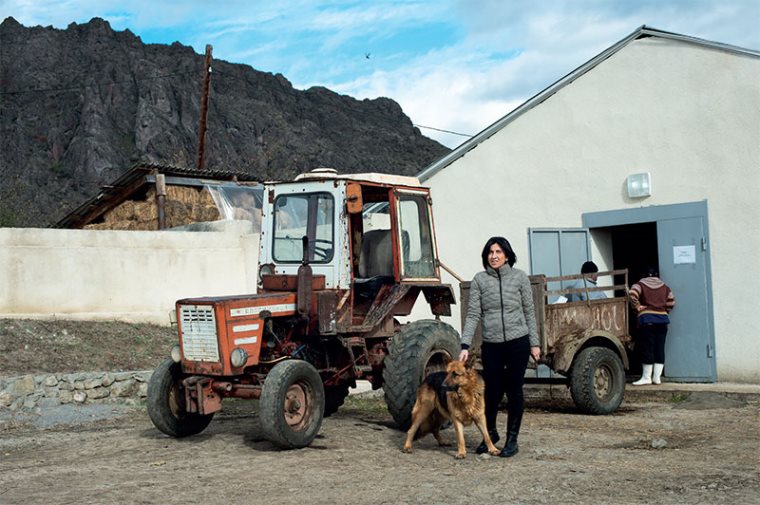 SUPPORTING THE FARMERS
After Nino got to know more about agricultural issues, and understood the hard work and challenges that farmers face, she decided to form a Farmers' Association. Nino's credo is as follows: she never tries to resolve her own problems only. Caring for others is a priority for her too. This credo became the foundation for the creation of the Farmers' Association. Through the association, Nino realized that she could help the farmers solve their problems. She recalls that at the time, agriculture was not a priority for the government, and because of this, farmers had many unresolved issues. That's how the Farmers' Association, which was founded in 2012, became an intermediary between the government and the farmers. Today, the association has 1,300 members.
The biggest problem that farmers face today is a lack of information. "They don't have access to modern technology. They have no information on what is being done in other countries. I had similar problems, and that's why I decided to enroll in the Grenoble Economy School. I am a master's degree candidate in Global Management, and currently working on a paper entitled "The Impact of the Deep and Comprehensive Free Trade Area on Small Farmers: Can Social Media Be a Way to Resolve These Issues?"
While she considers education to be one of the best tools for improving the conditions of farmers and for developing agriculture, Zambakhidze also believes that state programs and the involvement of the government are also required for developing this sector. According to her, the current government has implemented many interesting programs in that regard. She is especially fond of the Plant the Future program. However, despite these developments, she says that there are still a lot of unresolved problems.
"The infrastructure still needs to be improved. The government should be working on preventing hail in Kakheti for example, rather than spending money on restoring crops that have already been damaged by it. We know that there is no insurance against drought, that's why irrigation systems need to be improved. Significant investments should also be made in training courses and the education of farmers – especially in the regions. This can be done in education centers, local universities and other public institutions. Migration is also a problem, and if we don't want the villages to lose all their youth, we need to ensure that their educational needs are met, and that the right conditions are created that will make them want to stay there and care for their homes. Cheap credits are necessary, and inexperienced farmers should also have access to such credits; we need to have an agriculture bank… If the state is able to provide these things, then the farmers will make up their minds on what to do and how to do it," she says.
STEREOTYPE DESTROYED
Zambakhidze got involved in agriculture at a time when that sector – and farming at large – was not considered a very popular activity – especially in the capital. Moreover, most people had a very vague idea about agriculture. Nino recalls her first steps in the sector, and the response of various people who learned about her new activity. Nino tells me it was even a matter of ridicule for some, especially for those who couldn't imagine how a woman born and raised in the middle of the city could become a farmer and learn about things like cattle genetics or cheese production.
"Today, agriculture is en vogue, and I believe that I had something to do with it. Information campaigns and steps taken by the government have contributed to the popularization of the sector, and nowadays, you can meet at least one person at any party who will tell you a story about how they built a vineyard or a green house," she notes.
Nino received an award for the Best Female Entrepreneur. But her farming activities are still a matter of wonder to many. She tells me that this is due to embedded stereotypes that exist within society.
"Why can't a woman be a farmer? Or more importantly, why can't a high-heeled woman be a farmer?" She asks. "Well of course I don't go to the farm in high heels, but I don't go to business meetings in my work boots either. I met with the US Secretary of the Treasury in 2009, and even he was surprised to learn that I was a farmer. However, later he produced a report on what the US government should be spending money on, and I was featured in that report as a little girl who'd become a farmer," Nino tells me.
In 2013, Nino became the regional coordinator for the Invest in the Future organization. The organization's goal is to empower women in the regions (Georgia, Armenia and Azerbaijan). Nino takes this job very seriously because she believes that while women are doing a lot of work, they are not being recognized properly.
"I often meet women in the regions. The first thing I tell them is that they should always be properly dressed and made-up when they attend meetings. If you want to achieve something, it depends on your inner mood. I don't like walking in high heels at all, I actually hate it. But when it's needed, I do it. It's unfortunate that we still need to fight in order to prove a woman's strength, prowess and talents in doing business. This talent is often dormant, and it needs to be discovered. That's why the first thing that I did in the Farmers' Association was to recognize our female members (farmers) who are leaders, and I'm very proud of it. We interact with various mass media outlets, and they often feature stories about our members in various magazines, and online news sites. In addition, we're implementing a project entitled "A Farmer is a Partner". We're trying to improve the visibility of our farmers. We have a very active Facebook page, where we feature stories about each new project that we implement. These people need to be promoted. Increasing their visibility will increase their sense of responsibility, and that will have a direct impact on the quality of their products, which will result in their success," Nino explains.
If one bases success on the amount of money made, then Nino is not a successful farmer, because her business will yield profits only after seven years. That's her estimate. At this stage, Nino and her business partner are fully reinvesting all their revenue back into the company.
"If we look at success from another angle, then I think I am successful, because I achieved something I'd never thought I'd do, and I have done something that I'm still surprised I was able to do. I've never tasted milk in my life, and I don't like cheese. I'm doing something that was unimaginable to me. I believe that now I have realized my goals, and I believe I am a successful person. I have gone through hardships, and I managed to get back on my feet again. I have a few life principles: the first is whatever doesn't kill me actually makes me stronger, and second is that as long as you're alive, there is no impasse, and I'm not the kind of person who is ashamed of working," she notes.
Nino told me enthusiastically how she often works together with her employees. She tells me visitors often pass her thinking she was just one of the workers, as she'd have a headscarf on just like the other employees.
"I'm not ashamed of doing any kind of work. I look at everything with a very critical eye. For example, I may not like how the dishes have been washed. So I may just wash them myself. I may not like how a pipe looks, so I'll start cleaning it myself. A manager represents the best example for her employees. While I trust all of my employees, I'm very critical at the same time. I may not say it out loud, but they always remember what I do. There's an expression that goes something like this: "I forget what you tell me, I remember what I see, and I learn by doing". I want people to find their own ways to success, rather than by listening to my orders. I have experienced it firsthand. I have spoiled milk, I failed to make cheese, and I have cried and experienced many hardships. But now I'm not afraid of any obstacles," Nino tells me.
BUSINESS THAT REQUIRES DEDICATION
Nino has a 12 year-old and a 9 year-old that live in Tbilisi. They are raised by their grandma and nanny. Nino is worried about that. However, the business that she has dedicated herself to occupies a huge part of her life. But she often recalls the words of her 12 yearold child. "We're the reason you're successful, because we never ask you why you're not with us."
"I hope they can at least be proud of me. My eldest son wants to become a farmer himself, his younger sibling says he wants to become a banker. They are growing-up without me, but I'm encouraged by the thought that in the future they will enjoy the fruits of the work I am doing, and that they will be proud of me because of this," she tells me.
Nino has already said her business would take seven years to yield profit. Currently, her assets in the Akhaltsikhe municipality amount to 2.4 million GEL. As such, Nino has a philosophical attitude towards money.
"I believe that an excess or lack of money is not essential. Of course it's very good when you have the means to do whatever you want to, but it's possible to do a lot of good things without money. At the moment, money is important for me because it can give my children the best education, and let me satisfy my primary needs," she says.
Many people think Zambakhidze is a very well-to-do person. But she says there are periods when she doesn't have any money at all.
"I can say with certainty that I have one of the largest and most diversified agri-businesses in Georgia. But I'm not a well-to-do person. There are periods when I don't have any money, because I reinvest most of our revenue back into the business. I often give money to people who need it more than me. Those people are often absolute strangers. Charity is very important to me. It is part of my life. People often write me saying that they need money to treat their sick children, or they need money to cover their kids' tuition fees. I never even think about checking whether or not these claims are true. I just tell my private banker to wire them the money. There were instances when after doing so, I didn't have money left over to cover my own kids' tuition fees. But I feel so good about helping others, that I can't imagine living without that feeling. When you have only one life to live, you have to leave something behind," Nino explains.
Besides being a charitable person, Nino also takes risks. But she says that her intuition has never failed her. She is also known for her self-criticism. She's never content with what she has achieved and demands more from herself all the time.
NINO'S VILLAGE
Since we conducted our interview in her Tbilisi office and not in the village, I asked Nino to describe how she lives in Akhaltsikhe, and what her workdays and evenings are like.
She says that mornings start very early in Tsnisi, where her rooster crows earlier than the others. Her two-storied house is soon filled with the aroma of coffee. One thing she can't resist is having her early morning coffee she tells me. After breakfast, she starts to make the rounds at her businesses. She dedicates a lot of time to interacting with her employees. She always visits her cows and calves. If she's lucky, and one of the cows is in labor, then she's the one to assist the cow with delivery. She names the calves herself, after that she goes to her office where she has to take care of many clerical tasks. But what about in the evenings I asked her?
"I go to visit my friends in the evenings, or they drop by. I have made a lot of friends in Tsnisi. We drink coffee, we talk about a thousand foolish things. Then, inevitably somebody new comes along and suggests that we overturn our cups to see our future. Someone will bring out the cards, somebody will bring chocolate… that's how our evenings pass," she says, smiling.
Evenings of course are followed by mornings. Sometimes Nino wears high heels, sometimes work boots – it depends on what the next day has in store. Days are long traveling from Akhaltsikhe to Tbilisi and back…
And yes, Nino has now grown accustomed to eating cheese.
დატოვე კომენტარი