Alexander Bolkvadze is the first Georgian lawyer awarded this status by the international legal guide – Chambers Global.

In addition, he has entered the 'Hall of Fame' of another renowned legal publication called Legal 500. For two decades in legal practice, Bolkvadze has something to share about the law, his profession and not only.
Alexander, you are one of the founding partners of the BLC Law Office. What was your career path?
Well, indeed, I founded the BLC Law Office together with my partner Ivan Khokhlov back in 2000, as I have moved on from the GCG Law Office, the first western-style law firm in modern Georgia. I am very thankful to GCG and to my mentor at that time – Ted Jonas, who has helped me take the first steps in the legal profession. Currently, my partners are Keti Kvartskhava and Giorgi Batlidze – both of whom are renowned legal practitioners. Overall, I have been in the legal profession for 21 years. Our firm has been growing steadily over the years. Throughout this time, I have devoted myself to BLC Law Office, which was a beautiful adventure. We have provided legal services to various companies from diverse jurisdictions, helped them invest in Georgia, overcome problems and prosper. One of our clients is a JSC Ksani Glass Tare Factory, which has been with us from its inception – 18 years! This is a remarkable example of 'attorney-client fidelity'!
Our objective is also to grow regionally. Currently, we have an indispensable network of partner law firms but our ultimate objective is to expand BLC Law Offices in the region. We have already designed a strategy and will pursue this goal vehemently.
What about your academic background?
I graduated from Tbilisi State University's Law Faculty in 1994. It was a turbulent time for Georgia. I was lucky to have been awarded the US Senator – Edmund Musky Scholarship and to have been able to pursue my education in the United States. I obtained my master's degree (LLM) from the University of Notre Dame Law School in 1996 (Summa Cum Laude). At the time, I was only the fourth Georgian with an American master's degree. Before me there was David Khoguashvili (former member of the parliament), George Kavtaradze (former Minister of Justice) and Mikheil Saakashvili (the former President of Georgia). The experience greatly helped me in my career development, it also gave me a broader outlook of law and business. In addition, it also taught me a lesson – to never give up. "There is one investment that supersedes all others: Invest in yourself" (Warren Buffet). Accordingly, much later in my career, I graduated from the Yale School of Management – a prominent business education institution – with an executive degree. I speak English, Russian and French. I am a member of the Board of the Chamber of Commerce and Industry of France in Georgia and a frequent speaker at various investment forums for or on behalf of Georgia.
What is BLC Law Office's current international legal ranking?
According to the international legal guides, such as Legal 500, Chambers Global and IFRL, our firm has been considered a top tier law firm in Georgia for several years now. Our firm and lawyers have received the highest accolades. For example: "BLC is absolutely comparable with 'Magic Circle' and its very professional team provides great support, clear communication and is on the lawyer-to lawyer level" (Legal 500). Further, "The team advises a number of energy companies, particularly in the hydropower sector, regulatory advice in oil and gas and mining is another strength. Financing, construction and real estate are additional areas of expertise for the firm. The team is very good and widely present in the market. The team is practical and focused" (Chamber Europe).
You have also received some personal recognition. Tell us about that.
I am thankful for the fact that I was recognized as an Eminent Practitioner by Chambers Global last year, as well as repeatedly this year. This is the highest appreciation for the work I have been doing for so many years for which I am very grateful. In addition, I was also included in the so-called 'Hall of Fame' as part of Legal 500's recognition of Georgian law practitioners.
I have been pleasantly surprised that my colleagues from the competing law firms spoke so highly about me, as these rankings are based on cross-check interviews of the professionals from different law firms. Evaluations from clients are given due consideration. We have always embraced our clients, as it is a well-known fact that one unhappy client can spread more negative information about your performance than ten happy clients can spread positive information.
What steps have you taken in order for BLC Law office to reach such a high position?
Initially, BLC Law Office was just two lawyers – me and my partner. Currently, we are comprised of 25 lawyers, which make us one of the largest on the market. The small size of the Georgian market does not allow us to grow as fast as we desire and accordingly, we cannot compete in size with our peers from Ukraine or even Russia, where law firms grow to up to 200 lawyers, and in a few cases even more.
'There is no room for sloppiness, inaccuracy or omission when you are trying to build a relationship with a client base" (Martha Stewart). This principle has been guiding our firm in our day-to-day performance. The diligence and perseverance of our lawyers – this is what has created a difference and propelled the development of BLC Law Office on the Georgian market. We have invested greatly in our staff. We praise and promote them according to their deliverables. Our team has been strong and has remained united. We face challenges and try to overcome the difficulties we face.
What are the current challenges in the legal profession?
There is fierce competition on Georgia's small legal market. Having achieved the top rankings, our competitors are now eager to knock us off our pedestal. This is how the business functions. Georgian law firms become very inventive and competitive. While we enjoy our success, we remain focused and maintain our competitive advantages. 'Successful people today are both innovators and disruptors" (Dhanin Chearavanont), I think the same principles apply to companies as well.
In addition to Georgian law firms, there is now a growing competition from the international auditing firms that have started legal practices, as well as from foreign practitioners. We, Georgian lawyers, are trying to protect our market within the legal ramifications.
I am not happy the way the Georgian Bar Association (GBA) and the Georgian Law Firms Association are handling the issues in connection with the protection of the legal profession, or the protection of the rights of Georgian law firms vis-à-vis foreign firms. They definitely need to be more active
And what will be the challenges in the years to come?
Well, there is a popular discussion about the role of Artificial Intelligence (AI) that could play a big role in all professions, including the legal profession. "With Artificial Intelligence we maybe summoning a demon that could create an existential risk to humanity" (Elon Musk). In the legal profession , AI already exists. It was created by IBM and it's called 'Watson' and is already being used by several international law firms. Instead of lawyers spending hours doing expensive research, a cost that is often passed on to the client as a 'billable hours', can now be done by 'Watson', who will 'come to the rescue' and will do the work in a couple of minutes or even seconds. Now you tell me, isn't this going to replace human work? And this is just the beginning. I think after some years, human work will become redundant, which is a big disaster.
Where did you draw your inspiration to succeed from?
I remember about 12-14 years ago, in the last edition of the year one Georgian newspaper listed the top, most remarkable business transactions of that year. To our disappointment, we acknowledged that our firm was not involved in any of them. This has been one of the driving forces for me. A few years later, in the same end-of-year edition, it showed that we had been involved in almost all the significant deals. My partners and me, we set an objective: as we are in this market, we have to be on the top. This has worked well for us.
Apart from that, we take a page from Steve Jobs: "We hire clever people". I fully share this vision. My co-workers are fantastic, bright and hard-working people. They are individually remarkable performers and leaders of the market. I learn a lot from them.
What are your areas of prime concern?
"Georgia on my mind" – this was my paper in Yale SOM. My work during the last several years has gone beyond pure legal work and focused on attracting investment to Georgia. I have spent hundreds of hours in various forums and conferences, where I strove to attract investment to Georgia.
Georgia has achieved tremendous progress as it relates to its position on the World Bank's Ease of Doing Business ranking and in the Index of Economic Freedom. According to the Global Corruption Barometer, Georgia is essentially considered a corruption-free investment destination. Georgia has favorable trade and simplified and favorable tax regimes, a developed transportation network: air and seaports, good road and railway infrastructure, oil and gas pipelines traversing Georgia from east to west, a skilled labor force, a flexible labor code and of course, a strategic geographic location.
Despite all that, Georgia remains as a poor country with annual GDP per capita in arrears of $3,500. With annual GDP growth of 3-5% Georgia would need 20-30 years to reach the level of Eastern European countries (Romania, Bulgaria and Poland), which is, personally for me, unsatisfactory, since in my lifetime, I will be living in a poor country. Accordingly, we have to ensure Georgia's two-digit economic growth, and ensure that only capable people are involved in the management of the country. We have to maintain and reinforce the arrears of the strategic control/dominance of Georgia in comparison to our peers in the region – historical/cultural and customary. We have to develop ideas for Georgia as a regional hub due to its presumed neutrality (Armenia, Azerbaijan, Turkey and Russia do not frequently get along).
Development of the manufacturing sector, which is lagging behind (8 % of the GDP) by identifying "tradable products" should also be on the government's agenda. We need to promote our skilled human capital as an overriding force for the sustainable development of any country, which is not happening in Georgia. Let's see how Bidzina Ivanishvili keeps his promise of bringing in smart and skilled new faces.
How do you spend your leisure time, and what are your hobbies?
I have a hobby, which turned into a business. As Georgia was awarded the 'Cradle of Wine' status, I think this is an area where we can put in a lot of investment and develop it, as we have such a competitive advantage. Likewise, I have embarked on this journey and I am currently developing a new brand of Georgian wine called Chateau Zarbazani or Marani Zarbazani. So far, things are moving in the right direction and I enjoy this business very much.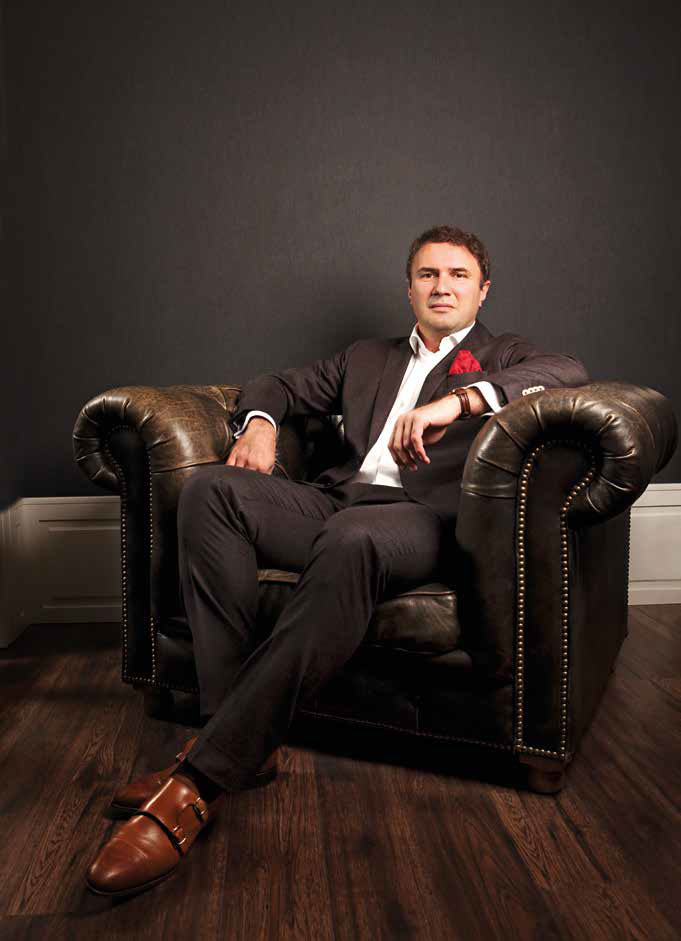 დატოვე კომენტარი