Akaki Songulia, CEO and co-founder of Alliance Group, the company that has invested over $200 million in Georgia's real estate sector, has thrown himself into a $5.54 billion market. His big breakthrough is a proposed agreement that is in development with RCI, the largest timeshare vacation exchange network in the world, and part of the Wyndham Worldwide Group, a global leader in the travel and hospitality market and the European leader in vacation rentals.
"Tourism is Georgia's asset," says Akaki, pointing to the commercial brochures neatly arranged on his desk that read 'RCI'. He is the man behind a proposed vacation exchange agreement that will, for the first time, bring Georgia onto the world map of vacation exchange. Alliance Privilege Club, recently co-founded by the Alliance Group CEO, will make dreams come true for middle-class Georgian vacationing families. Sipping Cosmo and getting tanned on Canary Island beaches, enjoying the family pools and facilities of the 59 RCI-affiliated resorts on Tenerife, for example, and dining at the Michelin-star restaurants on the island offering an authentic taste of Basque cuisine-this is just a taste of the dream that becomes affordable through RCI vacation exchange membership for Georgian citizens from the summer of 2017. "We are excited to finalize our relationship with Alliance Privilege Club and extending the benefits of RCI to its owners. Using this vacation exchange program, a timeshare owner can access family-sized accommodation for far less cost than they would by staying in several hotel rooms or a private rental property of equivalent size," says Dimitris Manikis, RCI Vice President of Business Development for Europe, the Middle East, and Africa. The starting price for purchasing a 15-year timeshare ownership at Alliance Privilege Club will be as low as $4,500. Owners will be provided with an option to stay at an Alliance resorts' home resort or choose an alternative and very different holiday destination from the 4,300 resorts affiliated to the RCI vacation exchange program in over 100 countries. A small RCI membership and exchange fee will be payable on an annual basis, but the week's vacation period and accommodation is paid for upfront. That $4,500 has bought the owner a quality vacation for one week a year for 15 years, either in their home resort or in the many and varied RCI-affiliated resorts worldwide. Vacationers can purchase additional weeks if they choose to – but they will not have to pay accommodation or rental fees for that week's vacation again throughout their period of ownership. From 2018, it is proposed that selected Alliance resorts will also be affiliated to The Registry Collection, an elite network of 200 of the finest vacation properties in more than 40 countries. "The shared vacation ownership model will transform Georgia's vacation industry," says Alliance Privilege Club CEO.
In the five years between 2011 and 2016 it has been reported that international visitor figures to Georgia increased from 2.8 million to over 6 million. International visitor statistics have been one of the major deal drivers in the Alliance Privilege Club/RCI partnership which, for its part, could further boost those visitor numbers by attracting more holidaymakers to Georgia from around the world with the promotion of RCI-affiliated resorts in the country to the vacation exchange company's 3.8 million members, plus through other Wyndham marketing channels. Songulia happened to be the man with the vision to present Georgia's potential as a tourism market to RCI and Wyndham Hotel Group. His consistent efforts in marketing Georgia paid off, and the world's largest vacation exchange services provider saw the commercial benefits of Georgia as a destination for international holidaymakers. "Our business association started as a result of the Alliance Group's leadership's continuous quest for new opportunities: new business models to implement throughout their business, and to identify opportunities to open up new distribution channels for its residential and tourism-related projects," says Manikis.
The shared-holiday ownership model is a great complement to the Alliance Group's expansion into the wider leisure real estate field. To be prepared to accommodate the rise in the number of foreign visitors, Alliance Group plans to add several new resorts to its portfolio: the Alliance Palace in Batumia multifunctional complex with the Courtyard by Marriott hotel on the first six floors, Alliance Resort – the all-year mountain resort of Goderdzi, featuring a Ramada hotel and Premium Complex in Tbilisi. The latter is the first project which the Alliance Group is implementing in the capital city. "The first two resorts that are being built in Adjara will be available by 2018, while the capital project will catch up later in 2019," says Songulia. What will the new-generation developer change in Tbilisi? The Alliance Group CEO has the answer: "pretty much everything." With his smart, but casual style of dress, Songulia gives the impression of a business person who is open to new ideas. "Premium Complex will become the landmark of the capital," says Akaki. The three-building, multifunc tional complex will feature premium class residential apartments in the tallest tower, whereas the other two buildings will house a combined concept of Wyndham Hotel Group full-service luxury hotel and apartments. "This development will bring a great new international brand into the Georgian market for the first time. This is big. It will turn Vake into the new tourism hub of Tbilisi," he explains. "The location of our resort in Tbilisi is of great value to the project." The developer has found a perfect combination of what sells best – a prestigious location in an ecologically sustainable environment. "People from the cities need to be able to breathe clean air, and Premium Complex, located near the Tskneti forests, is certainly a healthy place to live," says Songulia. The integration of innovative technologies is another aspect of the development that gives the developer confidence that the properties will achieve their sales targets. Among many of the accommodation features are the use of cards instead of keys to access rooms, privilege cards will enable residents to access exclusive benefits, and lobby services will be available to residents free of charge. Innovative and customized products and services lie at the heart of the project's business model. "While working on our plans for the Premium Complex property development, our goal was to make life easier and more pleasant for our residents and guests," explains Akaki.
So far, Alliance Group has constructed most of its projects in Georgia's Adjara region. Since 2005, in Batumi, the developer has built more than 20 large-scale residential complexes and aparthotels, as well as 5,000 apartments, covering more than 1,200,000 m2 of construction area. Through the years the company managed to open seven international offices that operate in Israel, Ukraine, Russia, Azerbaijan, England, Germany and the Benelux. Alliance Group is set to open two more overseas offices in the US and the UAE. For a man who has succeeded in moving business mountains, Songulia, at 40, is relatively young. The story started in 2011, when his company was auditing a local developer, the quick-witted financier used the case to study the business thoroughly and set himself to a new challenge. "I saw the untouched opportunities in the sectors of residential real estate and resort development. It was a sure business," he says. Though Songulia was new to property management, it did not take him long to learn the ropes. By that time, for the first time in Georgia, his Alliance Group had started building aparthotels and attracting overseas visitors to whom this internationally experienced and tested business model was familiar and had savings they were looking to invest. "No project was too big to sell," he says. The aparthotel concept turned the Black Sea region city of Batumi into a top tourism destination for foreigners.
After watching the success of Alliance Group, other developers soon began to build aparthotels and, by 2015, the property market in Adjara was saturated with identical apartment hotel buildings. Times were challenging. To move forward, Alliance Group had to offer something different to potential foreign investors. Keeping in mind that consumers will always choose a product that's familiar, and known to them as being a trusted and reputable product, which has been the case with aparthotels, to bring new customers into a new market, Akaki started looking for a renowned international hotel brand. In under a year from making that strategic decision, Alliance Group signed a franchise agreement with Courtyard by Marriott hotel and started building a multifunctional complex, the Alliance Palace, which the developer based on a three-part business model. First, the investment and gain profit aparthotel concept. Second, investment in high-class properties with values increasing year on year by 15%. Third, Courtyard by Marriott brought into the concept and development. "At Alliance Group, we only develop projects that we would buy ourselves," says Songulia.
Alliance Group is now set to take its innovative ideas and models up into the highlands of Georgia's fabulous all-year resort of Goderdzi where the developer is building another multifunctional complex with yet another leading international hotel brand. Alliance Resort in Goderdzi Pass will feature a Ramada hotel. Alliance Group is the first company to have started development activities there. At an altitude of 2000 m, the mountains are snow-covered from November to April and the pristine forested mountains of the resort create a fantastic setting across all four seasons. To make the mountain resort more easily accessible, Georgian and Adjarian governments are implementing a major highway improvement program. "It is going to be one of the top destinations for RCI members, since this really unique Four Season mountain resort offers a new experience for foreign holidaymakers," says Akaki. Alliance Resort will have the capacity to host 250 visitors at any one time.
Songulia came into the private sector with a good understanding of Georgia's development opportunities from the point of view of a public servant. There were significant reforms taking place in the country when he was heading the Revenue Service in Western Georgia in 2010. This was the time when Georgia had its first Customs Clearance Zones opened, including the one in Poti – the area under Songulia's supervision. "The country needed a change, and the right choice was to make it attractive as a regional hub, so all the reforms at that time were being aimed at this grand mission," he recalls. Akaki, a self-made manager, rose up the career ladder, from a tax inspector to an executive position in Revenue Service. "I must make a difference," Songulia says. "This is what I repeat to myself every day and it works when you work hard," he adds.
Timeshare is the next business model the Alliance Group CEO is looking to use to make a difference. "The proposed RCI deal is the continuation of the innovation drive our company has been known for over the past decade," he says. Songulia speaks with assurance. He speaks slowly, and with a great deal of deliberation and thought before speaking. Every word matters. Little wonder for a former chess player, Georgia's several-time champion, whose life has been, literally, about planning each move ahead. "There's a massive amount of uncertainty and almost boundless variety in terms of the moves that you can make in both chess and business. Think about it: after just three opening moves by a chess player, more than 9 million positions are possible" – these are the words of chess Grand Master and a former world champion, Gary Kasparov, and they are as true of life and business, as for the game.
As for RCI, the pioneer of the vacation exchange concept since 1974, the company must have made all the right moves so far, as it has maintained its position as the global market leader for 42 years. The company's next move is Georgia. RCI is confident it can market the country successfully to its international member base. "We see resorts in Georgia as benefiting from its location at the cross-roads of Western Asia and Eastern Europe, attracting visitors from many neighboring countries, such as Armenia, Azerbaijan, Turkey, Russia and Ukraine, all having relatively wealthy middle classes with the aspiration to travel," says Manikis.
There are now six months left before the first family member of the Alliance Privilege Club leaves for their dream holiday, and several more months before RCI's international member families will get the opportunity to experience staying at an Alliance resort in Georgia. Songulia has set his mind on making Georgia a successful chapter in the story of the global vacation industry, and with the careful strategic planning of a chess champion, he believes he has put the right products and business partners together to help him do just that.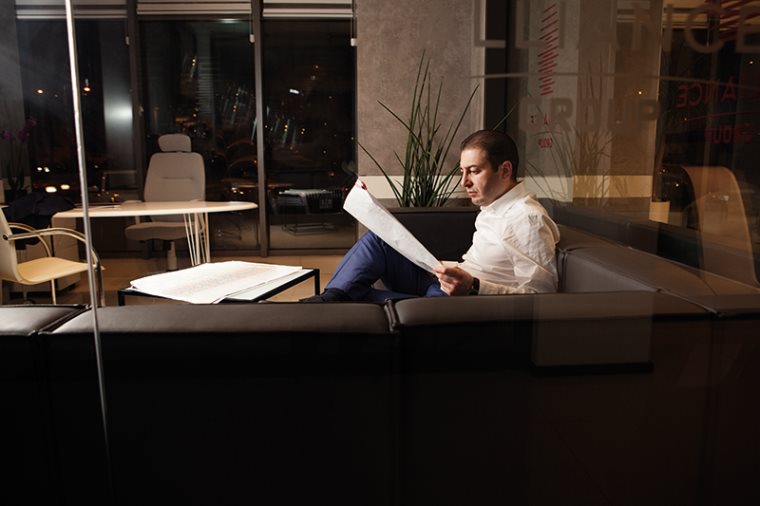 დატოვე კომენტარი