AirAstana has become a model of success for the airline industry.


In its 16th year in the international market, AirAstana has become a model of success for the airline industry. In 2017 alone, the company served 4.2 million passengers from all over the world and strengthened its position as a leading airline in Central Asia. With almost 70 international and domestic routes, the Kazakh airline exceeds each customer's expectations and offers high quality security and service.
Air Astana is the national carrier of Kazakhstan, and since beginning operations in 2002 proves every year that it deserves trust from passengers. Certainly, safety and security is a priority of company. Starting from 2007 company successfully completed the 6thInternational Air Transport Association's Operational Safety Audit (IOSA).
"The company's goal is gaining an effective market position. Achieving this goal requires operating aircraft of the highest quality and providing all international- standard service. At Air Astana, everything starts from the ambition to provide comfort and security to consumers and simultaneously raise the standards of the competitive market," said Air Astana's regional manager for Georgia, Kamila Zhailaubayeva. "Air Astana has operated flights to Tbilisi from June 2011. We fly to two Kazakh cities, Almaty and Astana. Mainly during the low season we operate with Embraer 190 jets, and during the high season we operate using Airbus 320 planes. Last year our transit traffic from Georgia increased by 40% in 2017 over 2016," said Zhailaubayeva.
The main driver of this expansion has been connecting traffic via Astana and Almaty as part of the successful programme Astana & Almaty Stopover Holidays, which was introduced by the airline over three years ago. The programme gives AirAstana international transit passengers a minimum connection time of 10 hours, a Special $1 offer that includes one-night accommodation with breakfast and return airport transfer. Moreover, other passengers can also benefit from the $1 offer if they book a minimum of two nights (the offer is available at select hotels).
FLEET EXPANSION
Currently, the AirAstana fleet consists of 32 aircrafts, but the company will continue to expand its fleet. The first Airbus A321 Neo was put in operation this January, and the carrier has a confirmed the order of five Embraer E2 aircraft, the newest generation of regional jets. The first delivery of E2 jets is planned for November 2018. The size of the order is now 19 aircraft (14 Airbuses from the A320 Neo family, 5 Embraer E2 jets) to both support the airline's expansion and replace existing aircraft.
According to Zhailaubayeva, AirAstana operates within Central Asia as well as to Asia, Far East, Middle East, Russia and Europe. In Asia, the company operates to India and China. For the moment, Delhi is the only Indian destination, but the company plans to increase flights to India in the near future. As for China, Air Astana flies to Urumqi, Beijing and Hong Kong. Within Central Asia, flights go to Tashkent, Bishkek and Dushanbe. In the Caucasus, the airline covers flights to Azerbaijan (Baku), Georgia (Tbilisi) and Russia. Passengers can travel to all of the above destinations in business or economy class.
HIGH-QUALITY ON BOARD SERVICE
Air Astana is a company that treats its passengers with high-quality service and provides such service in both classes. Business class is served on all type of aircraft. There is no doubt that each passenger will enjoy the atmosphere of comfort and peace offered in business class. Air Astana provides various services and amenity kits to help passengers arrive refreshed at their destinations. Passengers can relax on the fully flatbeds offered on Boeing 757 and 767 aircraft, and on long-haul international flights they can rest under the luxury duvets also available on the Boeing fleet. Whether passengers are travelling for business or leisure, they will enjoy the stylish new business-class amenity kits onboard medium-haul and long-haul flights.
For some destinations, the company also offers Economy Sleeper Class. Economy Sleeper Class is offered on routes from Astana to such international destinations as Frankfurt, Paris, London and Hong Kong. What this means is that travelers have the opportunity to travel with the facilities of business class, but at the price of economy class.
PREFERRED LOCATION ON BOARD WITH MYSEAT
For more comfort, on most flights passengers have the option to book seats in advance via the new MySeat service. The service is available for purchase until two hours before departure. MySeat places are premium seats in the first two economy class rows and at the emergency exits. The service is available exclusively on Air Astana flights. All seats provide more leg room, and their location in the cabin allows passengers to disembark faster.
TREAT YOURSELF TO BUSINESS CLASS
Among a number of innovative products that AirAstana offers to its clients, one of the most distinguished is MyUpgrade, an online tool that enables Economy Class customers to bid for an upgrade to Business Class before their flight. The tool gives passengers the chance to name their own price (within a minimum and maximum range),and be considered for an upgrade to the premium cabin. Customer bids are accepted up to 72 hours before departure. The MyUpgrade service supports Air Astana's aim to ensure the best passenger experience. Those passengers who successfully bid for an upgrade will enjoy a host of benefits and privileges, including greater in-seat comfort, personal on-demand in-flight entertainment systems, Air Astana's renowned Business Class cuisine and beverage selection, access to International Business Class lounges, increased luggage allowance, priority boarding and priority luggage delivery.
BUSINESS CLASS PRODUCT
As part of its entertainment programme, the airline offers individual iPads in business class on available on all routes. MY WiFi service is available for purchase on Boeing 767 jets. The 2Mbps internet will let passengers to surf internet, send emails, interact on social media, listen to music and upload photos. There is also a menu with different types of food and beverages, and meals are prepared fresh at every stop. Air Astana incorporates traditional ingredients and flavours specific to regional cuisines from across Central Asia, Arabia, Asia and every corner of Europe. The company's catering team strives to create innovative menu that bring destinations from across the network to all passengers onboard.
The airline's success in the domestic and international markets highlighted by the awards it has earned in the past years. Air Astana has once again been awarded with 4-Star service excellence, retaining the accolade of 'Best Airline in Central Asia and India' in the Skytrax World Airline Awards for the sixth consecutive year.
TripAdvisor, the global travel planning and booking site, has named Air Astana as a Winner in the Regional – Asia category in the 2018 Travelers' Choice Awards, which identifies travelers' favorite carriers around the globe. Travelers, who submitted reviews to TripAdvisor after flying with Air Astana highly rated the airline's Customer Service, Cabin Cleanliness, Food & Beverage, Seat Comfort, Value for Money, Check-in and In-Flight Entertainment. Award winners were determined using an algorithm that took into account the quantity and quality of airline reviews and ratings submitted by travelers worldwide between February 2017 and February 2018.
As a global ambassador for Kazakhstan, Air Astana has been working diligently to accomplish the company goals of remaining the most reliable airline in the region; maintaining the highest standards of customer service; and growing and improving its fleet, route network and overall prod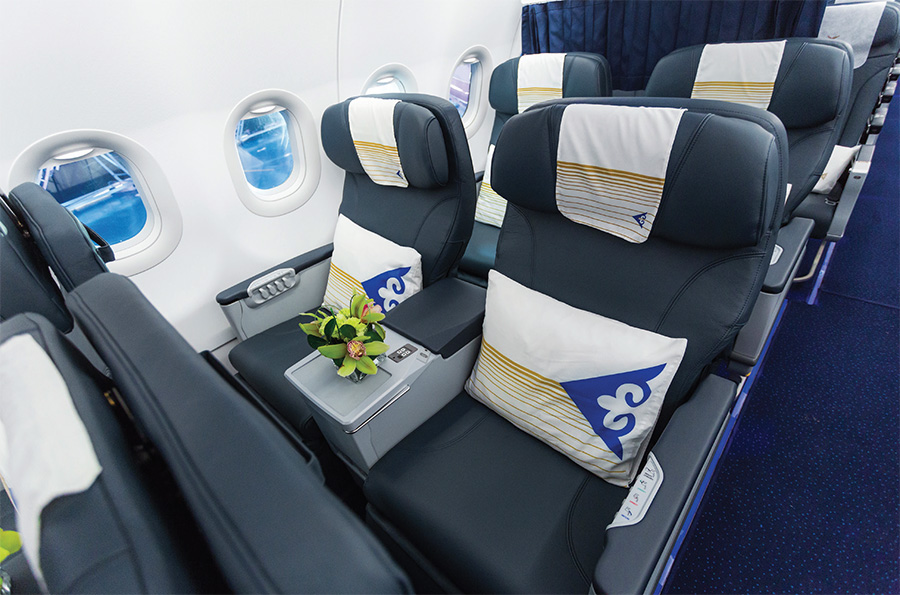 დატოვე კომენტარი