A state within a state is how we can describe the section of Georgian government that is not subject to the same level of legal and parliamentary scrutiny as other branches. We are referring to state-owned companies, who incidentally also own the largest strategically significant facilities in all of Georgia.

With 61,126 employees and combined revenues of 3,468,187,000 GEL, state-owned companies are among the largest businesses in the country. The main feature that sets them apart from other large Georgian firms is that they represent political subunits.
The government can establish a limited liability company and start operating in any specific market with virtually no restrictions. State-owned companies are currently operating in almost every sector, ranging from beverage production to hospitality and energy.
The financial results of these state-owned companies are dire. Based on the 2019 budget Fiscal Risk Analysis document, the largest state-owned businesses made losses totaling 562 million GEL in 2017 alone. The losses and the cost of mismanagement of these corporations are borne primarily by the central budget, that is to say by the Georgian taxpayer and healthy businesses.
In 2017, the heaviest losses were suffered by the largest state-owned company, the Partnership Fund, which closed the year with losses totaling 441 million GEL. The main factors for the negative results was Georgian Railways, which posted a loss of 354 million GEL, as well as the State Electro system, which lost 320 million GEL. Both companies are part of the Partnership Fund. However, not all its subsidiaries are making losses. For example, the Gas and Oil Corporation made a profit of 220 million GEL in 2017, although it was not enough to cover the losses sustained by the Partnership Fund's other businesses.
The government admits that the loss-making state-owned companies present a problem. Former Minister of Economy, Giorgi Kobulia stated that the large size of state-owned enterprises is problematic, and that they require privatization as well as increased efficiency.
State-owned businesses have not always posted losses. In 2012, the largest state-owned enterprises turned over 2 billion GEL, closing the year with a net profit of 151 million GEL.
In 2013, profit turned into loss. Initial losses totaled 45 million GEL, but grew to 61 million GEL by 2014, and to a record 757 million GEL in 2015, which was the equivalent of 2% of Georgia's GDP for that year. The losses were reduced to 441 million GEL in 2016 but jumped to 562 million GEL in 2017.
Both international and local liabilities have increased together with the losses. In 2012, the largest state-owned enterprises had combined debts of 4 billion GEL, which grew to 6.9 billion GEL by 2017.
According to Finance Ministry data, state owned companies' capital was supplemented by 627,763,000GEL from the central budget.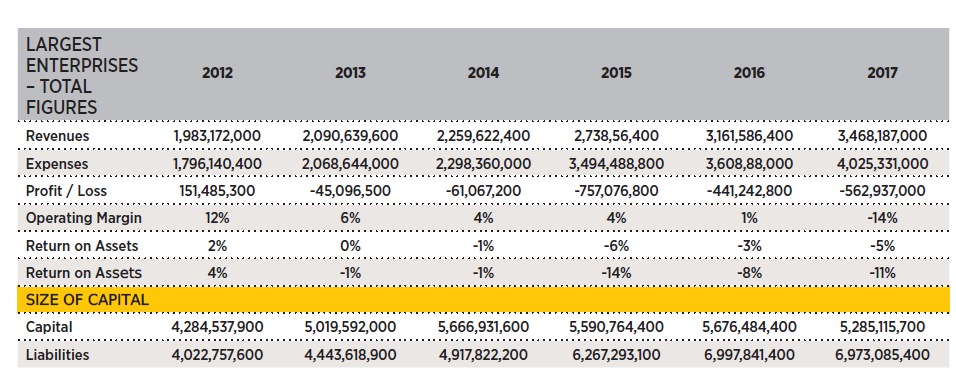 WHY HAVE THESE COMPANIES BEEN MAKING LOSSES?
State-owned companies may have been posting losses due to the so-called 'moral hazard' – a situation where a company, realizing that any potential damage caused by its ineffective decisions is insured by the state, makes loss-making decisions more boldly.
Another reason for the losses is the direct political influence in these companies. State-owned businesses often perform the same political tasks as any other public body. In many cases, these tasks are commercially unprofitable.
According to the Ministry of Finance, this management model is known as 'quasi-fiscal.' Examples include subsidized rail travel, which is essentially a loss-making exercise. Georgian Railways spent 33 million GEL on rail ticket subsidies in 2017 alone. A similar project is the provision of free energy to Abkhazia, the cost of which will also be covered by the relevant state-owned company.
დატოვე კომენტარი