150 million consumers daily buy British American Tobacco (BAT) brands but today not all them have access to potentially reduced risk products (PRRPs), like e-cigarettes, tobacco heating products or oral tobacco and nicotine products; despite BAT's focus in this area. Consumers in Georgia are no exception as access to PRRPs may be hindered due to steep regulations and tax increases that lack Regulatory Impact Assessment (RIA) and communication within the industry. To find out more, Forbes Georgia talks business with BAT Caucasus & Moldova top management.
"We need more predictability in this market." This is how the conversation starts with Felício Ferraz, General Director of British American Tobacco Caucasus & Moldova and Zviad Skhvitaridze, Director of Legal & External Affairs at the same company. Forbes Georgia's focus on the tobacco industry is more than understandable. It would be fair to say that today this is the most heavily taxed and regulated industry in Georgia and contributes to almost 10% of the government's revenues.
The aim is a noble one, just like in any other country around the globe – to decrease the number of smokers in the country and care for their health. However, the way this aim is being dealt with raises concerns among experienced global players on the market.
And when Forbes Georgia says global, Forbes Georgia means global: selling brands in more than 200 markets worldwide and in 2018; leading markets in more than 50 of them; spread across six continents and covering regions of the USA; Americas and Sub Saharan Africa; Europe and North Africa; and Asia-Pacific and the Middle East – this is British American Tobacco: More than 150 million adult consumers choose its brands daily.
Such an international spread gives BAT vast experience on different markets and the ability to compare tax and regulatory environments on these markets, including Georgia.
Everywhere in the world, the tobacco industry is regulated. There are two ways to approach the issue of smoking, and most probably, we can put the pros and cons in two main boxes.
The first box would be for those who argue that eliminating legal tobacco business is the way to a smoke-free world. Hence, to this end, strict measures – such as bans or excise shocks – should be applied.
The second box would be for those who believe that smoking is a conscious decision of an adult who estimates risks and is willing to risk for pleasure. Hence, it makes no sense to compete with pleasure since it would be neither financially sensible nor practical: the ongoing consumer demand for cigarettes would either be downgraded to cheaper brands and transferred to less established producers or retailers; or more worryingly, to the black market.
To avoid such a gloomy and extreme scenario, which would hurt everyone – the government because it would lose revenues; the industry because it would lose quality and profit, and in first place, the consumers themselves, because they would be exposed to illegal and less-health tested products – the industry has started proactively to look for the ways to minimize the harm smoking brings to the smokers and at the same time, stay in business.
Today's total tobacco and nicotine market comprises a growing user pool of over one billion individual adult consumers. Some years ago, cigarette could be the only choice, but the latest global figures (2017) suggest that the Tobacco Heating Products (THP) and the vapor market is worth an estimated $18 billion, while the oral tobacco and nicotine market is worth an estimated $12.5 billion.
BAT has a clear ambition to lead this transformation of the industry by offering adult consumers a range of Potentially Reduced Risk Products. More choice, more innovation, potentially less risk – this is the main message of a global player in all markets, including Georgia.
The question is how long will this transition take in Georgia? The short answer is longer than in countries with less steep regulations and tax increases.
Here's why: The most recent estimates for the global tobacco market (2017) indicate it is worth approximately $785 billion (excluding China). More than $700 billion of this comes from the sale of conventional cigarettes, with over 5,400 billion cigarettes consumed per year. Figures show that combustible cigarettes remain the largest category, and this in turn means that even though transformation of tobacco industry is clearly underway and the future growth will come from next generation products, factory made cigarettes will continue to represent 70-80% of tobacco business in 10-15 years to come.
The way the government in Georgia has been treating this specific category – factory made cigarettes – hasn't given global players, such as BAT, any certainty that Georgia is ready to deal with other, potentially less risky, next generation products at this stage.
A half an hour-long conversation with Felicio Ferraz and Zviad Skhvitaridze at Forbes Georgia's premises, reveals that there are two main issues with taxation and the regulatory environment for the tobacco industry in Georgia that the industry is concerned about.
The first challenge comes from the taxation environment. From January 1st, 2019, excise on filtered cigarette doubled. "This huge excise hike came as a total surprise!" states Felício Ferraz, General Director of BAT Caucasus & Moldova: "The government never mentioned they would radically increase excise. Nevertheless, we share their vision that the tax burden should be the same for filtered and non-filtered cigarettes."
These changes – a steep increase in taxes and a loophole of not treating tobacco equally – have already brought certain results such as increase in cut tobacco (MYO – make your own). "After a certain amount (500 gr) of cut tobacco, there is zero-excise tax. Profits for such businesses are very high, while quality is low and clearly not good for health; the state budget gets nothing, and it affects the legal business that's been working on this market for more than 20 years. No one wins, not even the consumers." Says Felício Ferraz.
The Health Committee of Parliament of Georgia realizes that cut tobacco has become a real headache for the regulators as well. However, the main legislator and the industry view the solution differently: The Head of Health Committee is in favor of raising excise for cut tobacco retailers as well, while the industry wants it decreased for all players on the market, and equally.
For the industry even more worrying than the risk of losing market share to competitors is the sharp increase in illicit products. Official statistics show that the first three months of this year have seen the same number of illegal products on the market, as the whole of last year (2018). "That's not good news!" Exclaims Felício Ferraz.
It is obvious: Tobacco businesses contribute to 10% of state revenue, but BAT's General Director touches on a wider issue: "Smuggling of cigarettes is just the tip of the iceberg in terms of the problems that will be brought into country. As usual, much more serious problems follow: For example, drugs; arms; etc."
The second challenge comes from the regulatory environment. Here the main problem – as identified by the industry – is the visibility of products, in other words the corporate look (lighting, color coding, jumbo packs and separately displayed packs) of cigarette display stands located in the 12,000 shops all over Georgia. "You cannot find a display stand in the world – even in countries where there are steeper bans on tobacco including Canada, Slovenia, Slovakia and US – covered by a white sheet." Says Zviad Skhvitaridze, BAT's Director of Legal & External Affairs in Caucasus and Moldova, to Forbes Georgia; adding that such types of regulations have negative spillover effects – this time, mainly on small and medium business: "Tbilisi is a huge market, in which half of Georgia lives. More than 8,000 shops are located here. We have contracts with them for having our dispensers in their shops and we pay them to have our products displayed."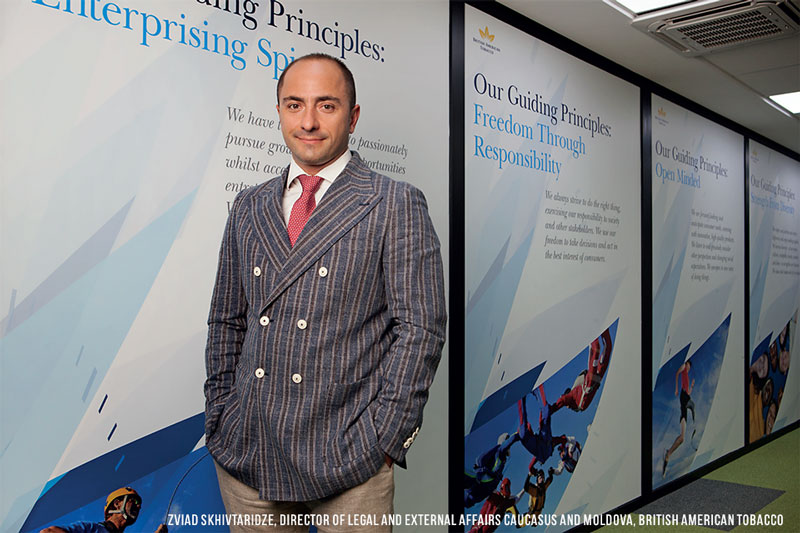 Tobacco is widely perceived as one of the few products that generate loyalty for the consumer in terms of where they buy it. They usually buy daily, at the same place and combine buying tobacco with other products, like coffee, candy, bread and other similar products. BAT's position on visibility restrictions is that there must be room left for the business to update and inform its consumers on upcoming new features. "We don't want popularization of our product; we just want to have a chance to inform smokers about new products or new features. Now, we are denied this chance." Felício Ferraz tells Forbes Georgia.
IPM research on testing cigarette display stands, which was recently conducted for the industry; shows that these displays don't have any impact on forming or maintaining interest towards tobacco itself. Therefore, the industry position is to maintain a high-quality corporate look for cigarette displays and align to the best European markets such as Italy, Switzerland, Germany and the Czech Republic.
This tendency of inertia towards smoking even after steep regulations can also be spotted through the statistics and projections, provided by the World Health Organization. In its second edition of 'WHO Global Report on Trends in Prevalence of Tobacco Smoking of Georgia's total population was smokers. According to the same statistics, in 2000 the same indicator exceeded 30%. This means that over more than a decade 2% of population and 7% of smokers in Georgia have given up smoking, despite additional tax hikes and steeper regulations.
Those in favor of regulation might ask: Is this pace enough? Well, it depends on how you look at the figures.
On the one hand, this might be considered a small decrease, but if we dig into statistics deeper and compare Georgia's pace with those countries that have higher excise taxes; a longer history of regulating the tobacco business and a better healthcare system than in Georgia, it becomes obvious – on the whole – that the decrease in smoking hasn't been much more dramatic than in Georgia.
For example, in 2018 compared to 2000, France, showed 2% decrease in smokers (the same as Georgia); Czech Republic saw 0.2% decrease in smokers (less than Georgia); Germany showed slightly better results –5.8% in the last eighteen years. Overall, according to the same report, the average number of tobacco consumers in 41 European states amounts to 27.8% of population – roughly the same as in Georgia.
"It all comes down to one principle," says Felício Ferraz; "10% of Georgia's state revenue comes from the tobacco industry. Adult consumers have made a conscious decision to smoke. They will smoke. And they will either find a product that pays excise or pays nothing at all".
BAT stands strongly with Georgia's aspirations to harmonize with the EU but without misinterpretation or misrepresentation of what European standards stand for. Zviad Skhvitaridze says, conducting RIA (Regulatory Impact Assessment) could have helped government and regulators to evaluate all the risks tax shocks could bring to Georgian consumers, and make Georgia much closer to European standards.
Context matters. According to Felicio Ferraz, reaching €90 in excise by 2026 in Georgia might not be a fully realistic aim, since salaries and purchasing power of consumers in this country are not the same as in Europe and risks for smuggling will be higher here. The lack of predictability on the market, which beyond regulations and taxes, for BAT has one more dimension: "There are changes in government so fast that you engage with someone and after two or three months there is another person. This is not good." Says Felício Ferraz.
Indeed, certainty together with rule of law is the main component for long-term planning and investments in any country, and especially in Georgia, which has other geopolitical risks that need to be balanced by an appealing business environment.
Felício Ferraz says Georgia is a hidden gem: "I have worked in this industry for 24 years. I have lived in 8 countries. I managed almost 40 markets: 22 in the Caribbean; 10 in Central America, Sri Lanka, US (Sponsorship), Maldives, etc… I have traveled to 70 countries in my life. Georgia is a beautiful country, positioning itself 6th or 7th place on the Ease of Doing Business Index. Now, we have to see this put into practice."
Best practice at this stage to him would be more predictability in the market. To this end, the industry has prepared an excise road map for the next ten years. The main message of the industry at this point is that Georgia's state budget might lose an estimated GEL 400 million should excise tax continue to increase without a precise plan and detailed RIA (Regulatory Impact Assessment) in place.
"For sure I will be the first one to pitch internally in BAT to add Georgia as the next market to launch any of our Next Generation Products, the so called PRRPs but we need to get more predictability here in Georgia and the regulations should be right and balanced." Felício Ferraz says.
Our conversation draws to a close. In closing, I touch upon the IMF's recent recommendation to the government of Georgia to raise an excise tax on tobacco in order to offset budget losses due to profit tax reform, the so-called Estonian model. "International financial institutions generally instruct governments to increase excise tax, but to increase it gradually, without shocks for consumers and increased risks of smuggling." Felício Ferraz responds and then adds after a short pause: "If someone says they don't care about tobacco. They should care! The world without legal tobacco business might not be what they wish for."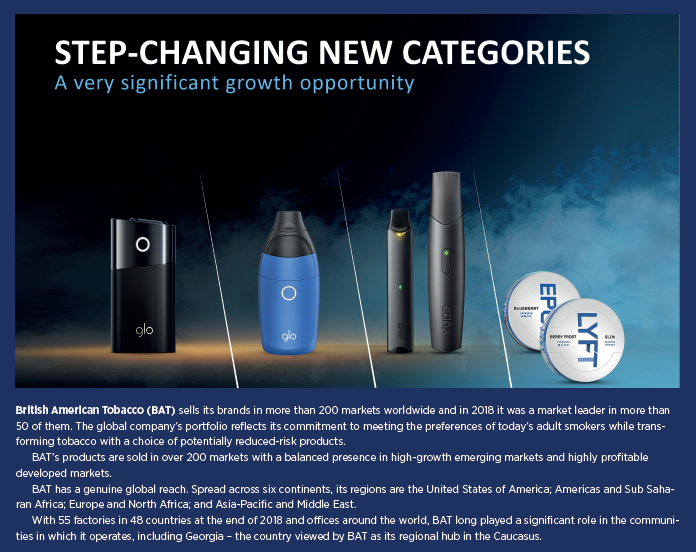 დატოვე კომენტარი