THE INEFFICIENCY of state-owned enterprises (SOEs) is a well-established fact, nevertheless due to many reasons, this phenomenon exists in most countries. Social or security benefits tend to counterbalance the ills of SOEs, but when inefficiency turns into waste and asset degradation, it creates social and security threats. I won't bore you with academic judgment, instead I merely want to highlight some recent data from Georgia.
For international observers, Georgia's misfortune with SOEs might seem even more striking considering the country's reform driven agenda and the country's recent development.
In the World Bank's Doing Business 2020 survey, Georgia ranks 7 out of 190 countries. In the TI's Corruption Perceptions Index 2018, Georgia ranks 41 out of 180 countries, which makes it the "cleanest" in the region and "cleaner" than its EU member peers. Moreover, Georgia ranks 16th – on par with Luxembourg – in the Heritage's Economic Freedom Index 2019.
Despite the country's relatively clean and business friendly profile, the performance of SOEs is as bad as it could possibly be.
According to the National Statistics Office of Georgia, in 2018, SOEs' share of total business sector fixed assets was 21%, which equates to 7,050.6 million GEL (1 USD = 3 GEL).
SOEs have a glut of fixed assets, but given they do not make a profit, this infrastructure is wasted. The capital productivity of SOEs (output per 1,000 GEL of fixed capital) equates to 260 GEL, while privately-owned enterprises' capital productivity reaches 1,491 GEL.
In labor productivity (per employee), SOEs follow the same trend, totaling 32,424 GEL versus 58,759 GEL in privately-owned enterprises.
SOEs in total employ 56,677 people, that is 7.7% of the total workforce employed in the business sector. Some tend to excuse SOEs non-performance due to their social importance, however, they provide far worse working conditions for their employees when compared to their private peers. The average monthly salary per worker in SOEs is 991 GEL; the same type of worker is paid 1,111 GEL in a privately-owned company.
The state-owned Georgian Railway employs 12,500 people, only a handful of them are in top management positions, most of them are ordinary workers. The average salary for top management is around 5,870 GEL, whilst most of the workers' wages are below SOEs average and are around 670 GEL.
In 2018, SOEs ended up with operating losses of -739,237.4 thousand GEL (total accrued financial results), while their private peers finished with a profit of 6,665,068.7 thousand GEL. This trend, which has been the same for the last few years, threatens not only companies' financial stability and their social roles, but also it endangers important state assets through degradation.
Georgia has seen some ruined enterprises after privatization too, but this was within the environment of a failed state. Quality investors brought into Georgian industry are the drivers of business growth, supported by state policies to ensure fair competition. Unless the current crisis is resolved, Georgia's remaining stateowned wealth might simply just vanish.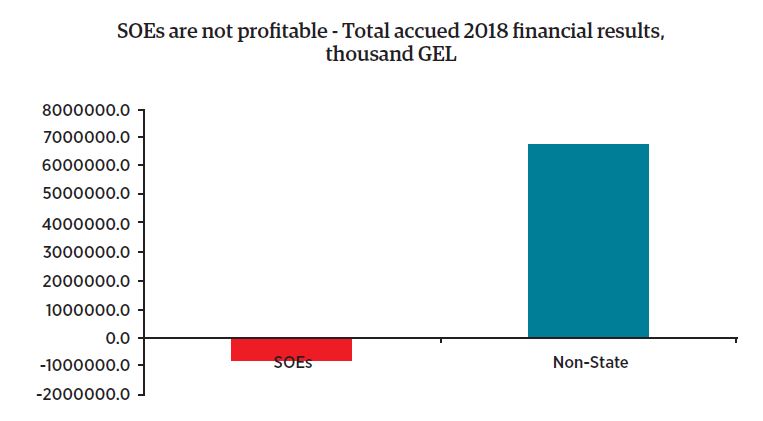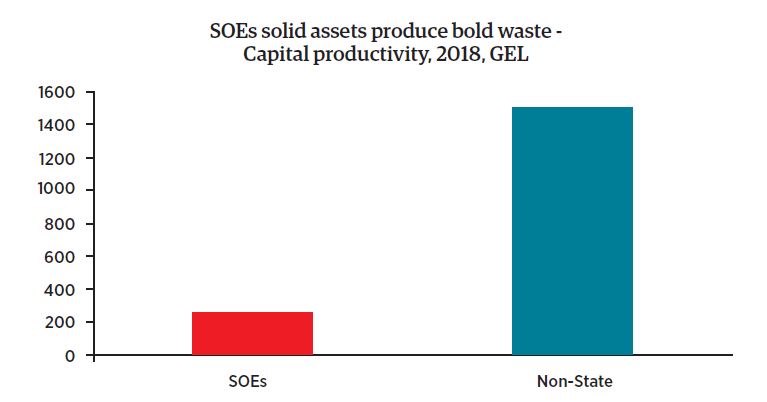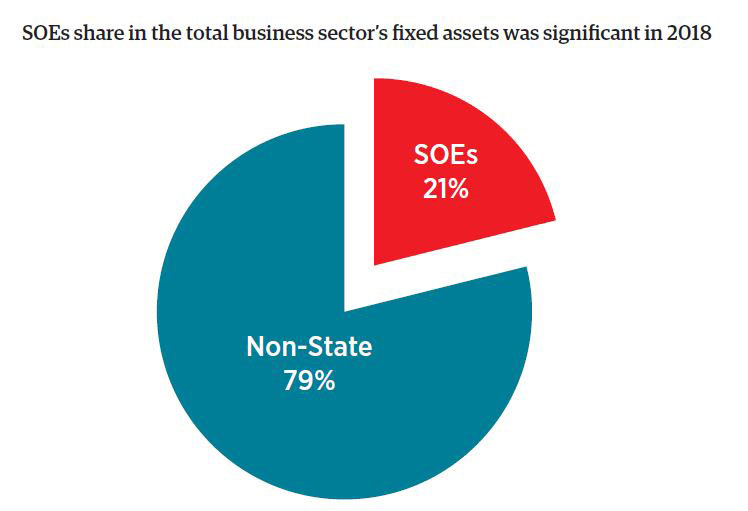 დატოვე კომენტარი