Swimming pools and spas are essential for lovers of luxury and healthy living junkies alike. Needless to say that ensuring such comfort takes very capable and experienced people. Some eleven years ago AQUALINE was one of the first companies to offer customers quality comfort and the fulfillment of all water-related dreams. The main characteristics of the company include internationally-recognized superior quality products and highly-qualified staff. Forbes Georgia inquired about the origin of the business idea and the company's plans for the future with the founder of AQUALINE Vakhtang Meskhi.
When was the company AQUALINE founded and what triggered your interest in this particular sphere?
Due to the dire economic and social state of affairs in the 90s, I was forced to leave Georgia and move to Greece over a period of time. Because of my technical background, I knew the ropes of electricity and water systems, so I started working for a company that specialized in swimming pool installation. Before long, I was promoted to the position of the deputy head of the company. After I returned to Georgia, I decided to start a company that specialized in this field. Since the founding of the company in 2006, AQUALINE has carried out countless projects both for private and public sectors.
What kind of products and services does 'AQUALINE' offer its customers?
Do you produce your own products locally or do you mainly sell imported goods under your brand? AQUALINE offers its customers a wide variety of products that range from : insulation and facing materials, various equipment, accessories and swimming pool chemicals, facing material for swimming pool decks, wood materials and stoves for saunas, etc. 97% of the products sold by AQUALINE is imported from abroad, with 72% from Europe and 26% from Turkey.
Our suppliers are world-renowned companies that are acclaimed for highest quality products and extensive experience of operating in this business. Unfortunately, at this stage we do not have our own production. Our services incorporate several elements: design and construction of swimming pools, arrangement of saunas and spa zones, introduction of water purification systems. As for swimming pool construction, we execute every stage based on the desire of our customers, including the design, construction-cladding and maintenance. In fact, our company performs all services starting from the initial idea to its fulfillment. Obviously, the experience that we have gained in this field allows us to offer our customers well-informed advice and guidance to channel their ideas into the right direction. We regularly attend international exhibitions and follow the latest trends worldwide, so we can introduce these innovations in Georgia.
Another significant innovation that our company launched in 2016, along with Ukrainian and German partners, is the introduction of purification systems for drinking water. Despite the fact that the quality of drinking water in Georgia is quite good and drinking it without purification will not have fatal outcome, still it does not mean that consuming untreated water is good for you. Water is loaded with chlorine, heavy metals, etc. that have a negative impact on our health over a long time of consumption. We offer our clients purification systems for their homes, as well as industrial water purification systems for hotels, restaurants, lemonade producing plants and companies providing laundry services.
We have recently completed working on the installation of water purification system at the Mukhrovani Military Base, which was implemented in the framework of the water supply rehabilitation project.
The composition of water in Georgia varies from region to region, therefore before we start working on an industrial site, we first take sample of the water and then based on the results of the test we prepare a proposal. Practically, we can transform any kind of water into drinking water.
I want to note that AQUALINE offers its customers maintenance and after sale services as well. Our company is an official representative in Georgia of all the suppliers that we are working with. We provide the staff of our service centre with regular trainings both locally and abroad.
How competitive are your products and services?
Our competitive advantage lies in the highly qualified staff, as well as the innovative and high-tech equipment that we offer our customers. Our customers can remotely control the parameters of water in their swimming pools and also manage water purification by means of automatic dosing system. Another service that our customers enjoy is a robotic pool cleaner that washes the bottom and walls of the pool through remote control, as a matter of fact robotic pool cleaners can be controlled through a special phone application. Along with the development of technologies, we try to follow in the footsteps of our customers' wishes. After the company was founded, we began expanding regionally and opened a branch office in Batumi.
As I have mentioned above, we pay particular attention to raising professional level of our staff. Generally speaking, Georgia has a shortage of qualified workforce in this field. Managing swimming pools is a very specific sphere and there are no colleges that teach you how to do it. Therefore, we work closely with various vocational educational colleges and training centers to resolve this problem. We try to train our staff in water systems and construction of pools. I have hands-on experience in every type of work carried out by one of my employees. At some point there were only three of us working on all the orders and basically I did everything that was required of me in order to provide the kind of impeccable service to our customers.
What types of projects does AQUALINE have in its portfolio?
Do you work mainly for private companies or public institutions? Our first big project was construction of a 50-meter-long 'Olympic' swimming pool, then a swimming pool for the Ministry of Interior and so it went: swimming pools for 'Anaklia', hotels 'Lopota' and 'Chateau Mere', swimming pool and spa at the 'Kvareli Lake Resort', swimming pools for 'Club 71' and 'Royal Batoni', as well as some projects in Gudauri and Bakuriani. We have carried out projects throughout the entire territory of Georgia.
At the moment, we have , we just completed the cladding of a 110m-long pool in Shekvetili a resort located on the Black Sea coast which is unique not only due to its grandness, but also by the fact that it goes into the sea. AQUALINE has completed work on the construction of two outdoor pools for the Georgian National Museum of Fine Arts. The pools will be located on the rooftop of the museum.
I would also like to mention the rehabilitation project of the Sulfur baths in Tbilisi. It is a great honor for us to work at this historic site. In addition to working for the public sector, our company carries out various projects for the private sector as well. During the past decade, the public awareness about this sphere has increased significantly. For instance, in the past the decisive factor for customers was the price of the project, now this has changed and our customers prefer to opt for high-quality materials and technologies that are safe for health.
Needless to say that the demands of the private and public sectors are different. Introduction of new technologies is easier accomplished in the public sector (hotels, spa-centers, commercial swimming pools) where demands are higher, compared to private pools. While the private swimming pools allow us to create a unique design and introduce new technologies, such as chlorine-free treatment of pool water, etc.
What are AQUALINE's plans for positioning it on the Georgian market and what is the company's development plans?
Based on the experience of other countries, I believe that with time swimming pools will more resemble natural water reservoirs and ponds. Some of our customers are already refusing to have standard blue cladding and opt for white, sand, grey and green cladding. The ecological aspect of swimming pools has become equally important for our customers. Our company plans to develop eco-friendly projects and offer our customers innovative resolutions that will be interesting for them.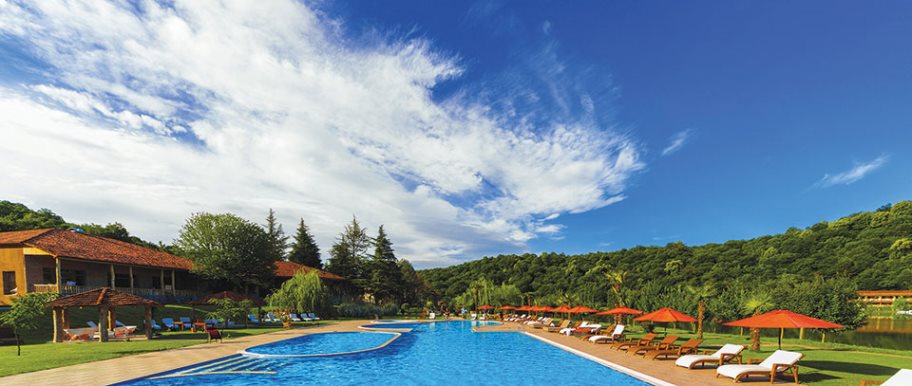 დატოვე კომენტარი