John Dodelande made use of his background in business by combining it with his other passion – contemporary art.
The meeting with John Dodelande was organized in less than 3 minutes over an exchange of about four emails when we were both online – he was somewhere in Europe, and I was in Tbilisi. We finally met at the Dimitri Shevardnadze National Gallery for the opening of an exhibition entitled 'Constellation' which featured featuring a group of contemporary Chinese artists.
As we toured the gallery, Dodelande was in and out remarkably quickly, receiving phone calls and at the same time, talking enthusiastically about one of his favorite Chinese artist – Zhao Zhao, whose work we stood next to.
"We called this exhibition 'Constellation' because we included in one space the major new stars of China's art scene," explains Ami Barak, an independent curator and art critic from Paris, who teamed-up with Dodelande to set up the exhibition. Mr. Barak is a curatorial veteran (as he calls himself) and has curated numerous international exhibitions over the past twenty years. He selected forty avant-garde works by 18 Chinese artists for this exhibition. The artists range from big names like Ai Weiwei to the younger generation of emerging artists like ZhaoZhao, Wang Guangle, Liu Wei, and Lu Pingyu among others.
"I have no doubt that the Georgian public will enjoy these works of art. I had already noticed it with previous exhibitions I held that featured contemporary art from China. The audience's reaction was always greater than we had expected," noted Barak, as he straightened his suit in preparation for a photoshoot.
Dodelande approaches him, leaning forward as if he is looking in the mirror and I notice a small triangle shaped glass brooch on Mr. Barak's suit.
An emergency mirror I thought. A piece of art they say.
"We don't only appreciate art, we wear it," they joke. "This brooch was made by a contemporary Moldavian artist," Barak explains.
Soon, the gallery was full of people, of all ages and of all looks. Dodelande told me that around seven hundred people attended the opening.
"I am really pleased that a lot of people are coming here for the show. If it continues like this, we will bring in about H70,000 to the Ministry of Culture of Georgia."
At 9:00pm, a huge crowd of mainly young artists remained, as they both stood and squatted in various places just outside the gallery doors with glasses of Georgian wine in hand. An exhibition opening is one of the best occasions to discern the style of the collector and the audience. On this night, we had a nice group – one that I would call young and dynamic.
"Provocative!" someone exclaims.
Behind the exhibition stands 29-year-old entrepreneur and collector of French origin John Dodelande. Most of the time he looks calm and controlled, yet he also enjoys a challenge. You might have noticed a well-groomed young man in a nicely cut suit wearing a white helmet riding a scooter in the streets of Tbilisi – that's probably Dodelande. The avid mountain climber also loves testing his limits. He has already scaled Carstensz Pyramid in Western Papua – possibly the most exotic mountaineering location on earth; Mount Damavand, a potentially active volcano that represents the highest peak in Iran and the Middle East; Mount Sidley, the highest dormant volcano in Antarctica, Ojos del Salado in The Andes and he has also crossed Greenland by boat. Tomorrow he's off to Italy to plan his next adventure – a ski expedition across Kamchatka and a visit to the Cannibal Tribe Korowai in Papua New Guinea are both on his list.
Another thing that Dodelande loves to do is travel. By his count, he has made roughly one-hundred trips in the past year. He goes to art fairs to see emerging artists and checks on the old ones as well. In the process, he selects artists to exhibit and helps them shape their shows. But Dodelande is not interested in all art equally. He has been focused on collecting and promoting Chinese contemporary art since 2008.
"People collect for many reasons, but the financial and psychological aspects of collecting always play an important part. Art is a passion for me. I find the new generation of Chinese artists very interesting, they talk about the problems of the world today. These are the artists that did not grow up under the shadow of Mao. The Cultural Revolution is not their cultural touchstone, the Chinese government is not the source of their politics, and, indeed, China is not necessarily their focus. These artists are global in their thinking and global in their motivation: they are driven by humanity, technology and energy. So, I focus on collecting the work that really interests me and try to make the right choices. Nevertheless, I take market value into account as well," says Dodelande.
Dodelande was born in France and grew up in Paris.
"I don't come from a family of collectors. Above all, I was raised to be curious about everything – travel, people, art… I didn't have just one mentor. Instead, I had several, and they were very important to me. In particular was Jean-Marc Decrop, who introduced me to contemporary Chinese art. Without him I would never have had access to this market. Jérôme Sans was also important to me, he has always supported and advised me."
A college dropout, Dodelande started his own business at an early age. "I began to work when I was 17. Very early on I was aware that my personality was that of someone who needed to be very active. Although I didn't reject schoolwork, what I really wanted to do was to start my career, to be involved in real, tangible things. I was impatient. I believe in learning by doing. Having said that, I reject the cliché of the self-made man, because one never does anything all by oneself – one learns from one's encounters with others, from one's partners, one's successes and, even more so, from one's failures," notes Dodelande.
Over time, he developed a special relationship with art and began by initiating art-related projects in 2010, though not directly from the viewpoint of a collector.
"Since I am passionate about adventure and speed, the idea at the time was to involve artists in innovative projects, in particular, by creating a Boat (the "RAL 5015"), which was a collaborative project between artists and a naval shipyard. The most successful project was a blue boat created by the artist Xavier Veilhan who represents the French pavillion at the Venice Art Biennale 2017. It was through this project that I approached the art market, outing forth the idea of collaboration between art and industry, art and services, art and entrepreneurship. To answer your question, the first project that was completely market-related was the organization of a large sale in Monaco of a very rare series of sculptures by the artist Philippe Hiquily in 2013."
"I decided to collect when I realized that beyond being a mere participant on the market, I had a desire to put together a collection that would make a statement. Collecting is also an art form because of the choices you make; it involves creating something without being an artist. As a symbol of our collaboration, the first work I bought was Xavier Veihlan's uncluttered stainless steel shark, a piece from 2008. That's how things started. Later on, I got hooked," says Dodelande.
Over the years, Dodelande learned to invest in promising projects created by renowned and emerging artists and began to collaborate with galleries. "Today, there are certain galleries, particularly in China, with which I have special relationships. I'm not attached to any group of buyers. I'm free and independent, both in my choices and in my way of doing things," he explains. Well inspired, he was able to support Chinese artists of the last generation whose works are currently on display in Tbilisi.
"We chose Georgia as a starting point for our large-scale project through the story and tradition of the ancient Silk Road, but with a contemporary point of view. The Silk Road is an undisputed bridge between China and Georgia, so we thought it was a great idea to kick off the exhibition here in Tbilisi. We hope it will also help to create a dialogue between Chinese and Georgians. The works will be on display until mid-September, and then the exhibition will travel to Azerbaijan and Kazakhstan," Dodelande explains. "Also, I want to say that the curator Ami Barak, has made a brilliant selection of artists for this exhibition. Three of these artists' works will be shown at the Guggenheim Museum in New York, which is a big statement."
For Dodelande, Georgia also turned out to be a good place to manage his business from. He discovered the country almost 10 years ago when he visited his friend Jean Frederic Paulsen, a French businessman based in Georgia. "I immediately liked this country. Tbilisi is well situated if you want to make impulsive trips both to Asia and Europe," explains Dodelande, "It's also pretty culturally rich for a city of its size; it's growing up in a way," he adds.
In 2010, Dodelande received Georgian citizenship. Bought land in rural Savaneti, in the Kvemo Kartli region, and co-founded businesses that include a plant for the production of canned vegetables. During his frequent visits to Tbilisi, he stays in hotels, but he just bought an apartment in the old part of Tbilisi big enough to store his collection at home.
"It's a fantastic place to live and part of it is that in less than two hours you can be on a hike and in another world," he says.
Though Dodelande has some brand new projects on his mind, he is reluctant to reveal his future plans. One thing he can say for sure is that he doesn't envision opening his own gallery. "Never, I want to find a more vibrant way to work with artists and share it with people."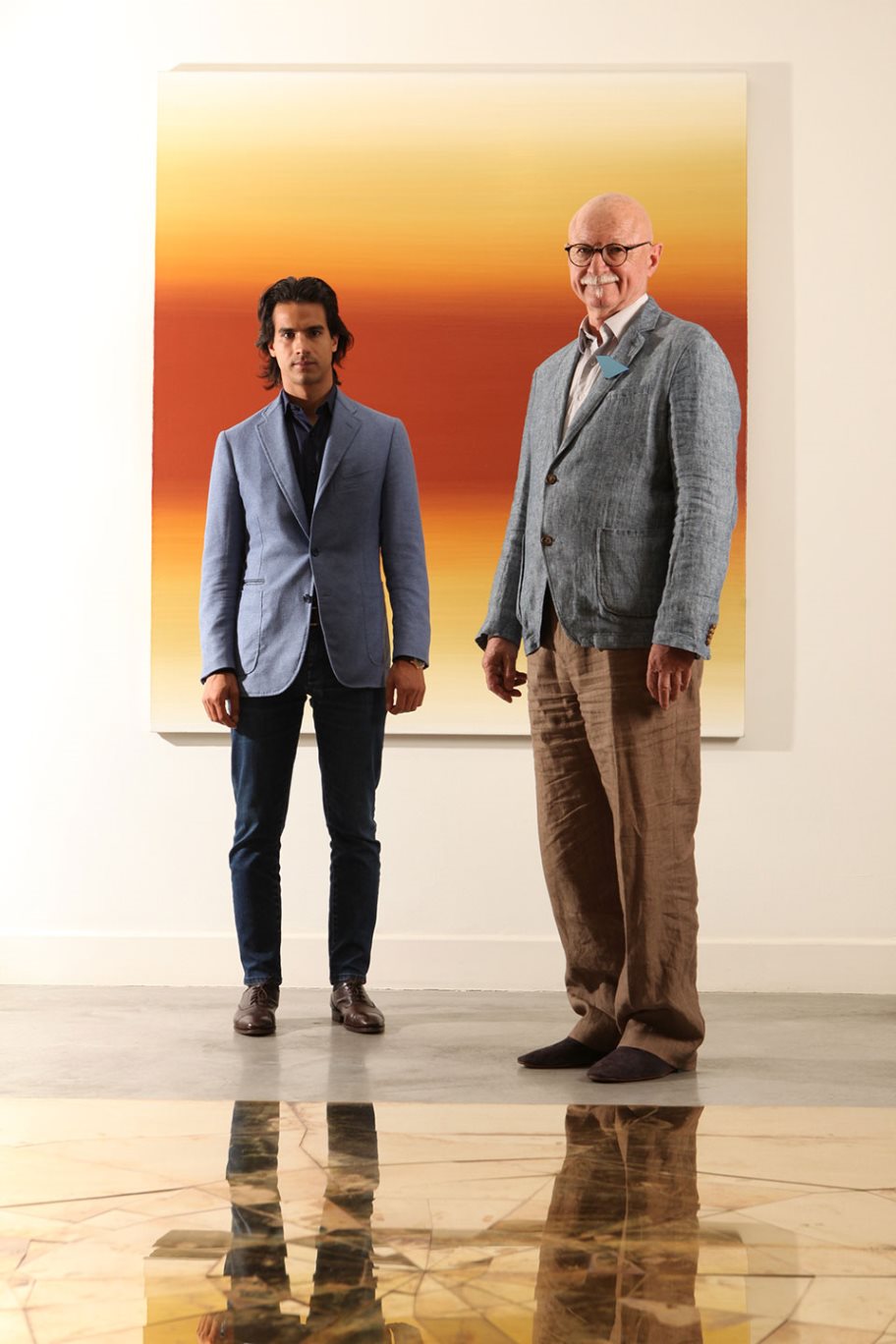 დატოვე კომენტარი