How Almaty is being turned into the city of a hundred slopes.

Perfected by ideal ski runs and the mountain sun, Kazakhstan is lately drawing attention away from widely-promoted European resorts for mountain skiers, snowboarders and other extreme sport enthusiasts.
BORED WITH COURCHEVEL
Around ten years ago, my wealthy Russian friend came to ski at Shymbulak, which is close to Almaty. "I'm a little tired of Courchevel," he explained, absolutely sincerely. He added: "Besides, our president skies here every time he visits Almaty. I'm interested to see how it is." Answering my question of how he liked the ski resort, he said: "Pretty well. Decent pistes and fair service. Not luxurious, but adequate."
It's no secret that this was nice to hear. Even better is knowing that ten years later Kazakhstan is able to offer, if not all the imaginable joys of mountain sports and outdoor activities, then many of them. And this fits perfectly into Kazakhstan's eco- and ethno-tourism development plan. Which is fortunate, considering the absence of opportunities the country offers for beach, yacht, spa and other niche types of leisure.
Within this context, Kazakhstan's position is both pragmatic and fashionable: today tourism trends center not on getting maximum comfort from passive luxury recreation, but on a search for new experiences and impressions. This often includes a wish to dive into life in an unknown country while exploring its history, traditions and culture. All these, combined with unique natural beauty, give Kazakhstan a true advantage.
In recent times our brutal steppe country, embellished by the diamond necklace of the Tien-Shan and Trans-Ili Alatau Mountains in the southeast, has drawn some mountain admirers away from the Alps and Sochi. When planning for the immediate future, Kazakhstan demonstrates not only a desire but a firm readiness to gain a lasting name as one of the best mountain skiing centers in the world.
It is fair to say that our country has all the essentials for such an ambitious project. First of all, the generous opportunities offered by the natural world, plus a mild climate, allow for skiing from November until May in the sunshine at a fairly comfortable temperature of -5ºto+15º Сelsius. Second, there is a clear understanding from tourism officials that the mountains must become a distinctive part of the nation's tourism brand, which includes eco- and ethno-tourism. And above all – a wish to make this tourism image contribute to Kazakhstan's reputation as soon as possible.
ADRENALINE RUSH
Today most pistes are in the southeastern part of the republic – on the ridges of Tien-Shan and Tarbagatay, Trans-Ili and Dzhungarian Alatau. However, there is still a chance to get an adrenaline rush on the slopes of the Altay Mountains, as well as in the country's north at the Schuchinsk-Borovskaya resort area. This region has been rapidly developing in recent years with strong state support.
To the east, near the city of Ust-Kamenogorsk, there is a mountain ski resort well-known among locals as the Altay Alps. The resort is one of the most picturesque in the country, very cozy and relatively affordable, with excellent service. Thirteen pistes suit both first-time skiers and those who feel confident on the slopes. Just steps from Ust-Kamenogorsk there is another resort, Nurtau, which is located in its namesake mountain village. It's the most recent resort ready to host visitors, and its pistes fit any taste and skill level, including free ride fans and those interested in evening and night rides.
The ski resort in Borovoye cannot really be called a high-mountain resort, as the slopes run over gently rolling hills covered with wonderful coniferous forests, and there are emerald lakes instead of plains at the bottom. But this resort is perfect for beginning skiers and those who prefer relatively easy slopes surrounded by natural beauty. Conveniently, a visit to this resort ideally accompanies travel to Astana, the capital of Kazakhstan.
Even more opportunities await travelers visiting the southern capital of Kazakhstan, Almaty, as its suburbs offer several mountain ski centers within just an hour's travel.
17 km away from the metropolis, the Tabagan resort is located among the amazing scenery of the Ile-Alatau National Park, and is divided into beginner's slopes and advanced skier's zones. Altogether, there are 11 pistes of various difficulties, and riding them is permitted till 22:00, as the slopes are excellently lit.
One more mountain ski center close to Almaty is Akbulak, which is protected from wind by Soldatskoye Gorge. Akbulak offers slopes for beginners and professional skiers, along with options for free riders.
But the most famous Kazakhstani ski resort is certainly Shymbulak, located just 25 km from Almaty. Its first wave of fame rose during the Soviet era. Seven years ago, during the Almaty Asian Winter Games, the world witnessed Kazakhstan's opportunities in general and Shymbulak's in particular. The latest sports event, Winter Universiade 2017, also attracted the attention of mountain sports admirers and professionals. It is worth mentioning that in 2013, Forbes Russia included Shymbulak in its top 10 visa-free mountain ski resorts for Russian citizens.
Shymbulak went through major modernizations during its preparation for Asiad 2011: pistes almost doubled in length; riding areas were expanded 10-20 times over; snow canons were installed and the cableway was partially overhauled; the hotel was renovated; restaurants, boutiques, and a spa center were built; a mountain skiing and snowboarding school was opened. A special project involved the construction and launch of a 4.5-km cable way from the Medeu sports complex to the ski center, and today a ride to the pistes takes no more than 15 minutes. Now the most popular mountain ski resort in Kazakhstan offers a range of slopes for various skill levels starting from zero difficulty, and also has extraordinary routes for mogul, tubing, giant slalom, speed skiing, and half pipe for snowboarders.
Kazakhstan has one more jewel in its crown: the construction of a new ski resort in the mountainous area of Kok-Zhailyau, near Almaty. The project risks controversy due to its location in a national park with a unique ecosystem. Its construction brought doubt and anxiety – is it worth exposing this precious wilderness to danger, destruction, or even disappearance?
The authors of this project are calmly and thoroughly analyzing the pros and cons and collaborating with the general public and experts, including from abroad. Developers must consider the example of countries which have managed to become leaders in mountain ski tourism, like Austria, Italy, and Andorra, while keeping their authentic ecosystems intact. It's obvious that today the mentality of both Kazakhstani businessmen and officials is changing. This includes a more diligent attitude towards maintaining international standards, especially ecological ones.
The result of this analytical research is as follows: the Kok-Zhailyau mountain ski resort will help Kazakhstan become not only a mountain ski center, but a leader in this sphere. It would not be fair to give the popular and well-liked Shymbulak this role, only together can these two resorts offer exceptional opportunities for recreation to their visitors. This construction will trigger the development of tourist infrastructure in Almaty, including the opening of new hotels, restaurants and tourist centers.
So, it seems that shortly Almaty will not only be the city of a thousand colors, but also the city of a hundred ski slopes.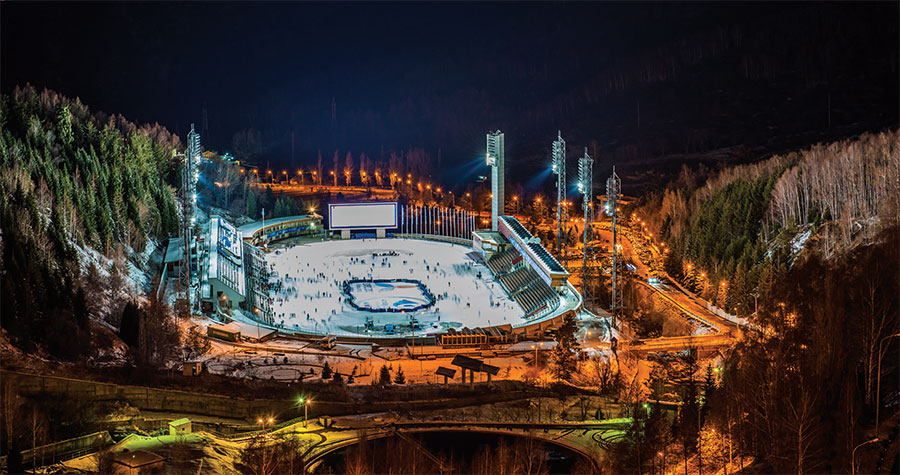 დატოვე კომენტარი