Love of the Motherland and all the mothers and grandmothers involved in her life as well as in everybody else's. Love of food and wine and desire to introduce Georgian gastronomy at its finest to the biggest culinary hub in the world – New York City – has inspired Georgian Tamara Chubinidze to open a Georgian restaurant, Chama Mama in NY.
Born in Tbilisi, Georgia, Chubinidze moved to New York in 1996 as a teenager. Her father arrived earlier, after her mother's death and the collapse of the Soviet Union. He spoke no English; to survive, he drove a taxi and sold used books, like every immigrant. Now he owns an import company that supplies Chama Mama.
The work experience in restaurant industry for Chubinidze is connected to Le Pain Quotidien, an international chain of bakery-restaurants, where she served as a general branch manager for two years.
The first chain of Chama Mama has been opened in March 2019, in a lofty space in Chelsea. The restaurant has been getting good reviews since it opened. The majority of patrons estimated dishes of Chama Mama as "flavorful and delicious".
Establishing Chama Mama is more than just a business for Chubinidze, since it aims at bringing the culture, cuisine and winemaking tradition of 3.7 million Georgians to the USA, a country with over 331 million people.
The management was about to celebrate one-year anniversary this spring, but the pandemic has disrupted it and brought them in a different reality.
"It was the most interesting and, at the same time, challenging year for us. All started very successfully, the interest towards Georgian cuisine was overflowing and then, in a day, everything was taken away. Just when we were about to celebrate our one-year anniversary, the pandemic and the lockdown started. Lockdown was announced overnight, so within 24 hours we had to shift our business model to the 100% take-away and adapt to the new setting," said Chubinidze, adding that overall it was interesting and very tense at the same time.
COVID-19 and Restaurant Business in NY
Impact of COVID-19 was enormous, said Chubinidze, since many iconic places shut their doors indefinitely. "Number of restaurants closed right after lockdown and unfortunately the process is still going on, many places find it difficult to stay afloat. In our case, from being the full-service restaurant we were left without customers just overnight. We were not prepared for the take-away model and it was a big challenge to switch in a very short period of time, but we managed very efficiently. That helped us stay open throughout pandemic and when the lockdown was lifted, we smoothly transitioned and were ready to manage the outdoor dining. We are still analyzing the impact, but one thing for sure, we are more creative in diversifying our operations model to have the most efficient results".
Chama Mama has been hosting up to 500 guests on daily basis during 2019. During the pandemic, as above-mentioned, at some point the restaurant was only serving take-away orders, but now the management is happy that the number goes up to 200 guests per day. As per regulations, the indoor dining area of the restaurant can be used at the 25% capacity. Luckily, Chama Mama has the big outdoor garden that it operates. If everything goes well and there is no increase in cases, starting from November 1st the restaurant can have the indoor dining at 50% capacity.
Lockdown – was it Right or Wrong?
Chubinidze has got mixed emotions about it. According to her, "whereas we all wish that the government and all of us had been better prepared for such incidents, looking back it seems like the lockdown was unavoidable. That had a huge economic impact, but on the later stage, government supported small businesses. PPP (Paycheck Protection Program) loans were given to us that helped paying salaries and rent. Government-issued safety regulations proved to be quite effective, at least we got the opportunity to operate without putting at risk our customers and staff. In June we were allowed to have the outdoor seating in compliance with all guidelines. We now have new norms and also new dining experiences".
Brand Expansion
The initial investment of Chama Mama was up to 1 million USD, for three locations. Chama Mama is planned to grow into a restaurant chain.
The second location on the Upper West Side, New York City is in the process of construction right now. Third location is planned to open in 2021.
On the business side, according to Chubinidze, success came from consistency, teamwork and acceptance from the customers. Apparently, there was a big interest for a new cuisine in New York City. "We listened to our customers, to understand their needs and in return, during the most challenging times, our community supported us very strongly".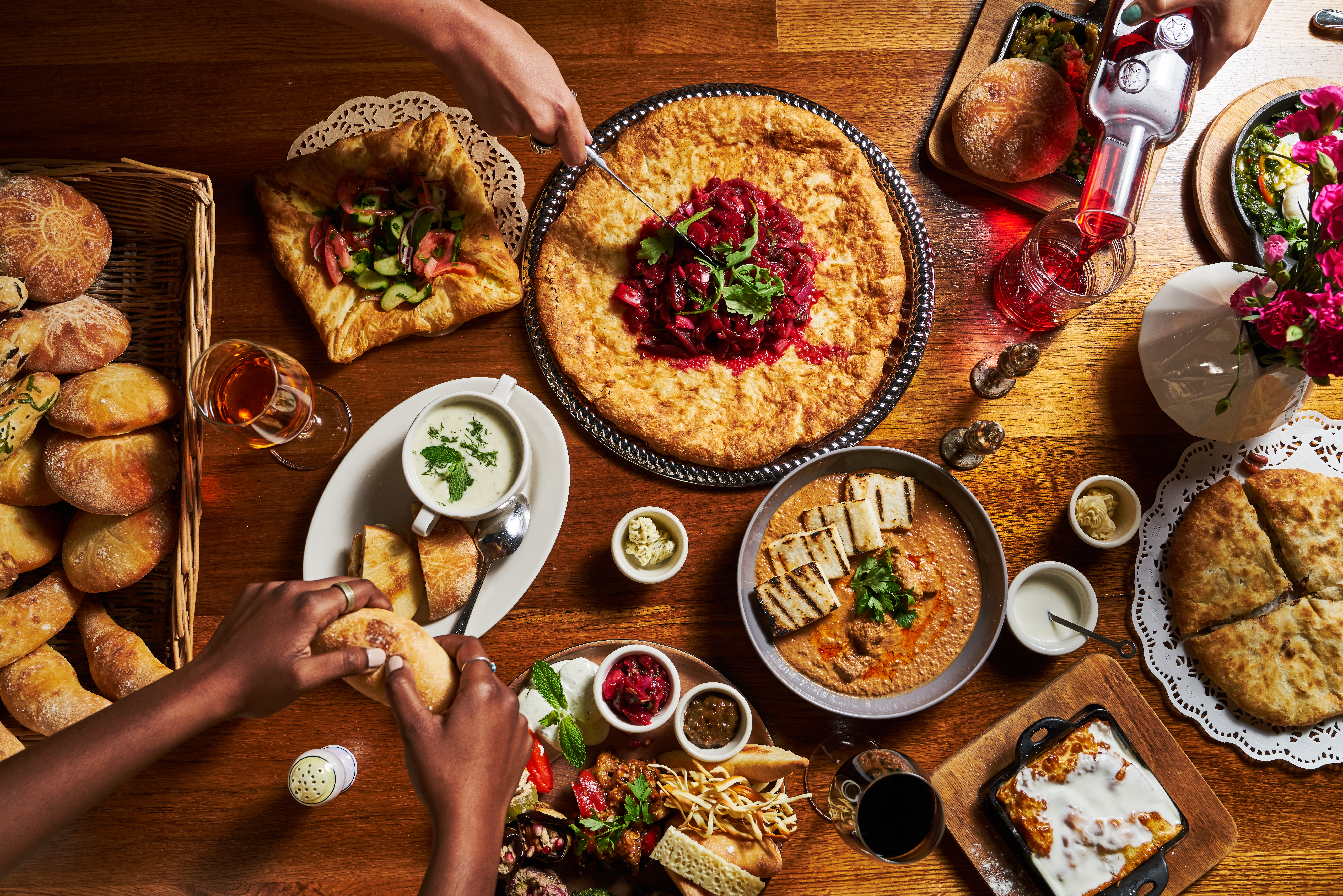 Most Popular Dish
There is no sole leader in this regard. As far as, adjaruli khachapuri and khinkali compete with each other on a daily basis.
The main segment of guests at Chama Mama are mostly locals. Chelsea is famous for dining experiences. Chama Mama is located between Union Square and Meatpacking district, so before pandemic Chama Mama had lots of tourists visiting. And of course, Georgians also were big supporters.
Plans for 2021
"Successfully operating two locations and working on a third one, popularizing Georgian culture, cuisine and winemaking further and further and hosting lots of Supra again," these are the plans of Chubinidze for 2021, who in addition wishes "health to everyone". "Hopefully, we will overcome the difficulties we are facing soon".
დატოვე კომენტარი