WHEN YOU'RE NOT LOOKING FOR A NEW HOME YOU STILL BUY A RESIDENCE AT THE ALLIANCE HIGHLINE
Whether it's after a busy day at work or when returning home from a holiday abroad, it's always good to come home – it's the only place you can truly relax. So why not search for perfection?
Why do we buy new cellphones? Do we expect them only to make calls and receive SMS notifications? No, we buy new iPhones and androids for their more sophisticated design and function. It's the same when we are talking about moving into a new place – except the scale is much bigger and more breathtaking when your new home is at the Alliance Highline. Life moves forward and so should you. SO UPGRADE YOUR LIFESTYLE!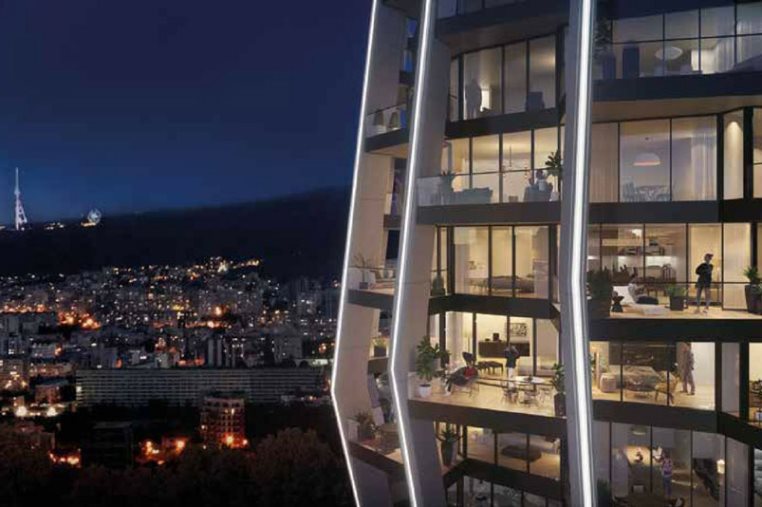 STUNNING, UNIQUE AND UPSCALE. LANDMARK LIVING ARCHITECTURE & DESIGN
The home you're living in is in an old building, just another block of flats or in a modern construction with a contemporary appearance. Still, it looks nothing like a landmark building.
Is the building you're living in distinguished? Does it possess exclusive architecture? Do you have amazing views from all the rooms? Are all rooms sunny? WHO IS THE ARCHITECT?
Your new home at the Alliance Highline is acknowledged worldwide for its exclusive architecture and design. The Alliance Highline is a new landmark building. All the rooms are sunny here. All the residences enjoy views in two to three directions. In larger residences, most of the rooms extend into terraces. Active and quiet zones are segregated for privacy. In two bedroom apartments one is a master bedroom, larger apartments have two to three master bedrooms. All kitchens are naturally illuminated and even have access to the terraces. In some residences, these kitchens are separate rooms, in others, they can be both separate or integrated with the living room. Luxury here is built, not tacked on. The Alliance Highline provides all the modern-standard facilities for its owners. A lobby with a skylight, common rooms, a children's playroom, storage, a rooftop garden and parking. Public facilities include a convenience store, pharmacy, coffee shop and a car wash. As for semi-public facilities, her you can find a pool and spa, fitness center, conference rooms, business center and other attractive qualities.
Modern amenities, an urban location and sophisticated style – you just LOVE WHERE YOU LIVE! Everything here is tailored to the highest standards.
The architect of this game-changing project is Giorgi Khmaladze, whose projects have won various international awards. Recently, the Alliance Highline was awarded in the nomination of Mix-Used Architecture at the European Property Awards 2017.
The Alliance Highline is a mix-use project consisting of residences, rental apartments and a hotel – a three-tower development in a central location in Tbilisi. The total building area is about 80,000 sqm. from which 20,400 sqm. is used for four underground floors. The tallest 40-story tower is a residential building with penthouses on the upper floors. The two lower-story towers are occupied by Wyndham Garden hotel and apartments. The three buildings are interconnected with a podium on the ground plane where various public and semi-public amenities serve residents, hotel guests and visitors.
LOCATION
The home you're living in is located either in the city center, which is a good location but full of traffic and dirty air, or in a suburb that might have clean air but is far from the city center. The view from your home is maybe just another multi-story house facing yours or if you live on the upper floor, the best view can be the view from above on garages. Even if you're that lucky to have a splendid view of the city, you won't have this great of a sight from all the rooms. How quality are the roads to your home? Do you have alternative routes to prevent you from getting stuck in traffic jams?
Your new home at the Alliance Highline is located in the city center, Tbilisi's most prestigious district of Vake, close to the Tskneti forest, from where the cleanest air blows towards your residence. This place is aptly referred to as the Lungs of Tbilisi. Thus, you live in a healthy environment in a central district, something so rare in our capital. What's also very important is that you have fabulous views from your terraced balconies. Nearby is Vake Park, the Mikheil Meskhi Stadium and Olympic swimming pool. You can drive home to the Alliance Highline from Chavchavadze Street, as well as from a new alternative road via Tamarashvili Street, specially built for your comfort.
TECHNOLOGY
The home you're living in – is it technologically advanced? Is an alternative energy source an option when something goes wrong or do you have to wait for the electric company to resolve the issue? Modern vision and standards are especially important when it comes to emergency issues like fire-prevention, fire-fighting, safety and security.
Your new home at the Alliance Highline has a full package of modern technological facilities, like card keys instead of metal keys, also privilage cards that will enable residents to access exclusive benefits, a technical room on each floor, all public, semipublic, service spaces and parking are illuminated using highly efficient LED lights, and alternative energy sources. Those living in the Alliance Highline are also free to use the lobby, shared spaces and elevator services – all of which meet modern international standards. The Alliance Highline has the latest fire-prevention and fire-fighting technology and the complex is secure 24/7.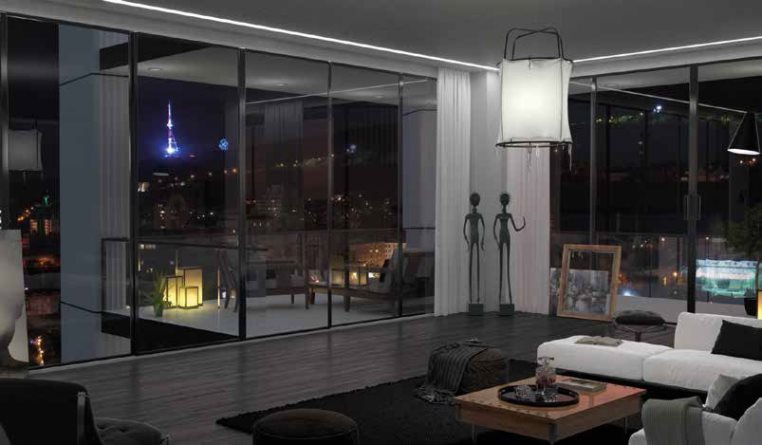 ENERGY EFFICIENT& ECOLOGICALLY SAFE CONSTRUCTION MATERIALS
The home you're living in – does it save you money on utility payments, is it energy-efficient? Are the construction materials ecologically safe?
Your new home at the Alliance Highline is energy efficient, which means you pay twice less than you would in a building built with non-energy efficient materials. Moreover, the construction materials the Alliance Highline is built with are all ecologically healthy.
LED lights-throughout the entire development, all public, semi-public, service spaces and parking is illuminated using highly efficient LED lights.
The project's recreational infrastructure is a giant rainwater collector, supporting irrigation systems. In addition, some of the consumed water is also filtered and stored.
The wind turbines and renewable energy strategy of the project utilizes the height of the towers by placing vertical wind turbines on the rooftops, which operate even on low wind speeds. 16 turbines on top of each tower will support light fixtures (circulation, parking and public areas) and elevators for the entire project. The excess energy is stored in batteries that can be used on demand.
PARKING
The home you're living in – does it have its own underground parking? Most buildings, especially old constructions have no parking at all. Instead they have self-built garages, which is unattractive and take over playgrounds where your children should be having fun.
Your new home at the Alliance Highline has four floors of underground parking with the capacity to hold 320 vehicles. It's illuminated using highly efficient LED lights and has surveillance cameras. Most importantly, there is no one taking over your playgrounds; you children are more than welcome to have fun in a green environment.
SAFETY.FIRE-PREVENTION
The home you're living in – does it have fire prevention and firefighting technology? In old buildings, you won't have Individual smoke and heat detectors while in new constructions at least this may be found. Still, it's definitely not enough to put out a fire when it's caused by larger external factors. There are few new developments that truly have quality firefighting technologies.
Your new home at the Alliance Highline has fire prevention and firefighting technologies that meet the highest international standards. The complex has a separated server room for central computer system hardware, which is equipped with an additional fire-resistant layer and doors; modern smoke-based fire extinguishers are installed in the rooms in order to avoid fire. Central safety system controls 24-hour video surveillance cameras. The Alliance Highline has emergency lighting systems, electronic keys for elevators, residences and apartments and centralized lock systems. Autonomous, automated ventilation systems activate powerful exhausts and provide clean air to the complex; the system is equipped with fire resistant pipes and valves.
Contemporary, interactive alarm technology detects the need for activation of the alarm in autonomous mode considering several parameters; the system locally provides information to resident's/ guests about the threat and warns them through a visual and audio system in order to avoid panic, ensure complete evacuation of the building. Individual smoke and heat detectors are installed in the rooms, as well as visual and audio warning systems.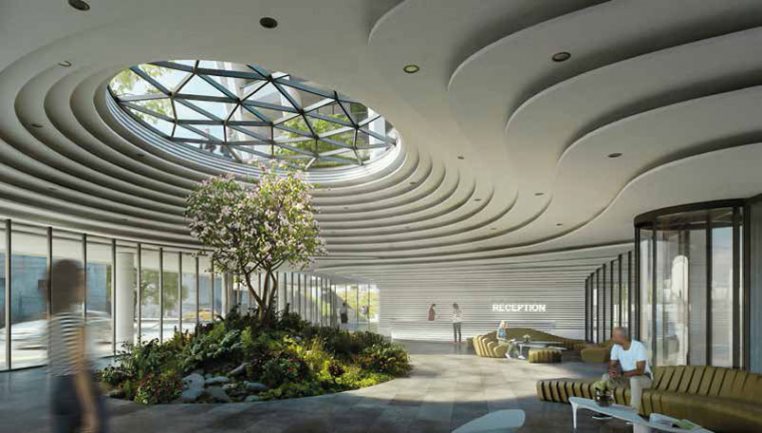 SECURITY
The home you're living in – does it have security? Yes, in the case of crime or any type of accident you will call 112. But what if you could prevent this…
Your new home at the Alliance Highline is where you are protected 24/7. The complex has professional security personnel and professional security systems. Inside the Alliance Highline premises you're safe.
CLEANING AND MAINTANANCE SERVICES
The home you're living in – does it have maintenance services? Do you and your neighbors have to take care of cleaning and the maintenance of public spaces on your own?
Your new home at the Alliance Highline is looked after. Maintenance services include the cleaning and maintenance of hallways and public spaces, 24–hour security service and video surveillance, concierge and cleaning service, reception, routine and emergency maintenance of the elevators, and other services for continuous and uninterrupted functioning.
CONSTRUCTION DEVELOPER
The home you're living in was developed either in Soviet times during the massive constructions conducted by the communist government or during the last decade by a private company. THE NAME OF THE DEVELOPER MATTERS. Sure, I can't possibly know who's developed your building, but I can tell you who the construction developer of the city's future landmark is.
Your new home at the Alliance Highline is developed by the Alliance Group, the leading Georgian construction developer with four current gamechanging projects in its portfolio: the Alliance Palace in Batumi featuring Courtyard by Marriott Hotel, the Alliance Privilege in Batumi featuring Marriott Hotel, the Alliance Resort in Goderdzi Pass featuring the Ramada Hotel and the Alliance Highline in Tbilisi featuring the Wyndham Garden Hotel. The total budget of these projects is $210 million.
Starting from September of 2019, all of the above-mentioned properties will be affiliated with the RCI Registry Collection, an elite network of 200 of the finest vacation properties in more than 40 countries. Owners of the apartments will become platinum members of RCI, the world's largest vacation exchange network. Alliance Vacation Club, founded by the CEO and co-founder of Alliance Group, Akaki Songulia, is transforming the international hospitality business. Innovative and customized products and services lie at the heart of the four projects' four-part business model: First, a world-renowned International hotel brand is integrated into the concept and development. Second, an investment in high-class properties with values increasing year-on year by 15%. Third, the investment and profits associated with the aparthotel concept, allowing property owners to recoup the costs of the acquired apartment within five years are hard to ignore. Last, but not least, with the RCI Registry Collection affiliation offering apartment owners fairy holidays worldwide, the properties become truly unique.
In the past 12 years, Alliance Group has invested $200 million in premium-class innovative developments in Georgia's Adjara region. Tbilisi is the next target for the internationally-acknowledged developer.
დატოვე კომენტარი