Alliance Vacation Club, founded by the CEO and co-founder of Alliance Group, Akaki Songulia, is transforming the international hospitality business. Starting from September of 2019, Alliance Group properties will be affiliated with the RCI Registry Collection, an elite network of 200 of the finest vacation properties in more than 40 countries. Owners of the apartments will become platinum members of RCI, the world's largest vacation exchange network. The leading Georgian construction developer is investing $210 million in these current game-changing projects. Over the last twelve-years, Alliance Group has invested $200 million in premium-class innovative developments in Georgia's Adjara region. Tbilisi is the next target for the internationally-acknowledged developer.
"Owners of the apartments developed by the Alliance Group are lucky people. They instantly receive the cheapest access to the most luxurious vacations worldwide," Akaki Songulia, CEO and co-founder of Alliance Group, notes at the top of our conversation. The leading Georgian construction developer is developing four game-changing projects in cooperation with the world's largest hotel chains: the Alliance Palace in Batumi featuring Courtyard by Marriott Hotel, the Alliance Privilege in Batumi featuring Marriott Hotel, the Alliance Resort in Goderdzi Pass featuring the Ramada Hotel and the Alliance Highline in Tbilisi featuring the Wyndham Garden Hotel. Innovative and customized products and services lie at the heart of the four projects' fourpart business model: First, a world-renowned International hotel brand is integrated into the concept and development. Second, an investment in high-class properties with values increasing year-on year by 15%. Third, the investment and profits associated with the aparthotel concept, allowing property owners to recoup the costs of the acquired apartment within five years are hard to ignore. Last, but not least, with the RCI Registry Collection affiliation offering apartment owners fairy holidays worldwide, the properties become truly unique. As a way to offer this unprecedented opportunity to the owners of Alliance Group properties, Songulia founded Alliance Vacation Club a year ago.
"Our apartment owners become club members. This lets them have their dream holidays in exchange for their apartment, from one to four weeks a year," explains Songulia. The most exciting factor about this club is that it unites more than 6,300 hotels all around the world, so the owners of the apartments developed by Alliance Group will have a premium access to the best resorts among them, as they become platinum members with exclusive rights. Being the strategic partner of global hotel brands, Alliance Group develops its properties using only high-end, environmentally-friendly materials, making it luxurious and energy-efficient all at once. This is why the Georgian developer deserved platinum membership of the world's leading organization in the property exchange industry.
"I see Instagram accounts of the apartments' owners blow up as their photoshoots from the world's top destinations get thousands of likes," says Songulia, as he shows me around the construction site of the Alliance Highline multifunctional complex, which Alliance Group is developing in Tbilisi's central Vake District.
"This I call a lifestyle changer," he adds. According to Songulia, 30% of the apartments in the future-trend complex, which is still in the early stage of construction, are already sold. The Alliance Highline, which is now only a four-floor underground parking area, will become a three-tower premium-class complex consisting of a forty-story residential building and two smaller mixed-type towers, where Wyndham Garden Hotel and Apartments will be situated. The latter is a four-star hotel brand owned by Wyndham Hotel Group, the world's largest and most diverse hotel giant, with an unmatched global presence of nearly 8,000 hotels in 73 countries under 19 hotel brands.
"Gia Bitsadze started the story of Alliance Group twelve years ago," says Songulia, pointing to the founder of the Alliance Group who is getting off his Lexus LX. In a minute we're joined by Bitsadze himself. "Hope Akaki has not told you the whole story yet," says Bitsadze, adjusting his helmet with his left hand while his right hand is busy setting airplane mode on his mobile phone. "This way we're safe from being interrupted. Otherwise, we'll be having a never-ending interview," he says with a welcome smile. Bitsadze, 52 and Songulia, 40, both look experienced and confident in what they are doing. It is little wonder that they're so ambitious, as the two Georgian businessmen have incorporated four world-renowned hotel brands into their internationally acknowledged projects. The business partnership between the two began in 2012. Songulia, a young financier left his own auditing company and joined the Alliance Group, one of the founders of which was Bitsadze, a serial entrepreneur since the late 80s.
"Innovation is what Alliance Group is known for. In 2005, construction development in Georgia was in its early development phase. It offered lots of opportunities for innovation and we managed to grab those opportunities successfully," says Bitsadze. "We've been a local market pioneer since the very first day," he added.
Alliance Group built the very first modern residential building in Batumi in 2005, was the first to launch aparthotel concept in Georgia in 2009, which turned the Black Sea capital city of Batumi into a top tourism destination for foreigners, first again to incorporate an international hotel brand into a multifunctional complex in 2015 (the Alliance Palace in Batumi featuring Courtyard Marriott) and this time it's the first, as usual, to combine an international hotel brand incorporated into a multifunctional complex with residential spaces (the Alliance Highline combining residential tower with Wyndham Garden hotel and apartments). Moreover, the leading Georgian developer, as mentioned above, has affiliated all four current projects with the RCI worldwide network. Before Alliance Group, Bitsadze, the innovator that he is, was busy pioneering other businesses. He survived through all the chaos and wildness of Georgia in the 1990s. His smart entrepreneurial skills helped him make the right decisions every time things went wrong. The target-driven businessman never got intimidated by challenges, nor did he when his import business failed because of wrongful political interference by the local government in those days, or when his gas and petrol stations were closed for the same reason. One of the strongest sides of his character is working hard till the mission is completed, no matter the odds. Bitsadze acquired patience and discipline while working as a senior lieutenant in the army while serving the air defense radio-technical regiment. Swimming against the current made him the man of success he is today. In 2005, when Georgia's private sector was starting to take shape as a result of the liberal economic reforms that were underway in the country, Bitsadze, an experienced entrepreneur, made a shrewd decision by founding a construction development company called the Alliance Group. Now he can happily speak about the new developments.
"Vake, where the Alliance Highline is being built, is a prestigious location and with Wyndham Garden Hotel, the district will gain another value – it will become a new tourist center of Tbilisi," he tells me. The Alliance Group has combined all the amenities necessary for quality living – a four-story underground car park, swimming pool, fitness and spa center,restaurant and public spaces, as well as concierge service. Both the infrastructure and the inner functional parts of the project include modern facilities. These include alternative energy sources, a technical room on each floor, card-keys and privilege cards that will enable residents to access exclusive benefits. Those living in the Alliance Highline are also free to use the lobby, shared spaces and elevator services. Another reason Alliance Highline is such an attractive project is because of its ecologically healthy location. Residents of the Alliance Highline will be able to breathe clean air blown-in from the forests of Tskneti, and enjoy the privileges of living in an area referred to as the 'Lungs of Tbilisi' by spending time relaxing on their terraced balconies. Affordable prices and flexible purchasing conditions make the complex even more attractive for both local and international clients. Prices for residential apartments at the Alliance Highline start at $1,300 per square meter, while Wyndham apartments start at $1,100 per square meter. In total, the Alliance Group will invest more than $75 million in the Alliance Highline project, which will be completed in 2019. According to the 2017 research undertaken by Colliers International Georgia, based on the data derived from the National Agency of Public Registry, 580 residential complexes (33, 575 residential apartments with total space of 3.47 million square meters) are under construction in Georgia in total. In the first five months of 2017, the number of residential apartments sold came to 9,609, which is 17% growth compared to the previous year's statistics. The average price for residential properties in the Vake District is $805 per square meter – second highest in Tbilisi after Mtatsminda.
Again, in partnership with the Wyndham Group, but this time in the highlands of Adjara, Alliance Group is building a one-hundred room Alliance Resort featuring the Ramada brand, the fastest growing brand in Europe, which is part of Ramada Worldwide, a global hotel chain operating 850 hotels in 67 countries. Alliance Group is the first construction developer to step in to a new year-round resort, which the Georgian government is developing at Goderdzi Pass, 2,000 meters above sea level, and only 100 kilometers from the Black Sea coast.
"This is going to be the resort that will amaze the world. Foreigners expect Goderdzi Ski Resort to become one of the best alternatives to the Swiss Alps," says Songulia. When it opens in 2018, the six-story Goderdzi Ski Resort Ramada Complex, also affiliated with the RCI Registry Collection, will have the capacity to host 250 visitors at any one time.
The Alliance Group invested $10 million in the project. Another world-renowned hotel chain, the Alliance Group is developing projects with, is Marriott International. The Georgian developer started a partnership with the global hotel giants back in 2015.
"The story started two years ago. We saw that the property market in Adjara was saturated with apartment hotels, the concept was actually brought to Georgia by our company earlier in 2011. We knew something new had to be offered to potential investors and bringing an international brand seemed to be the right option," says Songulia. Less than a year after making that strategic decision, Alliance Group signed a franchise agreement with Marriott International and started building a world-class skyscraper in Batumi – the Alliance Palace– featuring Courtyard by Marriott Hotel on the first six floors. The appearance of this classic Marriott International brand, a leading multinational hospitality company that operates 6,000 hotels in 120 countries, will further strengthen the city's international image as a luxury travel destination. The upper floors of the Alliance Palace – a 41-story multifunctional complex – will house premium-class apartments. All apartments at Alliance Palace – one-room (30.65 m2), two-rooms (53.30 m2), and three-room properties (77.65 m2), come with sea-views and balconies. This future-trend complex is being built just across the seashore on the city's famous boulevard, which is the longest in Europe. Another value of the Alliance Complex is its well-developed infrastructure: underground parking, indoor and outdoor pool, spa, fitness, a casino and restaurants. Apartments at Alliance Palace start as low as $1,200 per square meter, which is a fair price considering the luxury benefits this complex provides.90% of the apartments are already sold. A great majority (around 80%) of the owners are foreign citizens.
"To those people, both foreigners and Georgian investors, who have some savings they're looking to invest, we offer one of best solutions," says Bitsadze, "having seen that the value of their properties increased by 210% in two-years building time, while having left with a ready business that generates money, they become the first clients of our new projects. So, it is always a self-explanatory subject when you see loyal customers trusting you and always coming back," he adds with a sense of pride. Alliance Group has a good global presence in terms of sales. The Georgian developer has seven international offices that operate in Israel, Ukraine, Russia, Azerbaijan, United Kingdom, Germany and the Benelux countries. Alliance Group is set to open two more overseas offices in the US and the UAE. The Alliance Group will also invest $45 million in the Alliance Palace project. The apartments will be completed by June of 2018, and the Courtyard by Marriott Hotel will officially be opened in April of 2019. The same business model is being used in a new multifunctional complex which Alliance Group is starting to develop in Batumi in cooperation with Marriott International. In the Alliance Privilege, which will feature Alliance Group apartments and a Marriott Hotel, the Georgian developer will invest $80 million.
"We did start development activities in Tbilisi, but we have still much to do in Adjara, as it's a very interesting and promising market," says Bitsadze as we enter the Biltmore Hotel on Rustaveli Avenue where the Alliance Group has recently opened its Tbilisi office. "Lots of new generation ideas will be developed in this new head office," he says.
Since 2005, the Alliance Group has built more than 20 largescale residential complexes and aparthotels, 5,000 apartments in total, covering more than 1.2 million m2 of construction area. Most of the projects in the company's portfolio are located in Batumi. While talking about Alliance Group and Georgia's tourism potential, Akaki and Gia only use strong words.
"Georgia has it all to become a destination," says Songulia, as he removes his glasses that became fogged over from the hot steam coming from his black tea. "Gia and I are very firm on this," he adds. Both businessmen seem to be more tea people; this explains only one cappuccino cup on the CEO's table. Songulia, a financier with a wide vision of global opportunities and Bitsadze, a successful entrepreneur with a good international reach and rich experience across many sectors, have a mix of skills and expertise that compliments each other. With the four ongoing internationally-backed projects and the unique services the Alliance Vacation Club will introduce next year, the two game-changer Georgian businessmen have to make the right moves to turn "pawns of ideas" into "queens of success". The check-mate tactics of the business world were long ago adopted by Songulia, a several-time chess champion of Georgia.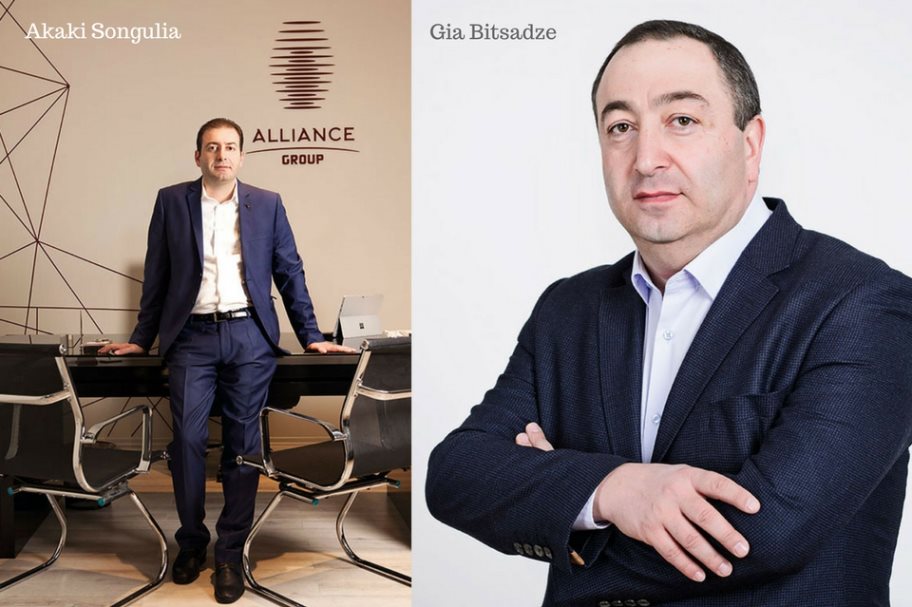 დატოვე კომენტარი