People travel for pleasure; however, the reality is that a fair share of visits to tourist destinations are for business. The MICE segment (meetings, incentives, conferences and exhibitions) has become one of the main economic development engines for the tourist industry. More than 20% of trips globally fall under meetings, incentives, conferences, or exhibitions.
Georgia's Black Sea city of Batumi, acknowledged as 'Europe's Leading Emerging Tourism Destination' by World Travel Awards, will be put on the world map of MICE Tourism. Alliance Group, the project developer, is a leading company known for bringing innovative solutions to the city's hospitality sector, namely aparthotels and mixed-used developments with international hotel brands as well as the first vacation exchange network in Georgia. They have now set a new challenge for themselves. Under the name, World Trade Centre Batumi (WTC Batumi), the company will develop the first MICE Destination in Georgia. Alliance Group will invest $380 million in the region's flagship project.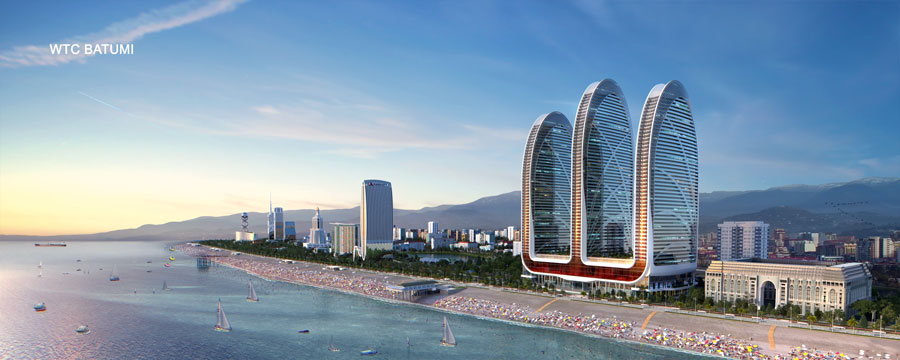 Compared to traditional tourism, MICE tourism is subject to low seasonal volatility. Most people take vacations over holiday periods –such as over Christmas and easter, or during summer and winter– while MICE tourists travel all year round. This promotes a more profitable and stable tourism industry. MICE tourists are quite different to traditional travellers; they are willing to spend more on shopping, leisure activities, restaurants and hotels, which in turn contributes to the development of the destination.
"WTC entering our country will upgrade Georgia's tourism potential to a whole new level. This means more high-spending visitors in Batumi and in the country in general. New potential markets from a wide range of business sectors will now show interest towards Georgia. It is worth highlighting that there is not any international standard MICE-oriented venue in our entire region," Akaki Songulia, CEO and co-founder of Alliance Group, told FORBES Georgia.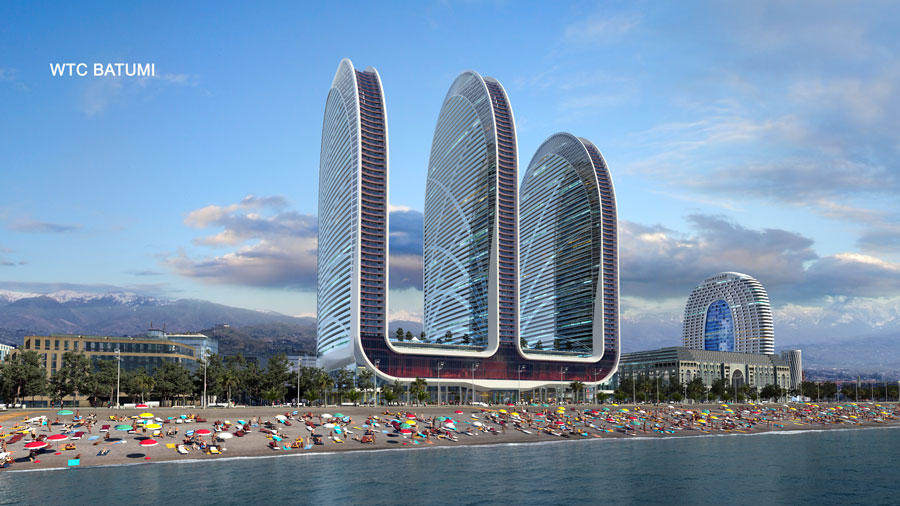 WTC Batumi includes construction of the region's first international-standard shopping centres, A-class office spaces and exhibition centres, also international hotel brands. WTC Batumi will occupy a 20,000m2 (450,000m2 construction area) space at the seafront, right in the middle of the promenade (known as "Batumi boulevard"); a place that has the biggest footfall during high season. Alliance Group will demolish the 13-storey, unfinished building that has been lying abandoned for two decades, damaging the cityscape and the local environment. Instead, the company will develop the first energy-efficient shopping and business centres in Batumi, which will be a hub for Georgia's MICE tourism.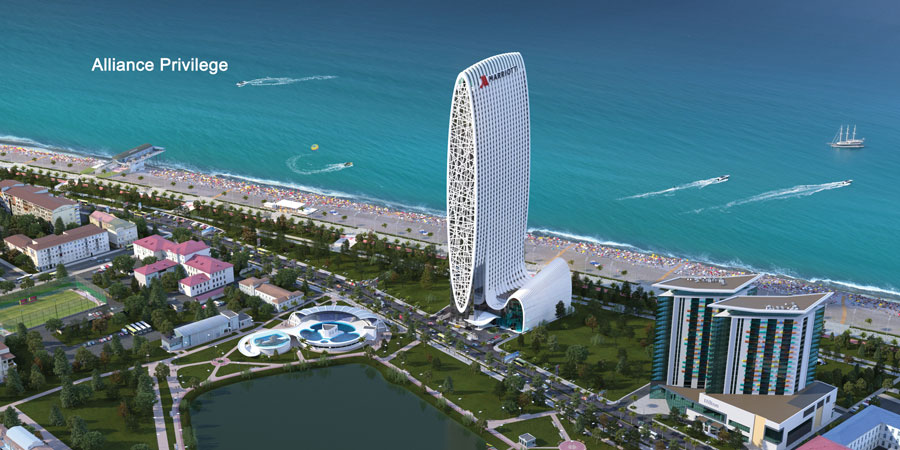 "Alliance Group started reshaping the city of Batumi 15 years ago. From the very first day we had a long-term vision. From serviced apartments to international hotel-branded multifunctional complexes, also the first international vacation exchange network and now MICE Tourism. We develop sustainable projects that contribute to the development of the cities and to Georgia's economy," said Akaki.
Alliance Group was the first construction and development firm to build a modern residential complex in Batumi in 2005, first to implement the aparthotel concept in 2008, and first to incorporate international hotel brands into mixed-use complexes in 2015. The company has already invested more than $200 million in various large-scale projects in Adjara that have already been completed. A further 645 million has been invested in the ongoing projects, which includes the development of multifunctional complex franchises in cooperation with international hotel networks, such as Marriott International and Wyndham Hotel Group as well as others. Ongoing and newly announced ongoing projects by Alliance Group include: World Trade Centre Batumi (in talks with an international hotel brand for this property), Alliance Palace (Courtyard by Marriott hotel) and Alliance Privilege (5-star Marriot hotel) mixed-use complexes in Batumi, Wellness mixed use complex in Kobuleti (in talks with an international hotel brand for this property) Alliance Highline (Wyndham Garden hotel) in Tbilisi. In total Alliance Group's investment in past and ongoing projects is $845 million.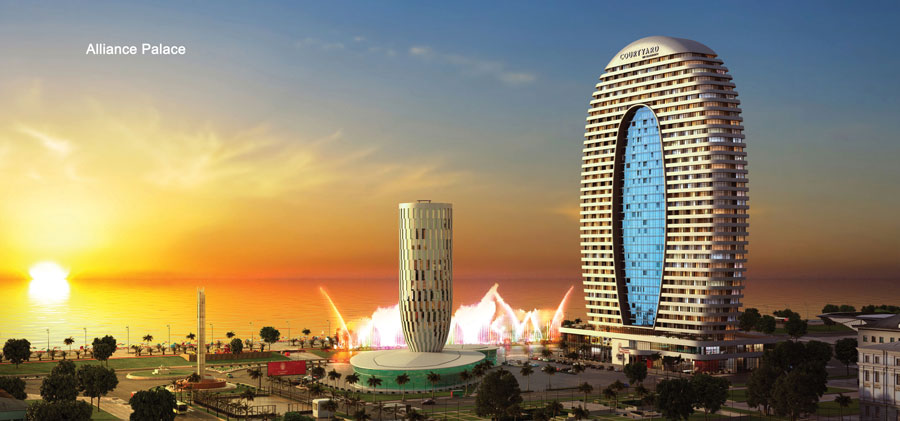 According to World Trade Centers Association (WTCA), World Trade Center Batumi will be able to attract new business and trade partners from around the world that share the same vision. As one of Georgia's largest port cities and given its importance for the Georgian tourism industry, a presence in Batumi will be a wonderful addition to the WTC network. Also, given the iconic design of the project; World Trade Center Batumi will be a wonderful compliment to other world trade centres around the world. The exclusive 'World Trade Centre' and 'WTC' branded properties and trade service organizations are in more than 90 countries supported by 15,000 WTC professionals that deliver integrated reciprocal resources to solve members' business needs.
New York, Buenos Aires, London, Brussels, Berlin, Paris, Madrid, Milan, Istanbul, Beijing, Seoul, Singapore, Tokyo, and another one hundred top international cities from all over the world. Now WTC Batumi. The seaside Black Sea Resort takes its place among renowned international business travel destinations.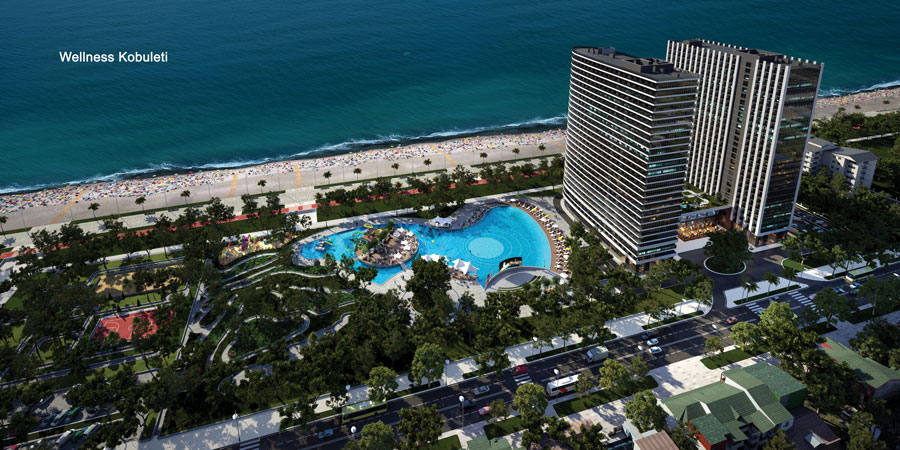 It's worth mentioning that WTC Batumi is a big step made in terms of sustainable tourism. With this new project, Alliance Group will develop recreational infrastructure, resulting in 2.5 times less resistance to air flow. The use of innovative technologies will reduce energy consumption to aminimum, thereby also reducing CO2 emissions and maintaining a clean environment. Overall, energy savings in WTC Batumi will amount to 60%, which is the equivalent of a 6,500 tonne reduction in CO2 emissions per year. Offsetting this amount of CO2 emissions requires 32,000 trees. Energy efficient construction is an important factor in tourist resorts such as Batumi, where new leisure facilities are being built.
"With WTC and as well as other projects by Alliance Group, we want to make apositive impact on the environment, society, and the economy," stated Akaki Songulia. Despite its economic success, Batumi still lacks modern business facilities and the services typically offered by WTCs. It also lacks a modern large-scale expo and congress centre, which could serve this growing region. "Our goal is that WTC Batumi will support the city's efforts to integrate into the global economy and will contribute to foster closer relations with more countries to enhance Batumi's international economic and cultural ties," explainedthe CEO of Alliance Group. WTC Batumi creates clear potential for reciprocal relations: participants of the WTC events can extend their stay to enjoy Batumi's famous relaxed and entertaining lifestyle, while tourists can benefit from the local WTC business facilities and opportunities. WTC Batumi will be organized to respond to local market needs, which will be elaborated upon during the ongoing development period with expected completion in 2024.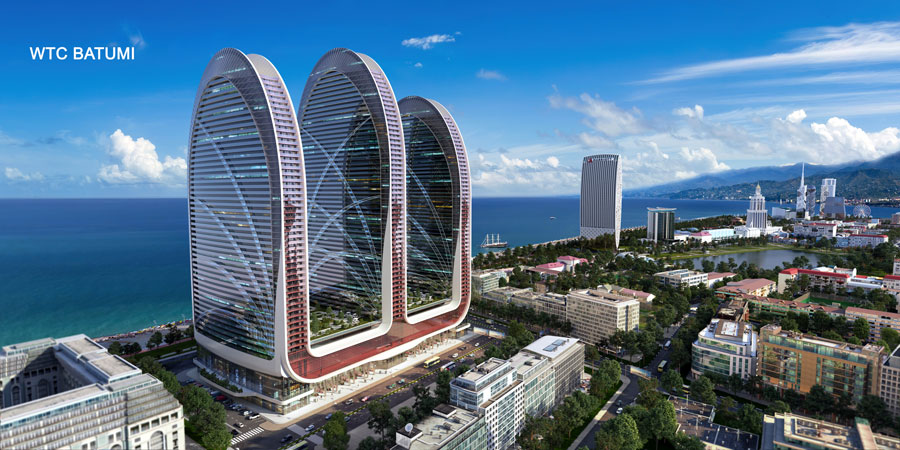 "WTC will set new standards, transform the commercial and office real estate market in Batumi, the same way that the Alliance Group's premium class aparthotels introduced new rules to the local market, helping transform Batumi into an international seaside resort," noted Songulia.
During the past decade, the annual number of international visitors to Georgia has almost tripled (from 3.1 million in 2011 to 9.3 million in 2019). By 2025, Georgia expects around 11 million international visitors. "This rapid growth tendency means the need of new accommodation, new business and trade centres, better and more frequent flights and other means of transportation, as well as improved infrastructure. All this translates into the sustainable development of real estate and the hospitality sector," said Akaki. "Georgia, a country of 3.7 million people was visited by over 9 million international visitors last year. When it comes to tourism, Batumi is one of the best performing cities in Georgia. The city with a population of only 180,000 hosts up to 2 million tourists each year. In this regard, it rivals global tours centres such as Monaco (8.7 tourists per capita) and Macau (24.8 tourists per capita)," he noted.
Batumi has become the regional leader in the hospitality industry. Visitors are coming in growing numbers from all over the world. The city caters to the tastes of even the most demanding foreign tourists through its stunning nature, excellent climate, one of the world's longest seaside boulevards, as well as a wide variety of recreational and entertainment infrastructure: international hotel brands, casinos, restaurants, cafes, bars and nightclubs.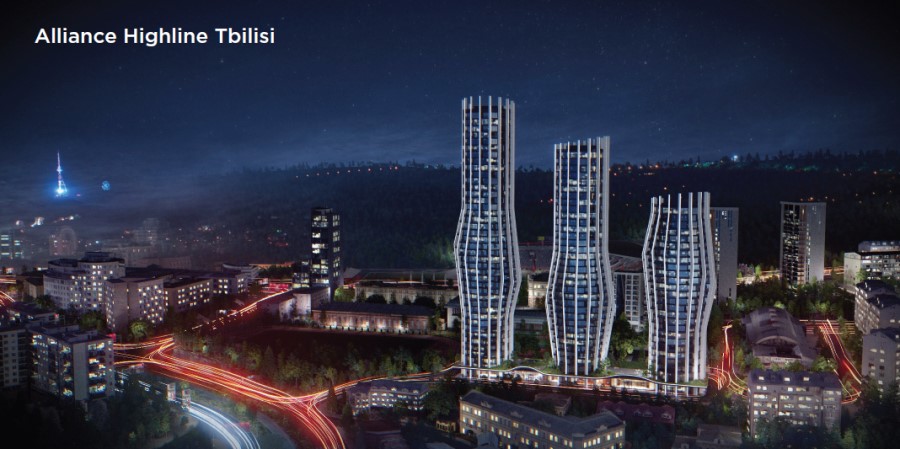 "At this moment, Batumi has brand-new potential. This European seaside resort is becoming a hub for the meeting industry," said Akaki Songulia.
There are several points why MICE-related tourism matters. Destinations get the following benefits: the boosting of the local economy; a host city becomes more recognizable as a travel destination around the world; it creates new jobs; it boosts local culture and benefits professions such as taxi drivers, hoteliers, as well as small business owners.
Alliance Group started from the development of the residential market in Batumi and in a few years entered the hospitality industry by launching serviced apartments, which was later built in partnership with international hotels. Last year, the company announced their plans to move into the wellness tourism industry, namely by developing a mixed-use complex in Kobuleti, another seaside area of the Adjara region. The first international vacation network in Georgia works exclusively for Alliance Group Projects.
Last but not least, comes MICE tourism, which will turn Batumi into an international hub for the meeting industry.
დატოვე კომენტარი