Bookmakers and online gambling in Georgia are a growing industry that employ thousands and generate more than ₾130 million in tax revenue.

Gambling as well as sports betting is a heavily regulated and fully legal sector in Georgia. Large banners and flashing signs across the country beckon visitors and locals to take a risk and spend their money with the hope of winning big.
Georgia's gambling establishments are located near Muslim majority countries where gambling is either illegal or is an underground phenomenon. As such, Georgia attracts many wealthy visitors for this sole reason.
IT innovations are pushing this sector to a wider audience, one that enjoys playing with real money with just a few taps on their smartphones.
According to the National Statistics Office, which receives information from the Ministry of Finance, Georgians bet ₾996 million ($374 million USD) in casinos and via other bets in 2012. In 2017 this figure had already increased to over ₾6 billion ($2.2 billion USD).
In 2017, gambling accounted for 8.4% of total revenue in Georgia's business sector, which was just above ₾71 billion at that time.
The largest one-year increase was recorded in 2015, when the rapid growth of online gambling and sports betting resulted in a 91% increase in total turnover in the gambling sector.
The Georgian government has created numerous tax exemptions for the gambling industry in certain parts of the country. For example, to set up a casino, a company has to pay an annual fee of ₾5 million, but in Batumi, Gudauri, Bakuriani, Borjomi and other places, the fee is twenty times less – only ₾250,000. These exemptions are put in place to encourage investors to build new resorts and casinos in the rural regions of Georgia.
According to official statistics from the Ministry of Finance, there are 247 permits for organizing gambling activities in Georgia. The industry paid ₾136.5 million into the state budget in 2018. This is ₾17 million more than the amount of taxes paid in 2017.
This increase in taxes reflects the opening of new casinos in Georgia. In Batumi in 2018, there were 10 casinos operating. Over the next five years, five more casinos will be opened. From 2013-2016, the number of casino visitors in Batumi increased by 2.3, reaching 680 000 visitors. In 2016, 76% of visitors to casinos in the Adjara region were foreigners.
For many years Adjara has attracted foreign investors for this reason. Many hotels and casinos are owned by Turkish companies, as gambling is illegal in Turkey, and Adjara is on the Turkish- Georgian border.
This increase in gambling has become a worrying issue for some within society, especially because of the risks it poses to young people and minors. According to the national law, the legal gambling age in Georgia is 18 and entering casinos is forbidden for those under the age of 21. While these restrictions are in line with similar requirements in the EU, many believe that minors have found a way to circumvent the laws and safety mechanisms that are in place – especially as it relates to online gambling sites.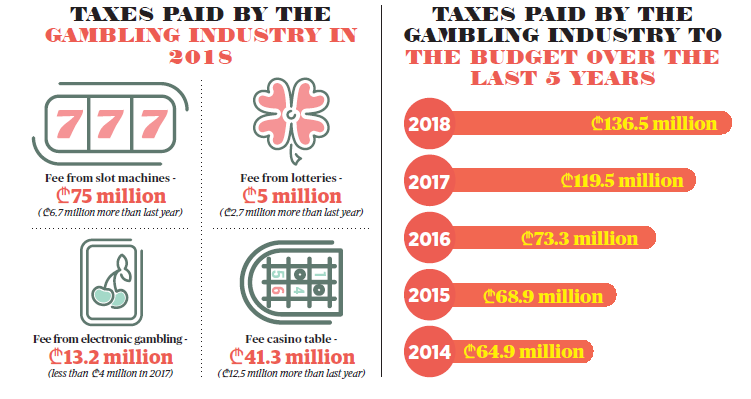 PUBLIC PERCEPTION OF GAMBLING
In 2015, Transparency International Georgia and the Caucasus Research Resource Centers (CRRC) conducted a public opinion survey.
According to the survey:
94% of respondents are not engaged in gambling. The majority of the remaining 6% give priority to online sports betting.
Most people involved in gambling for money do it for fun, and lose more often than not.
Only 2% of respondents reported that they or their family members have encountered significant financial problems due to gambling. Most of the problems reported arose over the last year.
Even though public involvement in gambling is low and only 2% have encountered significant financial problems because of it, a large part of the population (92%) has a negative attitude towards the industry and believes that it should be either banned (63%) or restricted (29%).
According to the recommendations of Transparency International, Georgia should keep its liberal approach to gambling, since this industry is closely linked to the development of tourism, which is one of the most important sectors of the Georgian economy. However, the government needs to do more in order to study and eliminate the potential social risks related to gambling.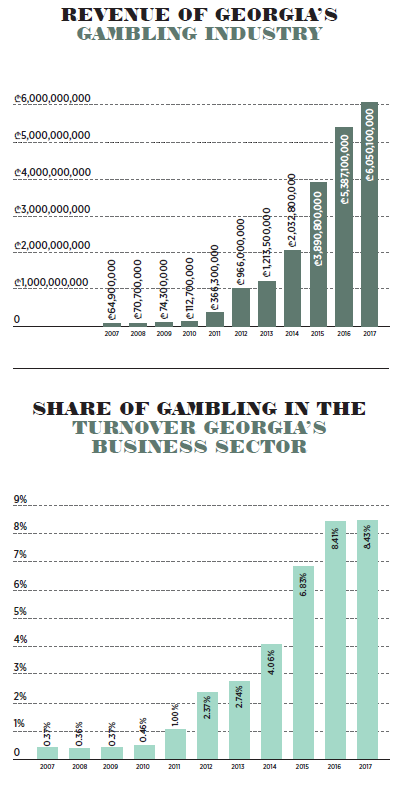 დატოვე კომენტარი