Entering the Georgian market in 2012 was a strategic step for Carrefour.

The French hypermarket and supermarket giant is represented in Georgia by Majid Al Futtaim. The company saw good development prospects in Georgia, and seven years on, it boasts 14 stores and over 2,000 employees in the country.
The story of Carrefour in the region, one of the largest hypermarket and supermarket chains in the world, began in 1995, when the brand was unveiled by Majid Al Futtaim – the exclusive regional franchise owner of the French Carrefour brand in 37 countries across the Middle East, Africa and Asia. Today Majid Al Futtaim operates over 285 Carrefour stores in 16 countries, employs more than 37,000 people and serves over 750,000 customers daily. Carrefour operates different store formats and has numerous online offers to satisfy the growing demands of its diverse customer base. In line with the brand's commitment to provide the widest range of quality products and value for money, Carrefour offers an unrivalled choice of more than 100,000 food and non-food products and delivers unique customer experiences 'to create great moments for everyone, everyday', as per the company's vision.
All this stems from one man's vision. It was Majid Al Futtaim himself who first decided to establish a shopping and entertainment center in the United Arab Emirates. Following the success of this undertaking, the company began expanding into other countries. It may be difficult to imagine skiing in the desert, but Majid Al Futtaim gave customers this opportunity in Dubai in 2005, and later did the same in Egypt. He regularly surprises customers in every market. By employing best international practices, Majid Al Futtaim has turned the Carrefour brand into the regional standard in retail.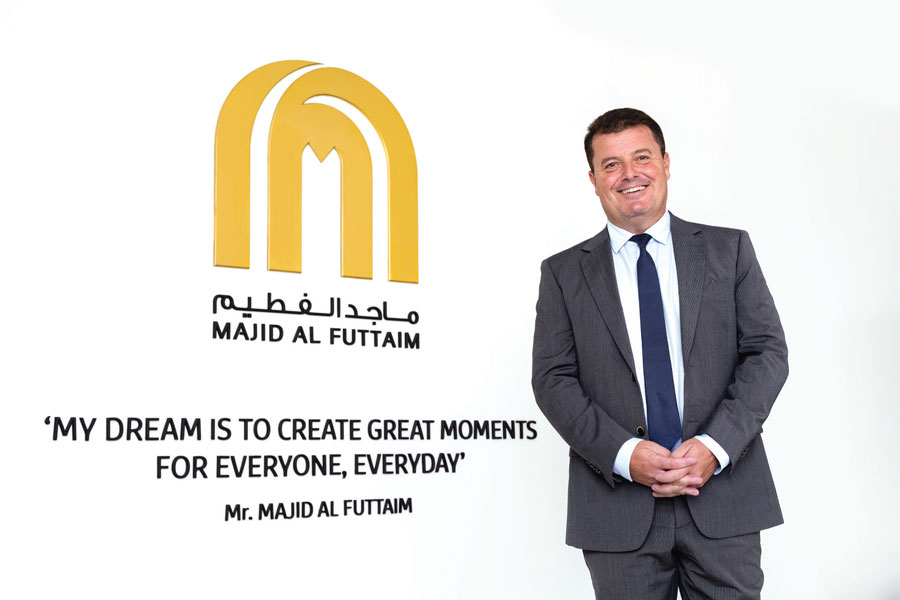 "The introduction of Carrefour in Georgia has also provided the country and the local population with the opportunity to familiarize themselves with modern retail. Using best international practices and our experience on other regional markets, we challenged the commercial status quo in Georgia and offered customers a completely novel and unrivalled shopping experience. I am very happy with our operations in Georgia, and I am proud of what we have achieved over the last seven years," states the Country Manager of Carrefour in Georgia, Christophe Orcet, while he shows me the Carrefour branches on a map in chronological order based on their opening dates. Carrefour Georgia started its operations with a hypermarket model in Tbilisi and developed it with supermarkets and more recently with convenience store models. First operations were established in Tbilisi, then in 2017 Carrefour supermarket opened in Batumi and it has been operating successfully since. As the management declared, Batumi is a city with high potential and the extension in this market is inevitable.
"Most probably we will stay with the supermarket model, which fits very well with the market and is a key growth opportunity in Georgia."
Majid Al Futtaim continues to seek expansion opportunities for its Carrefour brand in order to offer its unique shopping experience to more consumers and create more jobs in Georgia. The company has already signed a contract to open a new store in Rustavi in a few months' time. Other potential locations discussed by the company include Kutaisi, Telavi, Gori and Zugdidi. 2017 was an important year for Carrefour's evolution in Georgia. The company signed an agreement with the Wissol Group to lease six Smart supermarket branches and transform them into Carrefour stores. All six stores boast good locations in Tbilisi and are operating effectively. The results are, therefore, satisfying.
More recently, Majid Al Futtaim successfully tested a smaller Carrefour store format at its new branches in the Vake district and on Nutsubidze Street. The Country Manager of Carrefour Georgia sees potential for expansion within the convenience store format. The company always has a rational and pragmatic development plan, meaning that management carefully studies each project to ensure that it works successfully. Majid Al Futtaim is investing in development and is expecting a return not only in monetary terms, but also with regards to the company's image, reputation and customer satisfaction levels. As a responsible long-term investor, Majid Al Futtaim ensures that its Carrefour operations are successful and sustainable.
Carrefour Georgia's self-imposed responsibilities are not limited to the implementation of global standards. According to Christophe Orcet, the company aims to set an example in the way it gives due regard to all local laws, regulations, traditions and culture. Success is achieved by following best international practices and learning from experiences in regional markets.
PRICING POLICY
"Always low prices" is easier said than done. Carrefour views its pricing policy as one of the main factors that sets the brand apart from its competitors. Prices have always been, and will always be important to the customer, so they became a fundamental indicator for the company. Carrefour aims to offer a wide range of high-quality products at the most affordable prices.
"A significant aspect of our pricing strategy is that we maintain the same prices in all our stores. I believe that this is only fair towards the customer. It is very challenging for us, but it is an integral part of our longterm strategy," says the Country Manager of Carrefour Georgia.
HUMAN CAPITAL AS A COMPETITIVE ADVANTAGE
Majid Al Futtaim is actively working on attracting and retaining talented local staff. Its approach is best reflected in the 'Organizational Health Index' (OHI) – an annual study into employee satisfaction, motivation, engagement and loyalty. The company currently employs more than 2,000 people in Georgia for its Carrefour operations, 99% of whom are Georgian citizens.
"Majid Al Futtaim is proud of the numerous examples of career progress and success of its employees. We have many employees who started working for the company at a junior level at Carrefour and now hold key decision-making roles. The company's internal 'Career Development Programme' helps identify talented employees and supports them with their professional growth.
"I believe that Georgian people know better than me what is best for their country. This is why we invest so heavily in their development. It is very valuable to us, and we are proud to have talented Georgians holding executive positions within our company, such as Country Finance Manager or Country Marketing & Sourcing Manager "- states Christophe Orcet.
Several years ago, Majid Al Futtaim founded the Leadership Institute, which offers employees an internal educational platform in leadership, customer experience, data analytics among others. Christophe described the company's training programme by saying that development should start at the entry level, and that everyone has talent – it just needs to be discovered. To this end, Majid Al Futtaim recently opened a new training and development center for its Carrefour staff in Tbilisi.
"We will conduct training in all operational areas such as digital technology, sales and marketing, hygiene, safety and customer service. We will also aim to identify employees with high development potential. We will open two new stores over the coming months, so we will need new people. They will have to be Georgian as I am impressed by the young talent in this country," says Mr. Orcet.
The company is currently working on another project, which it aims to complete by 2020. The company expects the role of modern (organized) retail to grow in Georgia over the coming years. However, Georgia currently lacks special educational courses that would allow young people to study subjects such as retail marketing and supply chain research. The management at Majid Al Futtaim believes these to be very important elements in modern retail. They are, therefore, trying to build a bridge between the European Business School and Tbilisi State University, whereby the new generation will have the opportunity to study modern retail through undergraduate and master's courses in Business Administration. This, in turn, will increase the flow of young graduates who specialize in retail on the market. As part of the partnership, Majid Al Futtaim will also establish internships in Carrefour.
I would add that Majid Al Futtaim is actively involved in the field of professional education in Georgia, as the company wishes to help people learn trades properly (for example, to become butchers or bakers at Carrefour). It is, therefore, signing another agreement with a professional college in order to share its experience and ensure that training is conducted in a correct manner.
SUSTAINABILITY AND CORPORATE CITIZENSHIP
Sustainability is one of the company's key priorities. To this end, the it has already organized around 50 charity events over the last two years. Notably, Carrefour was recognized as one of the main contributors towards the campaign to restore the Borjomi Gorge, which was damaged by wildfires. Carrefour acted quickly during the tragic event; supplying food, drinks and household items for the firemen and rescuers working at the disaster site.
In line with Majid Al Futtaim's wider sustainability strategy and its commitment to become Net Positive in water and carbon by 2040, meaning that we will give back more to the environment than it takes, Carrefour in Georgia has launched a number of sustainability initiatives in April 2018 and they are still ongoing. The environmental campaign is called "Honor the Nature" and the aim is to raise awareness regarding the harm from single use plastic bags and the advantages of using reusable bags. As part of this, Carrefour announced a photo contest to create reusable bags with designs submitted by customers. Since March 31st they've also decided to reward all customers who bring their reusable bags along during their shopping trips, with 637,000 customers rewarded this year alone. Furthermore this year Carrefour launched the first reusable bag made in Georgia, and consumption of single use plastic bags already reduced by 60% since they've started the campaign.
"We are actively trying to reduce the use of plastic bags. However, other retail chains must join us, and we need to act together. This is one of our absolute priorities. We are also limiting the use of single use plastic bottles in our office. Instead, we provide reusable bottles for our employees. We are also tackling excessive use of water and electricity. In this regard, we have managed to reduce consumption by 8% since the start of the year," explains Mr. Orcet.
Majid Al Futtaim also works with various organizations to enable full integration of people with disabilities into the society. There are currently several such people who are fully integrated within the Carrefour personnel team. Supported by the European Union, Majid Al Futtaim has implemented an important project that advocates and lobbies for equal educational and employment opportunities for people with disabilities. The company has also been recognized as one of the best employers of the year.
CARREFOUR AS A BUSINESS THAT BENEFITS THE MARKET
Carrefour has its own model, and the Majid Al Futtaim management team knows very well how to put this model into practice. The company has an effective local approach that is based on the wider strategy of the global group. There are certain fundamental elements that are used by the company in numerous countries, and in Georgia in particular. One of them is maintaining competitive advantage and satisfying growing consumer demands through cost-effectiveness, quality and sustainability. The company is very happy with the way it currently operates and believes this to be the result of its long-term vision. In June, Carrefour was listed as the tenth-largest company in the country. It is the only retailer that made the top ten. The company also holds the leading position on the Georgian market with a 25% share, despite only operating 14 stores.
"I am very happy with our operations in Georgia, and I am proud of what we have achieved over the last seven years. I believe that Carrefour's pricing strategy has helped keep the inflation of food prices in check, we even recently introduced our MyCLUB loyalty program designed to help customers save more. Naturally, I am delighted to see us growing so fast. Numerous local manufacturers and suppliers are growing together with us. Such partnerships enable us to directly and indirectly create jobs for the local population. We are delighted with the initial results and customer engagement figures. We wish to be as close as possible to our customers, to fulfill their requests and to "create great moments for everyone everyday", states Country manager of Carrefour Georgia.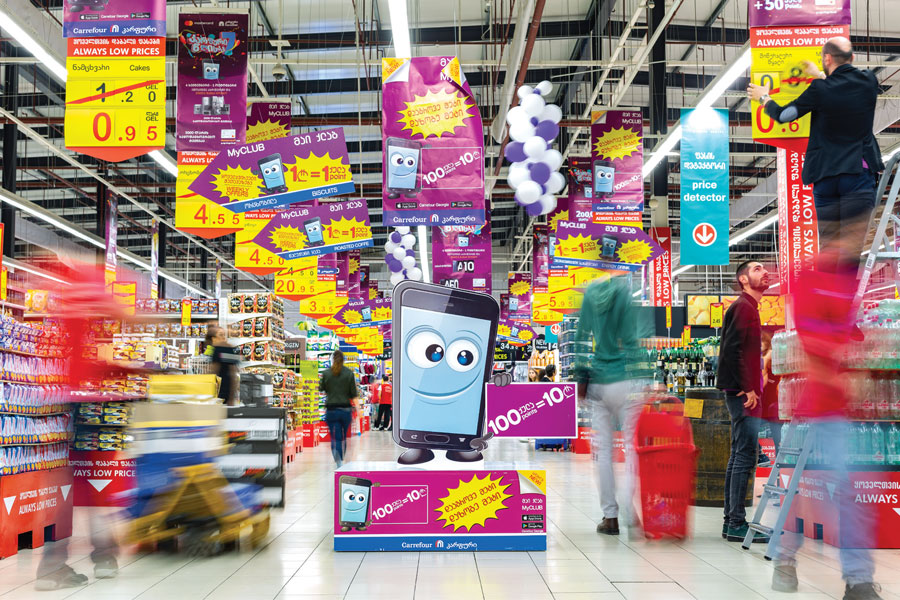 დატოვე კომენტარი