"Swimming against the tide" would probably be the most relevant title for this interview; winemaker Giorgi Aladashvili started from nothing, turned his passion for Georgian winemaking into a million-dollar business, and is currently selling 11,000 bottles of Georgian wine to Europe and Asia.

Giorgi, how did you get into winemaking?
I started my business from scratch, and I had no inheritance passed down to me. I simply decided one day to grow my own grapes, to stand out from others, and most importantly, to bring benefits to my country. To achieve this, I knew exactly where I had to go. I was twenty-three years old when I moved to Switzerland. Before that, I worked at a petrol station and had various other small jobs in Georgia during the 1990s. I realized that I had to seek opportunities elsewhere in order to achieve something. So, I moved to Switzerland and was lucky to come across a kind person who gave me a job at his farm. I worked there for a year and a half, and my employer was reluctant to let me go. However, I always wanted to work in the wine industry. Wine makes people happy, and I wanted to have an opportunity to bring this happiness to others. I took every possible winemaking course in Switzerland and accumulated as much practical experience as I could. Only then did I move back to Georgia, with the knowledge of exactly what I had to do. My primary goal was to represent Georgia on the international stage with the high-quality wine, which we have always produced and continue to produce to this day.
How did you go about achieving your objectives after returning to Georgia?
The first thing I did was to find our ancestral plot, which was approximately 0.4 hectares in size. Soon I managed to increase it to 3 hectares by purchasing the adjacent plots. I named my business the Ruispiri Biodynamic Vineyard. I had savings worth $12,000 when I came back to Georgia. I used this money to cultivate traditional Georgian varieties of grape. I made wine in qvevri vessels, working with my own hands. As a result, I managed to establish a business that was already self-sufficient by the second year of operating. People who came to us knew that they had to spend a certain amount of money for the knowledge, practical experience and enjoyment that they would obtain here. I wanted the village to have a space that would become conspicuous and memorable not only on a national, but also on a global scale. Nowadays when I go to Europe, people call me "Ruispiri". The interest towards my business was already quite extensive within a year of its establishment.
Did you have a specific business plan for convincing the public to buy eco-friendly biodynamic wine? Also, was it always your goal to bring your product to the international market?
I did not have a specific vision, but I knew that Georgian viticulture needed a new niche that would serve the industry well in the future. Ecology was a benchmark and meant taking care of the future generations. I knew that the aforementioned factors would lead to cooperation between Ruispiri and towns in Switzerland. The quality of the product was our benchmark, and producing high-quality wine was always associated with a substantial financial cost. However, the investment had to be profitable in the long term. I calculated everything in advance and knew exactly when to increase production, and by how much. Winemaking and viticulture require precise calculations. Otherwise, the business will be doomed for failure.
You said that you wanted to establish ties to Switzerland. Had you already found companies or individuals who would buy your wine and sell it on the market?
Even after moving back to Georgia, I regularly visited Switzerland for training purposes and to this day I have maintained ties to the country. These ties were always designed to benefit Georgia in the long run. For example, if I was in Switzerland for two weeks, I would always take time to introduce Georgian products to the locals. I took churchkhela, honey, gozinaki, marmalade and dried fruit with me to Switzerland. I would go door-to-door to the many stores that sold highquality food products. It took great effort to even get them familiarized with my country, let alone the products. It is psychologically tough when none of the ten stores get back to you. They are all friendly and polite, but in the end, they refuse your product with a smile. You need to have patience, and it will pay off. After a while, I started coming across people who would listen to me, try the products and even applaud me afterwards. Even people who had earlier declined the products started to get back to me. That is when I knew that I had established myself on the market.
Was there similar skepticism towards Georgian wine?
Initially I focused on introducing dried fruit, churchkhela and similar products on the market. There was some wine, but no more than 600 bottles in total. It was easy enough to sell such a small quantity. Today this number has grown to 11,000 bottles. We sold Rkatsiteli, Kisi and Khikhvi, which I cultivated in Akhmeta. We also diversified our locations, producing wine from numerous villages, rather than Ruispiri alone. First, we achieved coverage in all of Kakheti, before expanding into Western Georgia. Today, we even have vineyards in Racha.
What is your current output and brand recognition in Switzerland and other countries?
Most of our wine goes to Switzerland. However, we do export to Singapore, Italy, Germany, Belgium and France. Just recently we sent 7,200 bottles of wine to Switzerland. It is not cheap – it is sold for 50 to 60 CHF per bottle. As for the local market, our revenues from wine sales have exceeded 117,000Gel this year. Naturally, exports are more lucrative. As I said earlier, we started with 600 bottles, and have now reached the 11,000 mark.
Does all this wine go to wine bars and shops?
I also have private clients who place orders one year in advance. They tell me that they wish to try specific varieties from next year's harvest, and I send them the wine when it is ready. They may ask for one or three specific varieties. Around 70% of my wine is of premium class, the rest is slightly cheaper. The demand for my wine is so high that I currently have no reserves – everything has already been sold.
Who are the people in Switzerland who have been your partners over the years, thereby playing their part in your success?
Nicola and Isabel are a couple from Switzerland, Vevey, with who I got acquainted many years ago. They have been supporting me since I shared my desire of having own wine business and promoting Georgian wine in Switzerland. Furthermore, they have helped me understand numerous aspects of this trade. However, it is all about putting this knowledge into practice. These people have also helped me explore myself deeper and look at many moments from my life from a different perspective. Along with learning about winemaking and viticulture, I also have a lot of experience in studying human psychology. People should travel and explore many different countries. They will then re-evaluate certain things.
To what do you attribute the existing and growing popularity of Georgian biodynamic wine in Switzerland?
Apart from working in the vineyards, I also did my own marketing and PR, uploading photos on social media and answering calls at all hours. This is still the case today: I personally speak to everyone who calls. Naturally, they are now being referred to me by other people, but I still must leave the initial impression about my business on them. I do this in order to make people feel that they have direct contact to manufacturers of healthy products. I do not want to be a mysterious man behind the business. On the contrary, whether it is praise or criticism – I need to hear it directly from people.
Which segment is the Ruispiri Biodynamic Vineyard wine aimed at?
Only the premium segment. My wine costs at least 50 GEL per bottle in Georgia, while most sales occur in the 90 to 100 GEL category. As for our output in general, 30% is sold on the local market, while the rest is exported abroad. I also have private Georgian clients who order wine from me. This category accounts for approximately 10% of the output, while the remaining 20% is sold in retail stores.
Clearly, your vineyard in Ruispiri has been a successful undertaking both on a local and international level. However, I also gather that your business concept transcends commerce; it forms a space for interaction between Georgians and foreigners. In your view, what specifically did you create in Ruispiri?
Four years ago, there was nothing in this village. There was a small stream and a ravine. This is where I established a place that people can visit, relax and learn about all areas of agriculture, be it aviculture, apiculture or gardening. Most importantly, here people can find the kind of peaceful environment that is becoming increasingly rare in the world today. People who come here can work and study. I did not design this place for me to profit alone – the benefits must be shared. As the saying goes, one hand washes the other. It is pleasing to see people asking us for advice about becoming involved in this industry. Thus, we are also providing certain consulting services.
You have an interesting story, which is partly shaped by your own determination, along with certain circumstances. Do you consider yourself a team player, or do you prefer to work as an individual?
I can work alone – thankfully, that was never a problem for me. However, I can also work very well within a team. Currently we are working as a team. I learned from experience that if you cannot assemble a strong team at the outset, or if you lose your team halfway through the process, then you must be able to carry on the work independently. If I lose a member of staff, I must be able to fill in for him/her. There is no other way of doing business successfully.
What was your approach in the beginning, when you decided to take your wine to Switzerland of all places?
It was based on logic, and nothing else. I cannot say that a logical approach guarantees success, but it is mostly successful, and that is how I approach every issue. Also, you must not be limited to certain frameworks and oriented towards short-term profit. Your investment may initially appear substantial and loss-making, but in the longer term, your profit may be tenfold. I belong to the category of people who believe that you must finish what you started. If someone tries to prevent you from doing so, gather like-minded people around you and continue to shout about what you're doing.
Was there a moment when you regretted doing business in Georgia?
The environment in Georgia creates obstacles for me to this very day. While I am trying to promote my country abroad, the circumstances back home have led to Swiss women being advised by their government not to travel to Georgia alone, as it may be dangerous. Every such individual represents a lost source of revenue. Why should tourists have to be warned by their governments about travelling to Georgia? Nobody is giving me warnings when I travel to Europe. Personally, I feel perfectly safe in Georgia, but this no longer applies to foreign visitors. It is not only the security aspect that I am talking about, but also the prevailing attitudes in general. I am talking about the price of an item being 1 lari for me and 10 lari for foreigners. All individuals must act as ambassadors for their country both at home and abroad.
Recent trends and figures show that your business is growing. What are your company's plans for the near future?
I follow market trends, try to plan exactly how and where to achieve development. This includes creating accommodation for all categories of visitors. I also pay a lot of attention to development in the field of training, which is vital. We will also build enterprises equipped with modern technologies. I am also determined to realize the project of manufacturing baby food products – purees, fruit jams and juices. Most importantly, everything will be ecologically clean and made from local produce. I am prepared to start from scratch in this industry, like I did in the past with wine. Although I could move all my activities to Switzerland, where my business is already functioning well, I do not want to abandon Georgia completely. All my projects are innovative and fast-growing, achieving success within two to three years. The baby food enterprise will require around five years to achieve its full potential, but it will initially employ 30-40 people within a year.
You must also have plans for Switzerland, since your products are in demand there.
With regards to winemaking in Switzerland, I have bought a plot of land. There I plan to establish a winery with qvevri vessels. For those who are unable to travel to Georgia to experience local winemaking, this will be a little piece of Georgia that will include wine, various products and cultural aspects. The products will also become available in various Swiss stores. In 2020, around 50 local winemakers will also have the opportunity to bring 600 bottles of their own wine to Switzerland and sell it in a new location. This will provide 50 people and their families with the financial means to develop their businesses. I believe that this will be a great achievement for people who try to create something out of nothing, like I did in the past.
Can you see yourself operating in another, completely different industry?
People like me cannot live without change. Therefore, I can see myself operating in any industry. I know that I can successfully take on a variety of jobs and challenges, whether by myself or through teamwork. If I have something explained to me, I will be able to do it by myself the very next moment. I am immensely happy with what I have managed to achieve against the background of my lifestyle, my personal circumstances and the unstable environment that exists in my country. Indeed, I would say that I have exceeded expectations, and moreover, I have done so with my bare hands.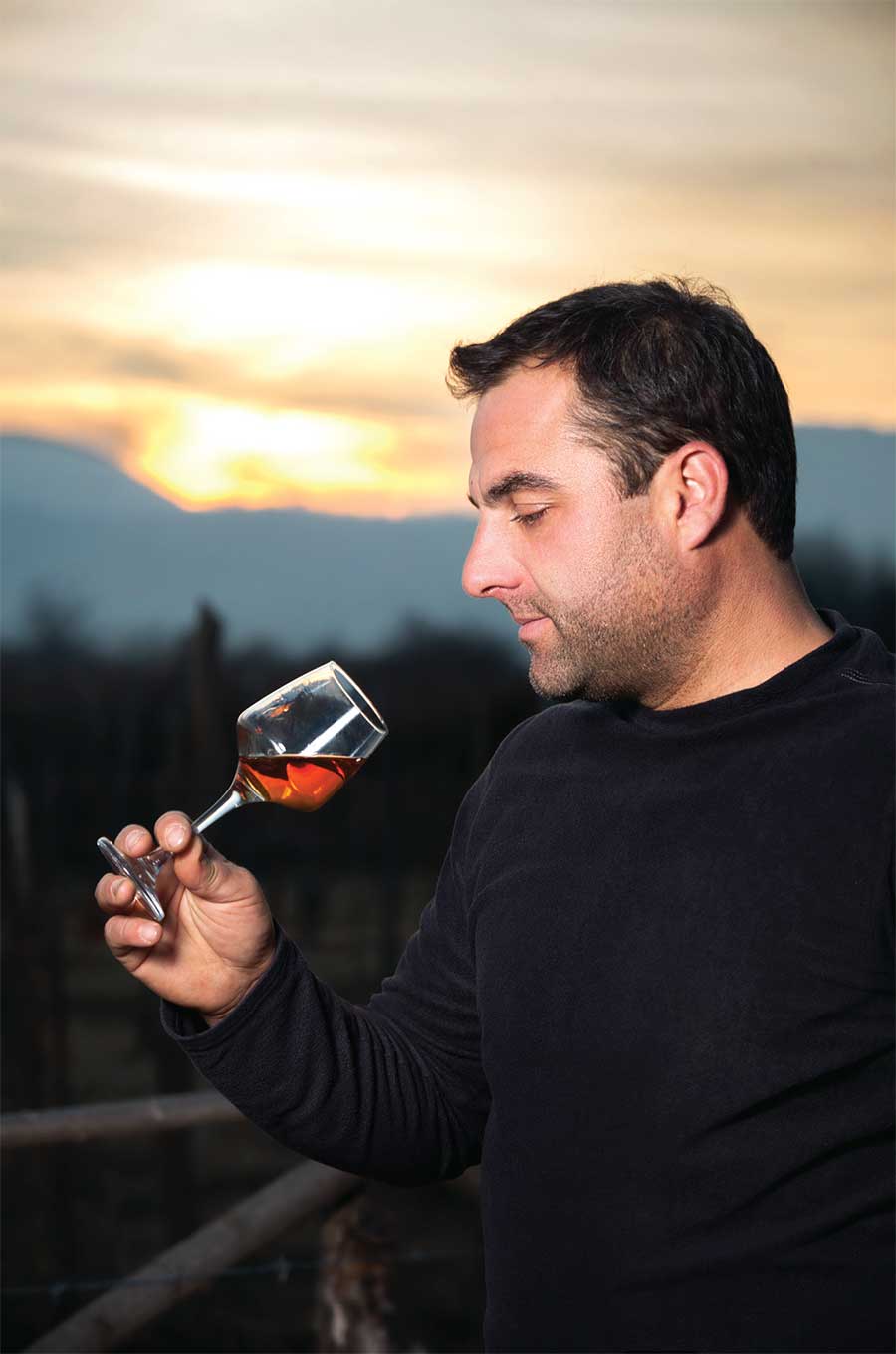 დატოვე კომენტარი