It has been a couple of years, since the Iukuridze family started breaking the myth that good wine is only produced in Georgia or in France.

Their main focus is the high quality, appreciation of the Ukrainian soil and the assistance of the already infamous brand 'Shabo' with the most precious value – their family. Shabo's one of the founders, Giorgi Iukuridze spoke to Forbes about the idea of wine making, the leading positions on the market and the future plans of the company.
George, first of all, tell us all about the initial idea behind 'Shabo'.
Well, the idea was to produce something we were passionate about. My family's big passion happens to be Ukrainian wine. Therefore, the idea behind Shabo was to create a winery that would show the great potential of Ukrainian wine in general. Unfortunately, when you think of Ukraine, wine may not be the first thing that comes to your mind, and so our country is not as associated with winemaking as, in my opinion, it should be.
Ukrainian winemaking has a more than 2,000-year-old history and culture, but, sadly, it is not so well known. Shabo has a unique quality of terroirs. Regarding the soil, I would say that it is possibly the best soil you can find to cultivate vine. All these elements are what help us create a special product. As you know, 80% of wine quality depends on the vineyard. Therefore, Shabo's product is the result of amazing terroir, good soil, its grapes and vines. We believe that Ukrainian wine has great potential for the market and should be standing among the other first-class wines.
Is Shabo a family business in the classic sense?
You can call it family business in a classic sense, yes. Our whole family is involved in this business. Shabo is our only business and we are all very passionate about it. We believe in winemaking so much that it has become something that unites our family. For example, each member of our family puts an effort into the business according to their own profession. My father, Vazha Iukuridze, is the executive director of the company and represents the main force behind our business. My mother, Bela Cholikidze, is an architect and an interior designer. Every little detail that you see around you was created and then executed by her. That is the smallest example of what she has contributed to the company. My mother is a very thorough and passionate person and that is exactly how she approaches her work. Our family believes that whatever you do, you should do it with great passion; otherwise, you should not do it at all.
My sister has always been into arts. By profession, she is a film director and currently runs a boutique in Paris, providing haute couture nightgowns and Prêt-à-Porter for women. Her main involvement in the family business is designs, particularly when it comes to web/label designing. Every packaging of Shabo is under her supervision and cannot be done without her agreement. Personally, I am a specialist of international relations and political science. I can say I am a winelover. In the company, I usually take care of the international affairs and exporting the product. I am also responsible for the technical side, as well as presenting our wines overseas. I try to be involved in the winemaking process as much as I can, because, to be honest, it is my great passion. My father and I exclusively make different varieties of our wine.
Do you consider your company a leader in the wine industry of Ukraine and do you have any statistics to confirm this?
As I have already mentioned, our company was number one in terms of sales throughout a couple of years. However, we have decided to change the strategy, because to succeed in selling more products was never our priority. Having the family business means that our product will always be associated with our name, therefore, we prefer to focus on quality. Despite that such a policy might harm the business, we will maintain the respect of our name and family. None of the Shabo wine is of cheap quality. By cheap I mean entry-level winemaking, producing of which does not require as many financial resources as we have invested in Shabo vineyards. Without a doubt, we are leaders in selling premium wines. Maybe the number of bottles sold states otherwise, but we definitely receive a big profit. In addition, we are number one in brandy sales with sparkling wine in its early stages. To summarize, the quality for our family carries the primary importance.
Can we suggest that regardless of all the geopolitical issues, the business climate in Ukraine seems to be promising and is growing? You probably agree, that the business environment in the country is crucial in developing any kind of business.
We do not get involved in politics. Wine is our politics. I can only say that there are logical explanations of why our country is still at war. It is very difficult for me to comment on the current political situation or on the potential for developing business, simply because we have elections at the end of March next year and no one knows what changes will come or what the outcome will bring.
Shabo is now a brand. Was there a specific need, for example, for your father to get involved in it? Did your whole family contribute to the recognition of the company?
To be honest, it took a couple of years to get the recognition. Winemaking is a very specific and personal business, so is wine as a product. To be more precise, the personality of a winemaking company leader says a lot about their business in general. In our family's case, being Georgian played an important role for getting the acknowledgement in the beginning of our business. Although, due to our nationality, the expectations were high and we were required to make great wine only. To tell you the truth, we never doubted Shabo's potential and therefore, its success. Our faith reflects on the leading positions of our brand. As we speak, our company is re-branding. The customers will see the results next year.
As I understand, your Georgian origins helped Shabo to be solidly presented on the Georgian market?
To a degree, that is true. Our family has been living in Ukraine for more than 40 years. I was born here in Odessa and am a citizen of this beautiful country. However, we never forgot our roots and are proud to be Georgian. Nevertheless, in our opinion, first comes wine – which we get from wonderful Ukrainian soil. Opening a wine factory here in Ukraine was to show our gratitude to this nation for welcoming us and allowing our family to live and work here.
George, it is no secret to you that the wine industry is one of the biggest industries in the world. According to the statistics, every third Ukrainian consumes Shabo. Tell us about how competitive the local market is and who are its players?
Well, it depends on which product are we talking about. When you say that every third Ukrainian drinks Shabo, it is only true in the case of brandy, or cognac if you like (In Ukraine we can use this word until 2027). In selling brandy, we have been the definite leaders since 2011 and we certainly hold on to this position. I would like to underline the fact that I do not believe in competitiveness in winemaking or in the alcohol business in general. All of us are friends and colleagues who share the same passion and mutual interests. Moreover, it is not for me to judge what ways people choose to achieve their goals or how they accomplish their success.
Let's talk about Georgian market. Do you consider Georgia as a platform for Shabo? By this, I do not only mean your brand but winemaking itself and also the local industry.
Before answering your question, I would like to say that the Russian embargo on Georgian wine definitely had positive and negative points. Because, after this event, the level of winemaking in Georgia certainly increased, which makes me quite happy. The quality, starting from the vineyards and ending with the finished product is undoubtedly much higher. Is there a need for growing and improving? – Always. I believe in Georgia's potential and its possibly strong position on the world market. Everyone agrees that Georgia is the cradle of wine and that 'qvevri' winemaking is unique. However, there are innovations needed in order to combine the 8,000-year-old tradition with the new technologies that are available. It is possible for Georgians to make brand new verities because for a country with such wine traditions, the sky is the limit. That is the main reason why I decided to build a wine factory in Georgia. Our family has been working on this project for a long time now but unfortunately, due to geopolitical issues in Ukraine, we could not proceed with the project. Nevertheless, I think we are now ready to follow our dream and are actually starting the construction work beginning next year. It will be a massive project and not only will we make great wine, but it will also be a tourist destination. I want to make it clear, that it is not just a business, but rather it's more like a social project, which will pay respect to Georgia, as the country where wine was born. We will only produce 10,000 bottles a year, but wine in each of these bottles will be made of delicately chosen grapes.
How does Shabo's future look for you in Georgia? What will be the effort your family puts into these processes? As I know, besides winemaking, you are also planning to stage exhibitions, build a museum and so on. Tell us more about these ideas.
The devil is in the details so we have to go into specifics too. Shabo will see its biggest profit in wine, naturally. However, we would like to take social responsibility and build a wine museum that will gradually tell the history of Georgian winemaking traditions. I am excited to tell you that we have a lot of partners and sponsors. For instance, the Georgian National Museum and the National Library are among our supporters, as well as other state organizations. This project is very important to Georgia. We are starting on the construction early next year and by our calculation, it will finish in only three years.
Without a doubt, the export of Georgian wine is growing tremendously. Shabo is already an international company. What are the business models you look up to? In addition, how is your family going to make sure that export-import between Georgia and Ukraine grows as well?
We have to look at things realistically. Georgia sells 3 million bottles of wine each year. I am sure that tourists are responsible for 80% of this number. Tourism in Georgia is crucial for local wine businesses. We have to have strong positions in the local market in order that the export is successful. The main target for Georgian wine-makers for the next 3 to 5 years will be the Chinese market for sure. As well as the U.S, Scandinavia, Great Britain and Germany. As I said before, Georgia has great potential in exporting wine. Although before it happens, wine businesses need to be effective within the country.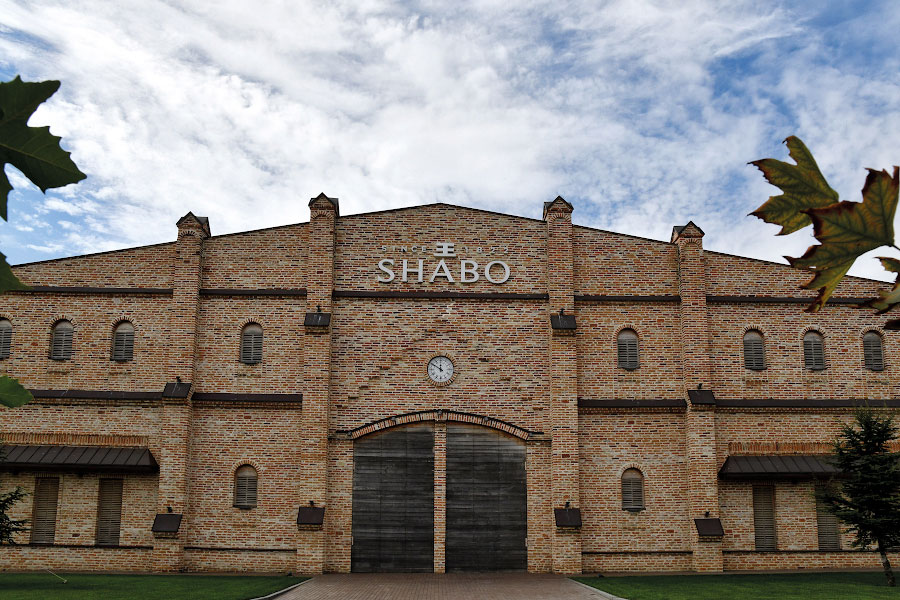 დატოვე კომენტარი