Credo Bank and the Netherlands Development Finance Company – FMO sign GEL 26 Million Loan Agreement. The five year facility supports young entrepreneurs running micro, small and medium sized enterprises in Georgia thus, creating access to finance for future generations.
FMO raised the local currency funding through the private-placement of a GEL-denominated bond in Georgia. It marks the third time that FMO issues a GEL denominated bond and continues to back government's intention to de-dollarize the economy in the country.
"FMO is a long term trusted partner of Credo Bank. Since 2016, it has provided up to GEL 100 million to back the bank's development and highly contributed to its successful transformation into a fully-fledged commercial bank through technical assistance programs. This GEL denominated facility is essential to cater to our young customers' needs who are micro, small and medium entrepreneurs residing predominantly in rural Georgia." – said Zaal Pirtskhelava, General Director of Credo Bank.
"FMO's Huib-Jan de Ruijter, Director of Financial Institutions said: "Credo Bank is an attractive partner for FMO to contribute to the growth and de-dollarization of the Georgian economy. Through our long-standing partnership and this transaction, we aim to improve access to finance for young entrepreneurs, supporting decent jobs in Georgia."
The Ambassador of the Kingdom of the Netherlands, Jos Douma, welcomed the facility as "another step in FMO's investment in the Georgian economy. Another lari-denominated bond and another focus on young entrepreneurs in micro, small and medium business. The transaction signals the Netherlands' strong will to support Georgia's de-dollarization policy and is sign of continued trust in the Georgian economy at large and Credo Bank in particular." He highlighted Credo Bank's successful transition from MFI to a full-fledged Bank, just two years ago, facilitated by the Dutch Triodos, group, still a 19.8% shareholder.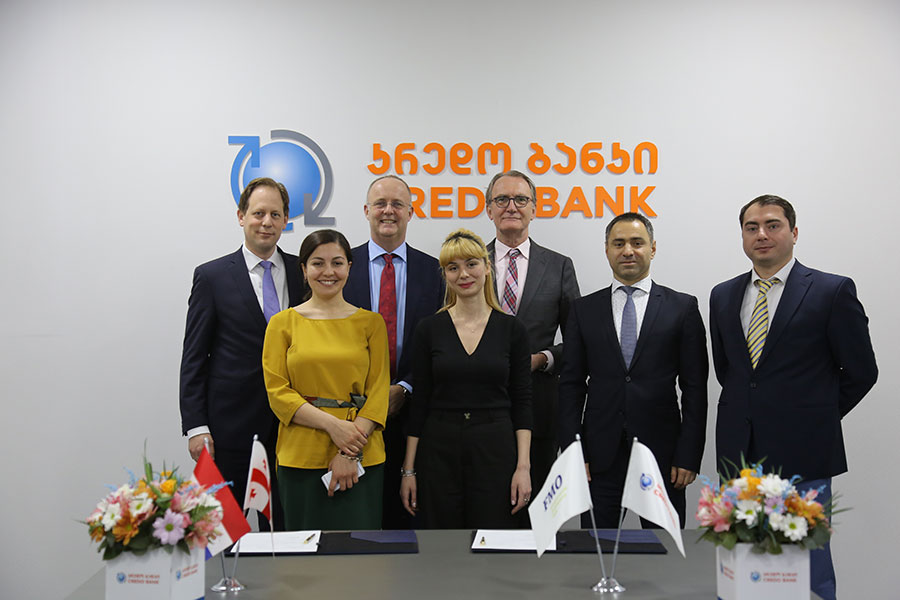 About FMO
FMO is the Dutch development bank. As a leading impact investor, FMO supports sustainable private sector growth in developing countries and emerging markets by investing in ambitious projects and entrepreneurs. FMO believes that a strong private sector leads to economic and social development and has a more than 45-year proven track-record of empowering people to employ their skills and improve their quality of life.
FMO focuses on three sectors that have high development impact: financial institutions, energy, and agribusiness, food & water. With a committed portfolio of EUR 9.6 billion spanning over 85 countries, FMO is one of the larger bilateral private sector developments banks globally.
About Credo Bank
Credo Bank is the leading bank on Georgian microfinance market in terms of countrywide presence and the number of clients. It operates 68 service centers and supports up to 291 thousand customers across Georgia. The bank's mission is to provide sustainable financial services to micro, small and medium businesses, with a preference for rural activities and those businesses that create income and employment opportunities. Credo Bank is owned by consortium of international shareholders, the social impact investors – Access Microfinance Holding AG, ResponsAbility Investment Management AG and Triodos Investment Management BV.
დატოვე კომენტარი