On July 1st, 2019, the opening of the new Holiday Inn Telavi hotel has been officially announced. The 85 rooms property is located in XIX century historical building, in the centre of Telavi, the capital of famous wine region Kakheti in the eastern part of Georgia. This is the first international brand hotel in the city centre.
Hotel's public areas, include the innovative Open Lobby Bar Concept of the Holiday Inn brand, equipped with board games, large screen TVs, a perfect cosy space for guest's entertainment and business centre all in stylish comfortable lounge environment. The hotel features the Restaurant & Tapas Bar "Iberico" located on the top floor with breath-taking views of Alazani Valley and Caucasus Mountain Range. Other guest services are a swimming pool at the roof, a wellness area with sauna and steam room and a modern gym. The hotel offers a conference room for up to 50 delegates. Interiors have been decorated to reflect modernity of the brand and at the same time the historical location of the property.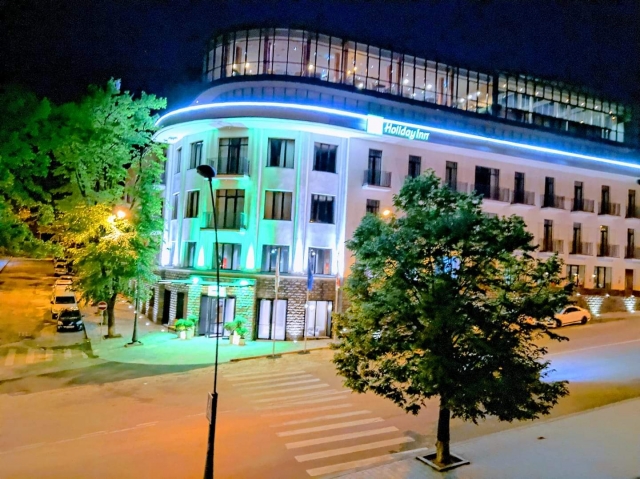 Hotel's team will take care of your comfort and will make your visit to our hotel unforgettable, whether you are on a leisure or a business trip.
Holiday Inn hotels are full-service hotels that are known across the globe for comfort, value, and dependability and is the world's most recognized hotel brand.
InterContinental Hotels Group (IHG), one of the world's leading hotel companies, is the parent company of the Holiday Inn brand. The hotel is owned by LLC Hotel Telavi and managed by Hotel Collection International (formerly known as T3 Hospitality Management), under a license agreement with InterContinental Hotels Group.
IHG franchises, leases, manages or owns more than 5,200 hotels and nearly 780,000 guest rooms in almost 100 countries, with more than 1,500 hotels in its development pipeline. IHG also manages IHG® Rewards Club, our global loyalty programme, which has more than 100 million enrolled members.
InterContinental Hotels Group PLC is the Group's holding company and is incorporated in Great Britain and registered in England and Wales. More than 350,000 people work across IHG's hotels and corporate offices globally.
Hotel Collection International is an international hotel management company, with the head office in Luxembourg, managing over 20 hotels in Europe and Africa. Levan Eristavi, the co-owner, says: "We wanted to create a hotel that would answer the needs of Georgian tourism industry – a hotel which would be equally comfortable for families and for business travellers. The goal was to create modern interiors with the local authenticity. The outstanding location and best service will be one of our main competitive advantages. The Kakheti region has a great potential, where tourism flow annually increases significantly and at the same time it becomes even more attractive location for locals. Tourism sector development is one of the key strategies for the developing country such as Georgia and our team is proud to contribute to this important process. It was a priority for us to create a workplace within the international standards. Majority of employees are locals, which partly solve unemployment difficulties in the region. Their training is intensively taking into consideration intentional standards. The project was also greatly supported by the Enterprise Georgia Agency and European Bank of Reconstruction and Development, under the strategy of development of touristic infrastructure and creation of international level workspaces in the regions of Georgia. I am extremely happy with the result we have achieved alongside IHG and I look forward to becoming a particularly distinguished destination for the international or local segment "
For more information about the hotel and for reservations, please contact us on +995 32 261 11 11 or visit our website.
დატოვე კომენტარი