After leaving Georgia's capital Tbilisi, you can drive for miles, through wild countryside, without seeing a soul. The country – with one foot in Europe and one in Asia – is a small one, with a population of just 3.7 million (a third of whom live in Tbilisi) and its landscape is full of wonder – velvety green hills are your backdrop, golden flowers nod by the roadside and vineyards line the route.
Full of complexities – and beauty – Georgia is perched on the edge of Europe, bordering Russia, Turkey, Armenia and Azerbaijan. An ancient nation, it is a place of 'firsts': the capital was founded around AD 400 and was one of the first to adopt Christianity, as well as being the place where the remains of the oldest European have been found (dating back 1.8 million years).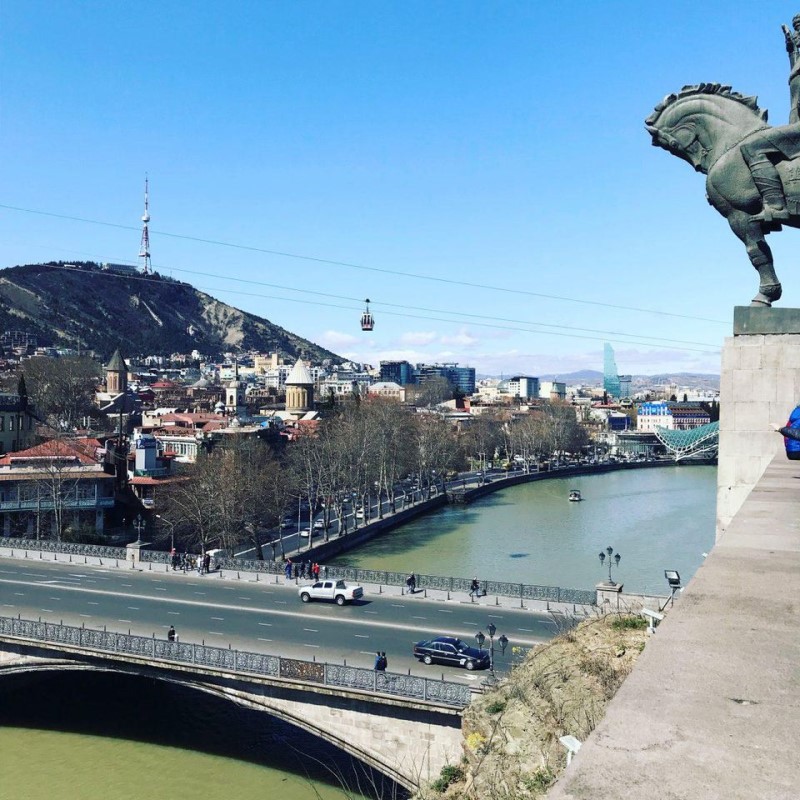 Georgia is also a former Soviet Republic, and walking around the narrow streets of the city, you catch glimpses of the hallmarks of this long and storied past, with stark, Brutalist architecture found next to ancient, crumbling churches (the oldest – a Georgian Orthodox Church called Anchiskhati – was built in the 6th century). The future is also represented with a surprising amount of ultra-modern architecture – from the space-age, glass 'bubble' that is the new parliament building to the all-new glass police stations – built to be 'see through' to represent a new era of transparency.
Most symbolic of all is the Kartlis Deda statue, erected on top of the city's Sololaki Hill in 1958. The 'Mother of Georgia' is a giant 20m high aluminium figure, by Georgian sculptor Elguja Amashukeli. She holds a sword in one hand and a bottle of wine in the other – and it is perhaps the latter that Georgia is becoming known for.
With archaeological research showing evidence of viniculture stretching back over 7,000 years, Georgia is widely believed to be the birthplace of wine. Today there are more than 500 varieties of grapes grown in the country. The best place to soak this heritage up (in more ways than one) is a visit to Kakheti, the country's wine region found at the foothills of the dramatic Caucasus Mountains.
It's a three-hour drive out of Tbilisi – meandering through hills that become steeper as you go, and along winding roads through barren vistas and barely-there villages. In the winter it becomes chillier, while summer temperatures can soar to 40°F. It is the hottest place in the country, despite the looming peaks. Soon, these snow-capped crests of some of the highest mountains in Europe are so close you feel as if you can reach out and touch them.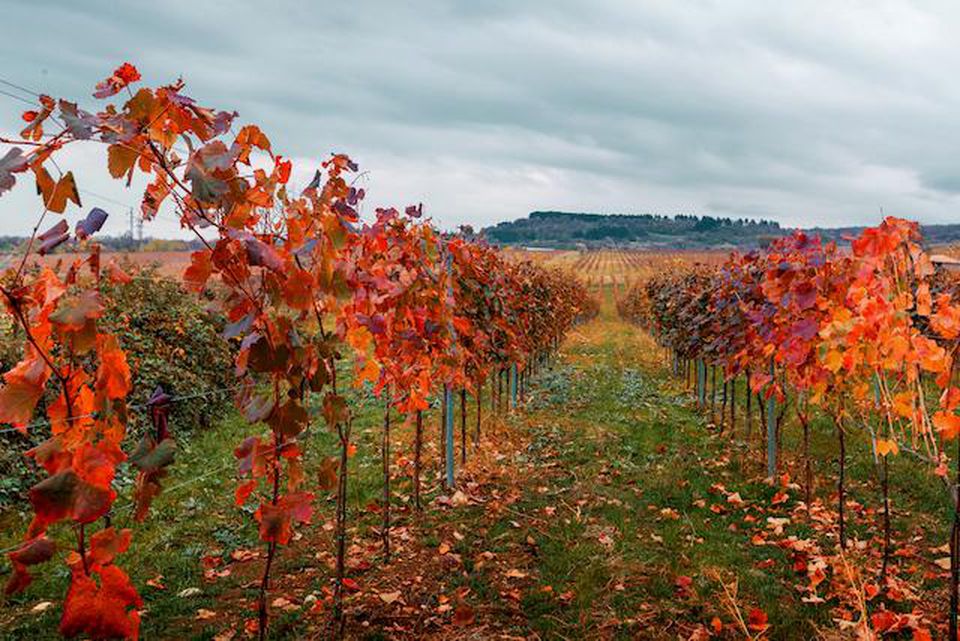 While you will pass by small wineries and vineyards along the route, it is perhaps the new Radisson Collection Hotel, set in its own vineyard on the historic Tsinandali Estate, which is the most beguiling.
It's a multi-layered place to be. The estate itself was once home to the Georgian poet, aristocrat and the 'father' of Georgian Romanticism', Prince Alexander Chavchavadze. (Guests can tap into Alexander's own history by visiting the neighbouring Tsinandali Palace Museum which documents his life.) Made up of hundreds of acres of vineyards, forests and gardens, it is a magical setting, with the Radisson Collection Hotel, carved out of the original 19th century winery, found at its heart.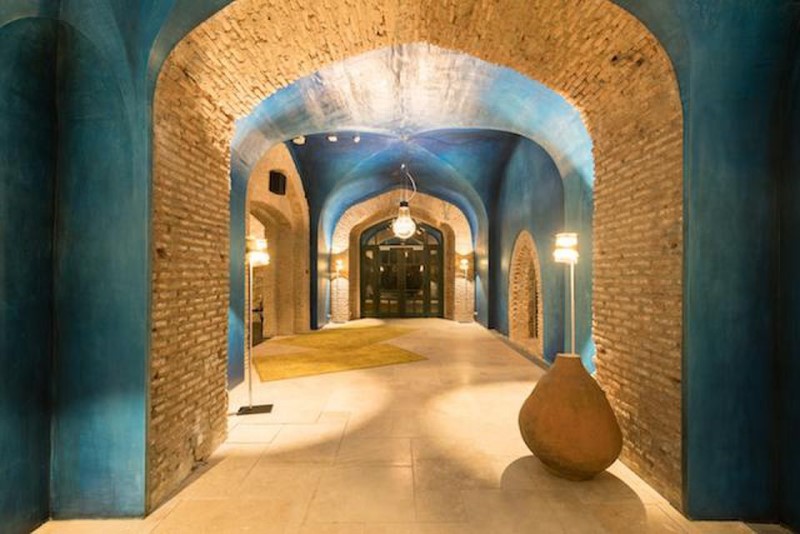 As well as its cutting-edge interiors, the hotel offers a unique and authentic travel experience, with guests being able to tap into the Georgian culture and the region's rich history of wine. From the vinotheque to the wine-tasting bar, from Prince Alexander Chavchavadze's personal wine cellar collection to vineyard tours – there's much to drink in (literally and metaphorically).
The building's design has called in a line-up of 'starry' names. Internationally well-known architects John Fotiadis, Christina Gabas and Damien Figueras, from Septiembre Arquitectura, an architectural agency based in Mexico City and Barcelona, worked on the project, while the hotel's interior design was conceived by world-renowned German industrial designer Ingo Maurer and Georgian artist and sculptor Tamara Kvesitadze.
From the rooftop infinity pool to the outdoor amphitheatre, found in the ruins of the winery (and the setting for local and international music and theatre events to come), the result isa seamless blend of contemporary design merged with typical Georgian touches. The latter can be seen in the old part of the building, dating from the 19th century, which houses the hotel's three restaurants and three bars, as well as private dining rooms.
The Library Bar is perhaps the most interesting and is the perfect place for pre-dinner drinks (your menu comes slotted into a book like a library card). Opt for a local glass of Natella wine or a sip or two of the eye-opening Chacha (known as 'vine-vodka'). Even better is the DIY cocktail table, where you can conjure up your own concoctions. The long, galleried room doubles up as a library space – filled with art books, vintage titles and curios – and has a homely, welcoming feel. Featuring an eclectic mix of 1950s mid-century lighting, antique furniture and handmade items, it is a cheery, characterful space. For a cosier feel, venture further into the Golden Room, which features an open fireplace and was exclusively designed by Ingo Maurer, renowned for his lighting designs.
Prince Alexander, meanwhile, is the all-day restaurant, with an outdoor terrace, bare-brick walls and a vaulted ceiling with faded frescoes. These were painted by specially-commissioned French artists to appear like age-old cave drawings. Here, the menu has an international flavour with crowd-pleasing pastas, salads and fish dishes. Try the Kakheti Sandwich – shoti bread with a chilli-chickpea patty, Caucasian marigold and fresh coriander – for a locally-influenced taste.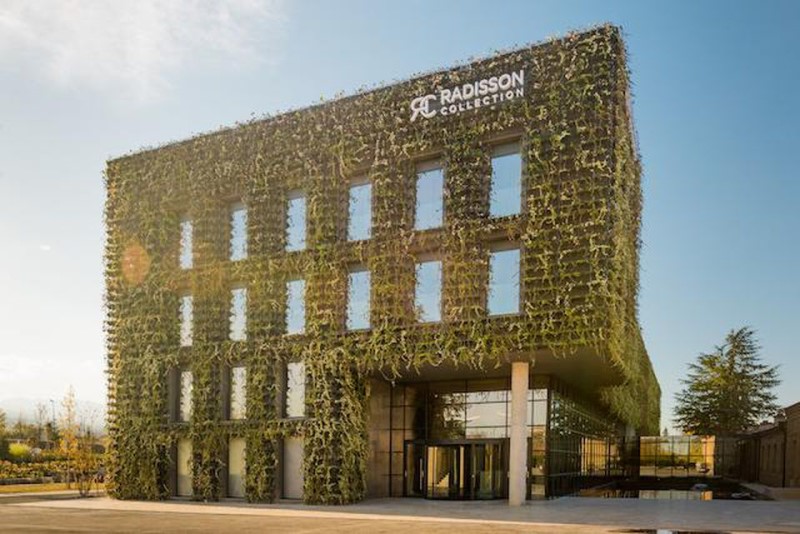 Found above the original wine cellars, which holds around 16,000 bottles, with the oldest dating back to 1841, is the Le Bistro – ideal for a coffee or a quick bite to eat. For secluded dining, however, head to the pretty Blue Room. With its powdery cobalt-blue ceiling, it feels as if you have arrived in an ancient chapel. Meanwhile, the Kakheti Restaurant offers Georgian dishes from the local region. Typically this consists of a seemingly never-ending series of small dishes made to share. From just-baked shoti bread to piquant mountain cheeses, from plates of pickled vegetables to local sausages – the cuisine is hearty, tasty and simple.
To experience the soul of Georgian cuisine, however, a 'supra' or 'feast' is a must. The tradition is led by a 'tamada' or toastmaster and the hotel's 'Mystery Room' plays homage to the tradition. You enter via a hidden door, which pushes open to reveal a secret and dramatic dining room. The long, high table is lit by suspended candles hung on invisible wires – as if it's a scene from a Harry Potter movie – and as if they are floating in the air. If you are lucky, your meal will have the soundtrack of local polyphony singers – a small, acapella male choir which sounds as if Welsh voices from the Valleys have merged with Gregorian monks – it's a moving and humbling experience.
As well as dishes such as chakapuli (lamb or veal stewed with herbs), mtsvadi (typical meat skewers roasted over coals) and khinkhali (meat dumplings), the focus of a 'supra' is, of course, the wine. The estate's own 'Tsinandali' was first created by Prince Chavchavadze in the first half ofthe 19th century. It is regarded as the first classical-style white wine of Georgia, combining spicy and floral nature of Rkatsiteli grapes with hints of fruits of Mtsvane grapes. The 2016 vintage goes well with white meat and fish and is light and crisp. For a typical Georgian red wine, try the estate's 'Saperavi', a smoky and velvety taste, with hints of ripe berries, it goes well with red meat and goats cheese.
While food and drink is one of the hotel's main focuses, the design ethos is another. Linking the old space with the new is a glistening pool of water. Here, across four floors are 141 rooms and suites – with each floor themed according to a different season. With their forest-green walls, the summer rooms, for instance, have a contemporary feel, while the navy-blue-hued winter rooms are sophisticated and cosseting. Autumn brings colours of crimson and burnished metals, while spring has delicate pinks and purples.
"We have drawn from the energy of Alexander Chavchavadze, the original creator of Tsinandali's winery and a true innovator," explains Damian Figueras, one of the architects who worked on the project. "He was a man of boundless curiosity, an aristocrat and poet who loved to travel and experiment with new techniques of winemaking. We've used his sense of purpose to come up with three design 'pillars'.
"First, is our coexistence with nature. The whole façade of the new building, for instance, was transformed into a living wall so it blends into the landscape. Inside, we've called upon a different season of the year on each floor, and have used a variety of colours, with rich velvets and soft carpets, and textures, such as brushed metals and shimmering copper to relay the different times of the year.
"Secondly, we've been inspired by the industrial part of winemaking and have restored the stonework, brick-work arches and timber of the original buildings. Illuminated columns support vaulted ceilings of cork and burnished metals, repeating materials found in the 19th century winery.
"Finally, we wanted to 'connect the centuries' with an eclectic mix of furnishings so we have used traditional Georgian pieces, classic European items and contemporary minimalist features – all curated to spark a touch of magic."
After taking it all in, and before you check out, head to the rooftop spa for further enchantment. Here, you can take your 'wine' experience further with a 'Grand Cru' treatment – the full-body massage will probably go straight to your head. Or, why not simply take in the views over the estate and to the mountains beyond. It's enough to be just as intoxicating.
Rooms at Radisson Collection Tsinandali Estate are available from US$90 per night on a room only basis. Flights from Gatwick to Tbilisi with Georgian Airways depart twice a week, on Wednesdays and Saturdays.
radissoncollection.com/en/kakheti-hotel-tsinandali-estate
Angelina Villa-Clarke has been a travel journalist for the past 20 years, writing on new destinations, luxury hotels and travel trends. Read more on her blog at angelinascasa.com
დატოვე კომენტარი